The Ledge Amphitheater Tickets and Seating Charts - Waite Park, MN
The Ledge Waite Park Amphitheater Seating Charts
The Ledge Waite Park Amphitheater - EndstageFront Seating Map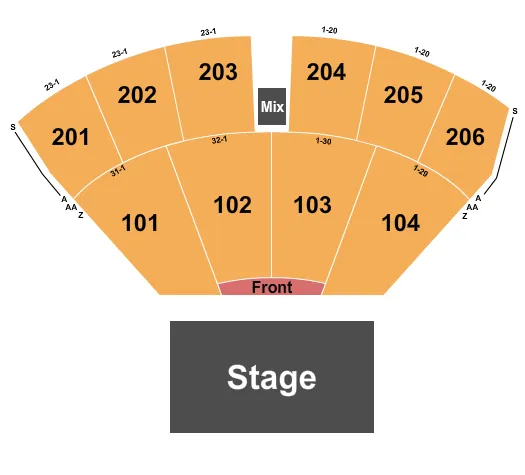 See The Ledge Waite Park Amphitheater - EndstageFront events that use this seating chart configuration
Learn more about The Ledge Waite Park Amphitheater
The Ledge Amphitheater in Waite Park, MN, is a true marvel, seamlessly combining modern architecture with the natural beauty of its surroundings. Opened in 2020, it quickly established itself as a premiere open-air performance venue in Minnesota.
Built into the limestone quarries, the Ledge Amphitheater offers audiences a unique, visually striking backdrop to performances. The venue boasts seating for 5,000 spectators, making it an ideal spot for large-scale concerts and events. The sound quality in the amphitheater, crafted meticulously to respect the landscape's acoustics, makes every performance an unforgettable experience.
Notable artists such as Brad Paisley, Willie Nelson, and Nitty Gritty Dirt Band have graced the stage, adding to the amphitheater's prestige. Moreover, it plays host to an eclectic mix of musical genres, offering a diverse lineup of performances throughout the year.
The Ledge Amphitheater isn't just about music; it has also hosted many significant community events and festivals. It is also the first venue in the area to offer "silent concerts", where the audience wears wireless headphones to listen to the music, creating a uniquely intimate audio experience amidst the open space.
Truly, the Ledge Amphitheater has become an iconic part of Waite Park's cultural scene, showcasing exceptional talent against the awe-inspiring backdrop of nature and architecture.
FAQs about The Ledge Waite Park Amphitheater
Where is The Ledge Amphitheater?
The Ledge Amphitheater is located in Waite Park, MN between two quarries. The 6,000 capacity amphitheater is a favorite destination to go to to see the beauty of this area.
Is parking free at The Ledge Amphitheater?
The Ledge Amphitheater has free parking in all lots. The VIP and ADA parking lots are the only lots that are paved. Overnight parking is allowed but all cars must be picked up by 12pm the next day.
Are bags allowed in The Ledge Amphitheater?
All bags under 11" X 8.5" are allowed as well as drawstring bags.
What is the rain policy for The Ledge Amphitheater?
All events at The Ledge Amphitheater are rain-or-shine. Umbrellas are not allowed so bring a rain coat or poncho if rain is forecast.
Are children allowed at The Ledge Amphitheater?
All children under 3 are admitted free with a paid adult ticket.
Event Dates and Pricing Information
| Performer | Date | Price | Tickets Available |
| --- | --- | --- | --- |
| Jason Mraz | Jul 20, 2024 | From $103 | 901 |