TD Station Seating Charts
TD Station - Half House Seating Map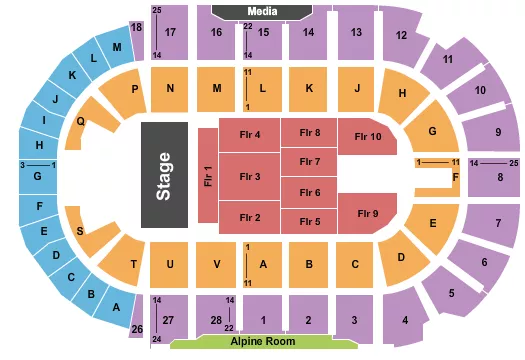 See TD Station - Half House events that use this seating chart configuration
TD Station - Hockey Seating Map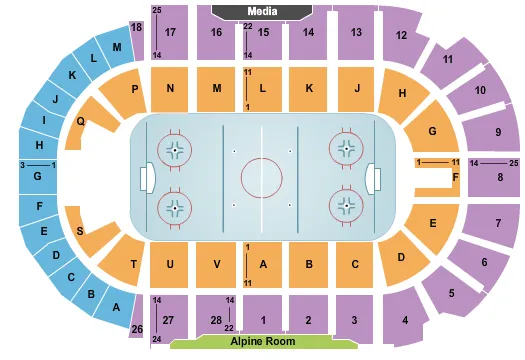 See TD Station - Hockey events that use this seating chart configuration
Learn more about TD Station
TD Station is a popular event venue located in the city of Saint John, New Brunswick. It was established in 1993 as a multi-purpose center, housing an arena and four halls commonly used for concerts, trade shows, conventions, and receptions. The facility features eight eateries that range from quick meals to sit-down restaurants. TD Station has consistently been known for its superb experience of hosting events with its cutting-edge audio and visual systems and flexible seating configurations, making it suitable for any occasion. Over the years, it has continued to welcome world-renowned artists and continues to be one of the most beloved sites in Saint John. Saint John is a culturally vibrant city on the south coast of Canada's Bay of Fundy. It boasts award-winning restaurants overlooking its beautiful waterfront, unique shops, and centuries-old historic sites to explore. Saint John will surely meet your needs if you're looking for a great night out or want to get away from it all and relax by the harbor. Stroll through the downtown streets to discover some of our city's secret hidden gems, like Lancaster Square – a secluded adjacent area lined with trees that provides a peaceful atmosphere for public art installations. Revel in history at our renowned Fort Howe National Historic Site or participate in one of our many festivals year-round; there's something here for everyone. TD Station is the perfect place for an unforgettable experience. With its convenient location in uptown Saint John and its connection to the rest of the city via the Pedway system, it's a must-visit venue.
FAQs about TD Station
TD Station Reviews, Interactive Seating Charts and Seat Views
Finding TD Station seating charts with seat views or 3D views from your seat has proven to be a difficult task - until now. Event Tickets Center provides fans with unbiased TD Station reviews on our venue guides, including information on TD Station seat numbers, row numbers, and tips on how to find great seats!
Are VIP Packages or Accessible Seating offered at TD Station?
TD Station VIP seating packages and accessible seating section locations may vary per event. Please click the seating chart below or contact our customer service department to discuss options for accessible seating or VIP package purchases.
Event Dates and Pricing Information
| Performer | Date | Price | Tickets Available |
| --- | --- | --- | --- |
| Saint John Sea Dogs | Dec 3, 2023 | From $22 | 27 |
| Saint John Sea Dogs | Dec 6, 2023 | From $19 | 33 |
| Saint John Sea Dogs | Dec 9, 2023 | From $20 | 29 |
| Saint John Sea Dogs | Dec 31, 2023 | From $53 | 16 |
| Saint John Sea Dogs | Jan 4, 2024 | From $18 | 30 |
| Saint John Sea Dogs | Jan 7, 2024 | From $19 | 33 |
| Saint John Sea Dogs | Jan 11, 2024 | From $18 | 33 |
| Saint John Sea Dogs | Jan 13, 2024 | From $19 | 33 |
| Saint John Sea Dogs | Jan 17, 2024 | From $19 | 31 |
| Saint John Sea Dogs | Jan 18, 2024 | From $18 | 33 |