Tanglewood Music Center Tickets and Seating Charts - Lenox, MA
Tanglewood Seating Charts
Tanglewood - End Stage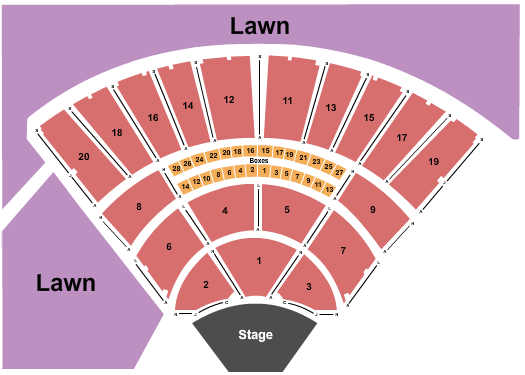 See Tanglewood - End Stage events that use this seating chart configuration
The idea for Tanglewood Music Center, a sprawling outdoor venue nestled in the Berkshire Hills, was first conceived in 1934. A group of Berkshire Hills Music Academy summer residents arranged an outdoor-concert series featuring members of the New York Philharmonic, who played under tents for a crowd of 1,500. By 1937, the Tanglewood estate, belonging to the Tappan family, was gifted to Serge Koussevitzky, the music director of the Boston Symphony Orchestra. He put on Tanglewood's first official concert, an all-Beethoven set. Following a thunderstorm that interrupted Tanglewood's second concert, founders realized the need for a more permanent structure, and thus the music pavilion was born. The building was erected in 1938 and began drawing huge crowds every year. The venue hosts mainly classical music in addition to rock, pop and jazz concerts. Tanglewood is the summer home of the Boston Symphony Orchestra and also encompasses three music schools.

Tanglewood is a short drive from the Massachusetts State Turnpike (I-90), accessible via Exit 2. There are two large parking lots located at the Main and Lion's gates and in designated Boston Symphony Orchestra lots on West Street and Hawthorne Road.

There's a casual café at the venue, located between the Shed and the Lion's gate, and a grill located inside the Main Gate next to the Glass House 1 Gift Shop. Guests can also order picnics to go from the Events Services Department. Head to Church Street, less than 2 miles away, for several dining and tavern options, or to Main Street, less than 5 miles away, to find ice cream, Italian, seafood and more.
Q: What time do gates open at Tanglewood Music Center?
A: Gates typically open anywhere between 90 minutes to 2 hours prior to showtime at Tanglewood Music Center. Be sure to check the listing on your ticket as showtimes will vary.
Q: Looking for local Albany Amphitheater concerts?
A: Our event listing has a list of all Albany amphitheater concerts happening at Tanglewood Music Center. You can also check out events in neighboring cities by checking out our list of venues by state.
Capacity:
5,700 - Koussevitzky Music Shed, 1,200 - Seiji Ozawa Hall
Opened:
1937
Past Names:
Berkshire Music Center