Sudbury Arena Seating Charts
Sudbury Arena - Foreigner Seating Map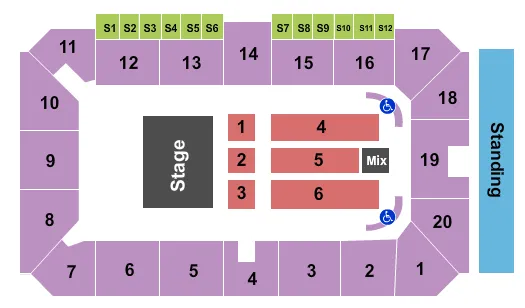 See Sudbury Arena - Foreigner events that use this seating chart configuration
Sudbury Arena - Hockey Seating Map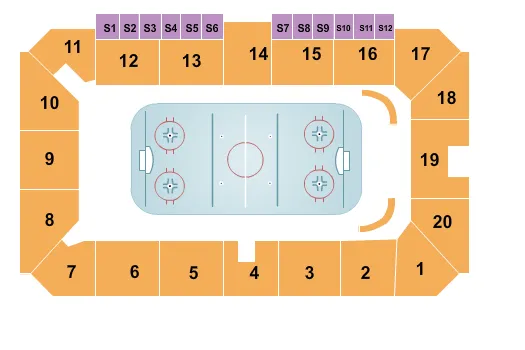 See Sudbury Arena - Hockey events that use this seating chart configuration
Sudbury Arena - Offspring Seating Map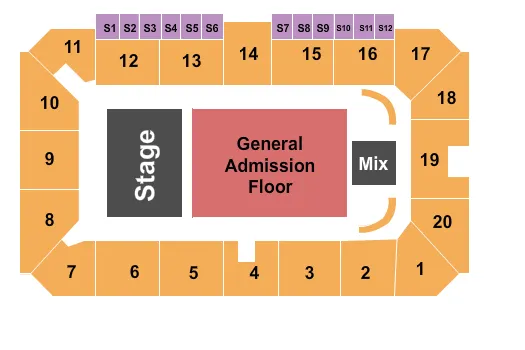 See Sudbury Arena - Offspring events that use this seating chart configuration
Learn more about Sudbury Arena
If you're looking for a unique space to host your next event, look no further than Sudbury Arena in ON. This multi-purpose arena is located in the downtown core and can accommodate a wide range of events, from sports tournaments to music concerts. It has served as a meeting place for locals in some capacity since 1933, originally just an ice rink with three open bays. It was upgraded in 1951 to include more seating and stands, and the local minor hockey team moved their games there. It has since hosted many well-known musical acts, such as Rush and I Mother Earth. In 2005, more seating space was added.

Located in northeastern Ontario, Sudbury is the largest city in the region and offers plenty of attractions. Outdoor activities like hiking and cycling, canoeing down a river, and experiencing Canada's most significant copper-mining sites are available, as well as Peter's Sweet Shop, Candyland, Bell Park, Ramsey Lake, and plenty of shopping boutiques.

Take a trip to The Big Nickel and check out the action at Sudbury Arena - it's an experience you won't soon forget! With its storied history and continuous updates, it is one of the top places to see entertainment in Ontario.
Event Dates and Pricing Information
| Performer | Date | Price | Tickets Available |
| --- | --- | --- | --- |
| The Glorious Sons | Nov 29, 2023 | From $73 | 225 |
| Sudbury Wolves | Dec 1, 2023 | From $27 | 322 |
| Sudbury Wolves | Dec 6, 2023 | From $18 | 668 |
| Sudbury Wolves | Dec 8, 2023 | From $20 | 841 |
| Sudbury Wolves | Dec 10, 2023 | From $22 | 493 |
| A Christmas RockStory | Dec 14, 2023 | From $119 | 489 |
| Sudbury Wolves | Dec 29, 2023 | From $22 | 799 |
| Sudbury Wolves | Jan 5, 2024 | From $20 | 721 |
| Sudbury Wolves | Jan 6, 2024 | From $22 | 862 |
| Sudbury Wolves | Jan 10, 2024 | From $20 | 849 |