State Theatre - MN Seating Charts
State Theatre - MN - End Stage Seating Map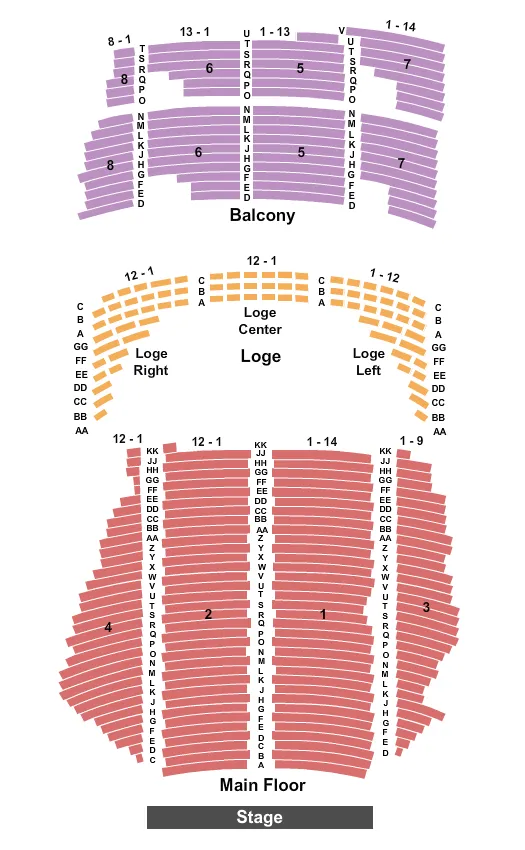 See State Theatre - MN - End Stage events that use this seating chart configuration
State Theatre - MN - Endstage w/ Pit Seating Map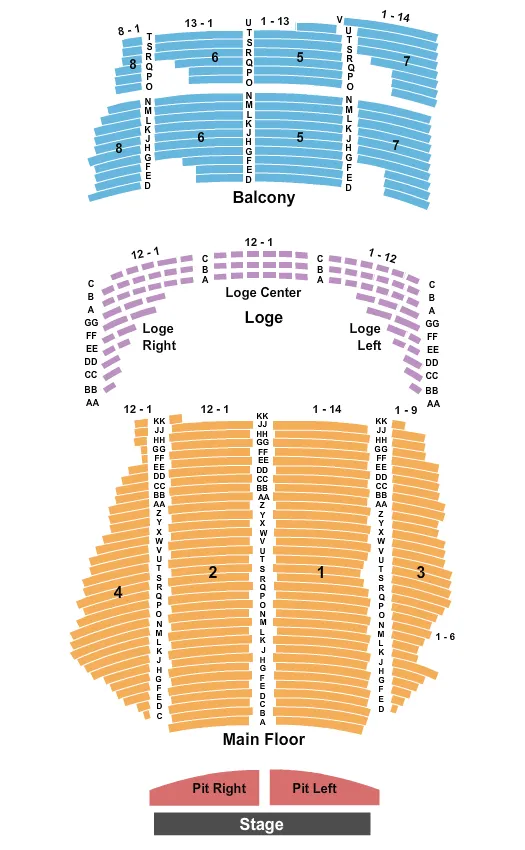 See State Theatre - MN - Endstage w/ Pit events that use this seating chart configuration
Learn more about State Theatre - MN
The State Theatre, located in
Minneapolis, MN
, has been in business since February 1921. With such a long history there is no wondering why so many people stop by this venue every year.
After a restoration project in 1990 the State Theatre reopened with gusto. From that day forth the venue has been one of the top live entertainment destinations in the city - and that is saying a lot.
If you want to see State Theatre for all its worth you need to buy tickets to an upcoming show. Soon after entering the venue you will realize just why it has become so popular over the years.
The State Theatre is a historic theatre in Minneapolis, Minnesota, USA. It is one of four restored theatres in the Hennepin Theatre District.The State Theatre seats 2,181. It opened in 1921 and was then considered the most technologically advanced and elaborate theatre in the United States. It was designed by the Chicago architect J.E.O. Pridmore in a free Italian Renaissance style and boasted the first well-driven air conditioning system in Minneapolis. The original stage floor was glass, lit from underneath to create stunning visual effects. The opening night program included a silent film, newsreel and travelogue. A Wurlitzer pipe organ was installed in 1925 and concerts were held every day for 25 cents. The State's original neon marquee, which ran the entire width of the theatre, dated back to its opening; it was replaced with electric bulbs and large letters reading "STATE" in the 1940s. The neon sign was recreated for a modern remodel and again adorns the theatre's frontage. Between 1921 and 1978, the State Theatre was used primarily as a movie house, but also hosted vaudeville acts, concerts and ballet. The movie screen was the largest screen west of the Mississippi River at the time.
Facts about State Theatre - MN
Capacity:
2,181
Opened:
1921
Event Dates and Pricing Information
| Performer | Date | Price | Tickets Available |
| --- | --- | --- | --- |
| Joe Gatto - Comedian | Dec 9, 2023 | From $75 | 893 |
| Loyce Houlton's Nutcracker Fantasy | Dec 16, 2023 | From $70 | 687 |
| Loyce Houlton's Nutcracker Fantasy | Dec 17, 2023 | From $71 | 619 |
| Loyce Houlton's Nutcracker Fantasy | Dec 21, 2023 | From $47 | 1,008 |
| Loyce Houlton's Nutcracker Fantasy | Dec 22, 2023 | From $28 | 1,041 |
| Loyce Houlton's Nutcracker Fantasy | Dec 23, 2023 | From $47 | 979 |
| Loyce Houlton's Nutcracker Fantasy | Dec 23, 2023 | From $47 | 1,027 |
| Brian Regan | Dec 31, 2023 | From $84 | 981 |
| Black Violin | Feb 10, 2024 | From $62 | 897 |
| Baby Shark Live! | Feb 17, 2024 | From $53 | 810 |