Stage One at Harris Center for the Arts Seating Charts
Stage One at Harris Center for the Arts - End Stage Seating Map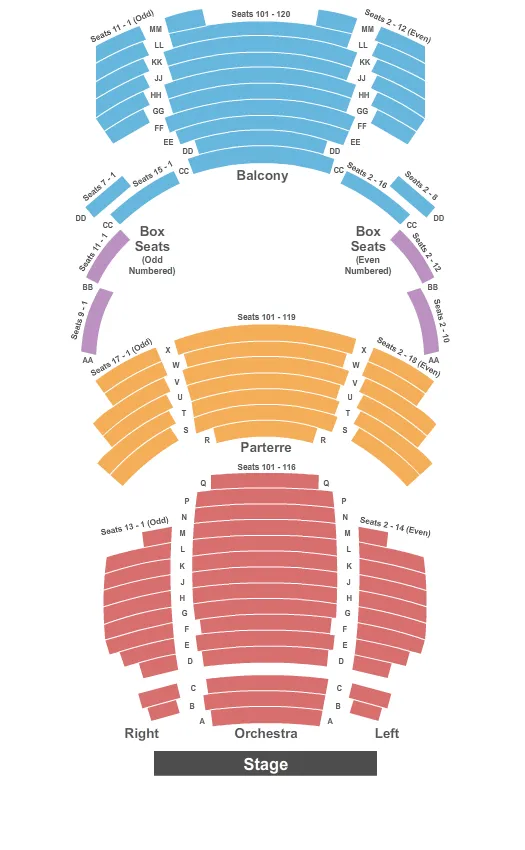 See Stage One at Harris Center for the Arts - End Stage events that use this seating chart configuration
Stage One at Harris Center for the Arts - Endstage w/ Cabaret Tables Seating Map
See Stage One at Harris Center for the Arts - Endstage w/ Cabaret Tables events that use this seating chart configuration
Learn more about Stage One at Harris Center for the Arts
Located in the heart of Folsom, California, the Harris Center for the Arts is an impressive 80,000-square-foot regional arts complex. With its state-of-the-art facilities and exciting performance spaces, the Center is sure to impress any art enthusiast. One of the venues within this complex is Stage One–a premier music and event venue that opened its doors in 2010. The 352-seat theater provides entertainment and educational opportunities to audiences across all ages and demographics, with performances from dozens of touring artists across all genres from jazz, classical, and folk to rock & roll. In addition, to live events and concerts, the venue also serves as a movie theater and provides dance classes and lectures throughout each academic year.

The atmosphere of Stage One is intimate with its beautiful architecture and is conveniently located within walking distance of downtown Folsom businesses. Enjoy a lively atmosphere mixed with a laid-back Californian lifestyle–there's only one word for it: fun! During the day, Folsom boasts outdoor activities such as whitewater rafting, fishing, and biking. See stunning scenery along the banks of Lake Natoma and beautiful sights throughout town. The nightlife is bustling with downtown venues offering great music and entertainment for all ages. From fine dining in historic restaurants to delectable street food vendors scattered around town, Folsom has something for everyone's palate. Shopping aficionados will be wowed by the selection of shops from independent stores to established retail stores dotted around the cityscape.

Stage One at the Harris Center for the Arts offers an unparalleled experience for any event-goer with its great sound system, tech capabilities, and room to showcase a variety of performance art forms. Whether you're looking to catch a Broadway show or watch world-renowned symphonies, this is one venue you won't want to miss!
FAQs about Stage One at Harris Center for the Arts
Stage One at Harris Center for the Arts Seat Numbers Loge, Orchestra, Mezzanine and Balcony Seating .
Theater seating is often arranged so that lower seat numbers are located closer to the center of the stage, while higher seat numbers are further from the center of the stage. Rows are typically organized in alphabetical order. Stage One at Harris Center for the Arts may be arranged in a similar fashion. Loge seating, also sometimes referred to as Box Seating, features small, separated seating areas. The separate areas are large enough to fit a limited number of people for a more private viewing experience. Loge seats are typically situated immediately to the front, side, and above the stage level. Orchestra Sections usually hold the most desired seats, putting the audience on the same level as the stage. Center Orchestra section seats are typically the most popular seats in the house. When looking at the side Orchestra sections, lower seat numbers indicate closer proximity to the Center Orchestra seats and the center of the stage. Seats located closer to the aisle usually provide a bit more legroom. The Mezzanine Section is normally located one level above the middle of the Orchestra Section. Centrally located seats within this section are also highly sought-after, especially those within the first few rows. Seats in the Mezzanine Section are still located within proximity of the stage and are typically priced lower than those in the Orchestra Section. Balcony Sections typically hold the cheapest seats in the theater. Oftentimes, Balcony seats are positioned closer together, offering less legroom in comparison to other sections. This section is generally situated on a steeper slope, meaning the difference in visibility between low and high rows may be significant
Stage One at Harris Center for the Arts Reviews, Interactive Seating Charts and Seat Views
Finding Stage One at Harris Center for the Arts seating charts with seat views or 3D views from your seat has proven to be a difficult task until now. Event Tickets Center provides fans with unbiased Stage One at Harris Center for the Arts reviews on our venue guides, including information on Stage One at Harris Center for the Arts seat numbers, row numbers, and tips on how to find great seats!
Are VIP Packages or Accessible Seating offered at Stage One at Harris Center for the Arts?
Stage One at Harris Center for the Arts VIP seating packages and accessible seating section locations may vary per event. Please click the seating chart below or contact our customer service department to discuss options for accessible seating or VIP package purchases.
Event Dates and Pricing Information
| Performer | Date | Price | Tickets Available |
| --- | --- | --- | --- |
| Pops Chorale | Dec 3, 2023 | From $66 | 2 |
| The Nutcracker | Dec 14, 2023 | From $61 | 147 |
| The Nutcracker | Dec 15, 2023 | From $53 | 123 |
| The Nutcracker | Dec 16, 2023 | From $62 | 39 |
| The Nutcracker | Dec 16, 2023 | From $62 | 99 |
| The Nutcracker | Dec 17, 2023 | From $62 | 70 |
| The Nutcracker | Dec 17, 2023 | From $62 | 120 |
| An Irish Christmas | Dec 18, 2023 | From $73 | 108 |
| High Voltage Holiday Celebration | Dec 21, 2023 | From $62 | 6 |
| Masters of Illusion | Jan 7, 2024 | From $131 | 15 |