Spartan Stadium - MI Seating Charts
Spartan Stadium - MI - Football 2 Seating Map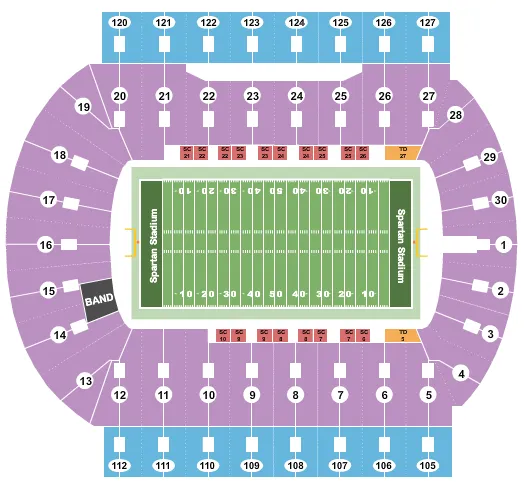 See Spartan Stadium - MI - Football 2 events that use this seating chart configuration
Learn more about Spartan Stadium - MI
Spartan Stadium is located in East Lansing, Michigan, and serves as the home field of the Michigan State University football team. Although Spartan Stadium is not the most popular venue in the state, it still has plenty to offer. The Spartans love the venue, and the same holds true for the many fans that pack in for every home game.

Spartan Stadium opened in 1923, which makes it one of the oldest venues in all of college football. Over the years the venue has been known as a number of different names. They include College Field, Macklin Field, Macklin Stadium, and now, Spartan Stadium.

The seating capacity at Spartan Stadium is 75,005. This is not the biggest stadium in the Big Ten Conference, but it is plenty large enough to accommodate the needs of the Spartans and their many fans.

As you can see, Spartan Stadium has a lot to offer across the board.
FAQs about Spartan Stadium - MI
What time do doors open at Spartan Stadium?
Doors typically open anywhere between 90 minutes to 2 hours prior to showtime at Spartan Stadium. Be sure to check the listing on your ticket as showtimes will vary.
Are VIP Packages or Accessible Seating offered at Spartan Stadium?
Spartan Stadium VIP seating packages and accessible seating section locations may vary per event. Please click the seating chart below or contact our customer service department to discuss options for accessible seating or VIP package purchases.
Who plays at Spartan Stadium?
The Michigan State University Spartans are the home team at the Spartan Stadium.
Facts about Spartan Stadium - MI
Capacity:
75,005
Date Opened:
October 6, 1923
Event Dates and Pricing Information
| Performer | Date | Price | Tickets Available |
| --- | --- | --- | --- |
| Michigan State Spartans Football | Aug 31, 2024 | From $93 | 8 |
| Michigan State Spartans Football | Sep 14, 2024 | From $93 | 8 |
| Michigan State Spartans Football | Sep 28, 2024 | From $299 | 8 |
| Michigan State Spartans Football | Oct 19, 2024 | From $159 | 8 |
| Michigan State Spartans Football | Nov 2, 2024 | From $159 | 8 |
| Michigan State Spartans Football | Nov 23, 2024 | From $159 | 8 |
| Michigan State Spartans Football | Nov 30, 2024 | From $159 | 8 |