Shubert Theatre Tickets and Seating Charts - Boston, MA
Situated in the heart of downtown Boston, Shubert Theatre, along with Wang Theatre, is part of the Boch Center. Shubert is considered the theater district's "little princess," with Wang Theatre being the "grand dame." A humble 1,500-seater, the theater opened in 1910 to a stage production of The Taming of the Strew featuring E.H. Sothern and Julia Marlowe and has since hosted Broadway favorites like Cats, Dreamgirls, Death of a Salesman and Les Misérables. In 1996, the theater underwent a $3 million renovation and successfully reopened with the Pulitzer and Tony Award-winning musical Rent. The venue continues to welcome everything from Broadway theater and music to dance and opera, and it's also home to many community arts organizations.

Shubert Theatre is accessible via I-93's Exit 20A and I-90's Exit 24A. There are several parking garages located within walking distance to the Boch Center, including the Tufts Medical Center Garage, adjacent to Wang Theatre, and the Theatre District Parking garage, adjacent to Shubert Theatre. Guests using public transport can also get to the venue via the Orange Line's Tufts Medical Center stop and the Green Line's Boylston stop, which are both a block away from the theater. The Red Line's Park Street stop is five blocks from the theater.

The theater's box office opens two hours before showtime. Concessions, including snacks and alcoholic drinks, are available in the lobby area of the theater and, depending on the show, are allowed into the theater. Arrive early; latecomers may have to wait to be seated at an appropriate break, depending on the show. Restaurants abound in the immediate area of Shubert Theatre, including Italian, Chinese and seafood options. Some restaurants offer discounts to Boch Center members and ticketholders, and some also provide pretheater prix fixe menus for showgoers.


Shubert Theatre At The Boch Center - End Stage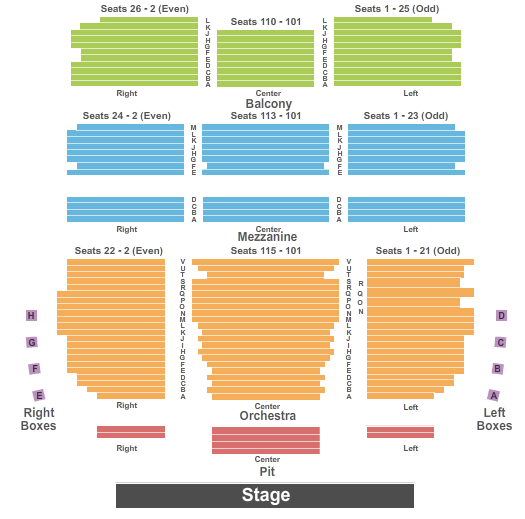 See Shubert Theatre At The Boch Center - End Stage events that use this seating chart configuration
Q: Opened:
A: January 24, 1910
Q: Past Names:
A: The Lyric Theatre