Sheldon Concert Hall Seating Charts
Sheldon Concert Hall - End Stage Seating Map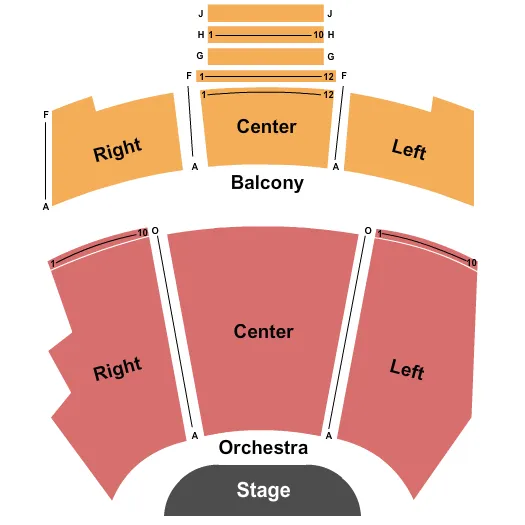 See Sheldon Concert Hall - End Stage events that use this seating chart configuration
Learn more about Sheldon Concert Hall
The Sheldon Concert Hall is located in Saint Louis, Missouri. Many locals refer to this venue simply as The Sheldon. No matter what you call it, the Sheldon Concert Hall has a lot to offer and is the perfect setting for many types of live events.

Since being built in 1912 the facility has been attracting fans from all over. Of course, performers also jump at the chance to play a show at this venue. When it comes down to it, the Sheldon Concert Hall does it all. Past performers include: B.B. King, Herbie Hancock, Dave Brubeck, Willie Nelson, and Jessye Norman among many others.

If you want to purchase Sheldon Concert Hall tickets you do not want to wait too long. With many fans waiting to see a show here, tickets are always in high demand.
Facts about Sheldon Concert Hall
Capacity:
750
Opened:
1912
Event Dates and Pricing Information
| Performer | Date | Price | Tickets Available |
| --- | --- | --- | --- |
| Kendrick Smith Trio | Dec 12, 2023 | From $59 | 1 |
| Kendrick Smith Trio | Dec 13, 2023 | From $52 | 203 |
| Allison Russell | Jan 13, 2024 | From $63 | 284 |
| Mania - The ABBA Tribute | Jan 17, 2024 | From $52 | 410 |
| St. Louis Symphony Orchestra | Feb 3, 2024 | From $35 | 106 |
| St. Louis Symphony Orchestra | Feb 7, 2024 | From $79 | 85 |
| Sam Bush Bluegrass Band | Feb 9, 2024 | From $80 | 39 |
| Janet Evra | Feb 20, 2024 | From $48 | 35 |
| Janet Evra | Feb 21, 2024 | From $42 | 246 |
| John Pizzarelli | Feb 24, 2024 | From $71 | 340 |