Santander Performing Arts Center Seating Charts
Santander Performing Arts Center - End Stage 2 Seating Map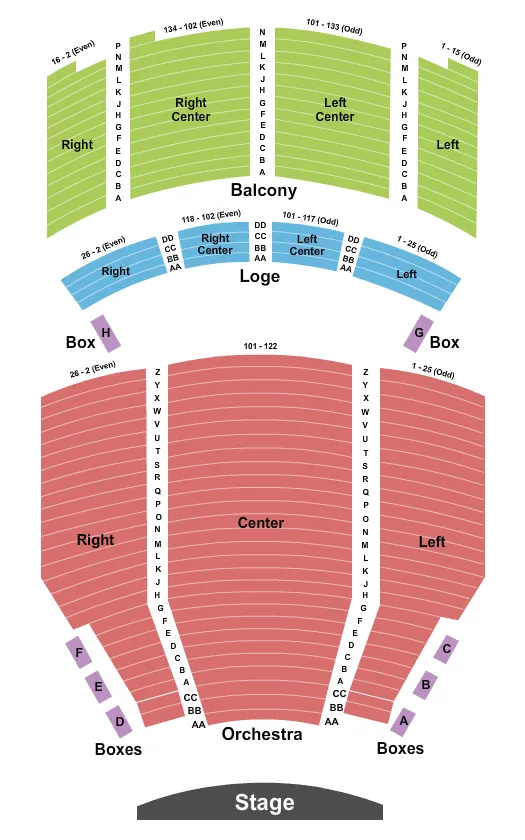 See Santander Performing Arts Center - End Stage 2 events that use this seating chart configuration
Learn more about Santander Performing Arts Center
The Santander Performing Arts Center is located in
Reading, PA
. It is also known as the Santander Center to many. No matter what you call the venue, it is one of the most recognizable in and around Reading.
The Santander Performing Arts Center is a multipurpose venue. This means that it can host a variety of events. To go along with this, it has more than seven thousand seats which means that it is plenty big enough no matter what is going on there.
Big time concerts have taken place at the Santander Performing Arts Center in the past. Some of them include the
Beach Boys
,
Pearl Jam
, Death Cab for Cutie, Stevie Nicks,
Match Box Twenty
, Tool, and Crosby, Stills, and Nash.
With Santander Performing Arts Center tickets in high demand now is the time to buy. This venue was built in 2001, and has been going strong since its first day of existence. Stop by to see what it is all about!
Event Dates and Pricing Information
| Performer | Date | Price | Tickets Available |
| --- | --- | --- | --- |
| Reading Symphony Orchestra | Dec 9, 2023 | From $52 | 322 |
| Peppa Pig | Dec 16, 2023 | From $35 | 648 |
| World Ballet Series | Dec 21, 2023 | From $73 | 411 |
| Reading Symphony Orchestra | Dec 31, 2023 | From $52 | 621 |
| Pete Davidson | Jan 8, 2024 | From $85 | 695 |
| Face 2 Face: Billy Joel & Elton John Tribute | Jan 20, 2024 | From $59 | 738 |
| Reading Symphony Orchestra | Jan 27, 2024 | From $44 | 587 |
| Annie | Feb 1, 2024 | From $83 | 800 |
| KC and The Sunshine Band | Feb 2, 2024 | From $82 | 695 |
| Almost Queen - A Tribute To Queen | Feb 3, 2024 | From $55 | 1,013 |