Royal Alexandra Theatre Tickets and Seating Charts - Toronto, ON
Royal Alexandra Theatre Seating Charts
Royal Alexandra Theatre - Endstage 2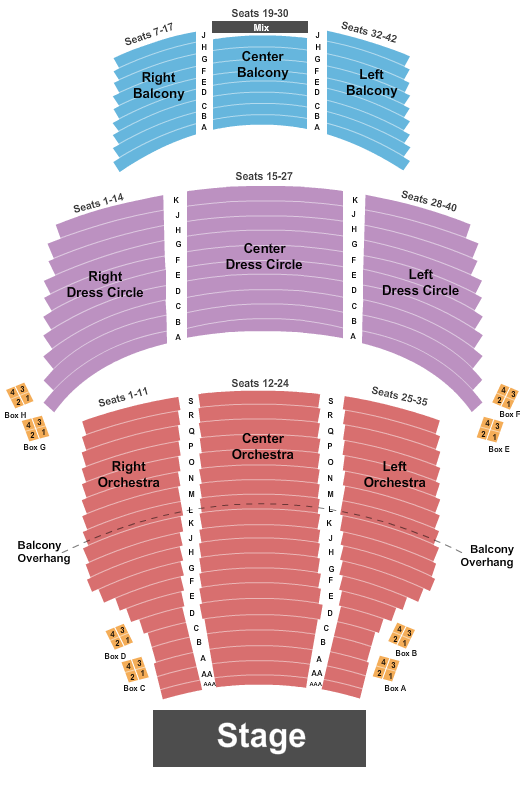 See Royal Alexandra Theatre - Endstage 2 events that use this seating chart configuration
Learn more about Royal Alexandra Theatre
The Royal Alexandra Theatre is located in Toronto, Canada. The venue is one of the oldest operating venues of its kind in all of North America.

The Royal Alexandra Theatre opened for business in 1907. With well over a century of service, it is safe to say that this venue knows how to host a wide variety of productions. It has been doing so for many years, and for this reason, it has become a mainstay in the city of Toronto.

The seating capacity at the Royal Alexandra Theatre is 1,500. When you couple this with great sightlines, there is no wondering why this venue has stayed in business for so many years.

Some of the most notable performers to take the stage at the Royal Alexandra Theatre include: Fred Astaire, Mae West, Helen Hayes, and Martin Short among others.

The Royal Alexandra Theatre has a long history that is sure to continue for many years to come.
FAQs about Royal Alexandra Theatre
Q: Does the Royal Alexandra Theatre have accessible seating?
A: Yes, the Royal Alexandra Theatre does have wheelchair seating on the main floor. This is the only accessible seating in theatre and is available from the street entrance. The theatre does not have any escalators or elevators.
Facts about Royal Alexandra Theatre
Capacity:
1,244
Year Opened:
1907