Roger Dean Stadium Seating Charts
Roger Dean Stadium - Baseball 2 Seating Map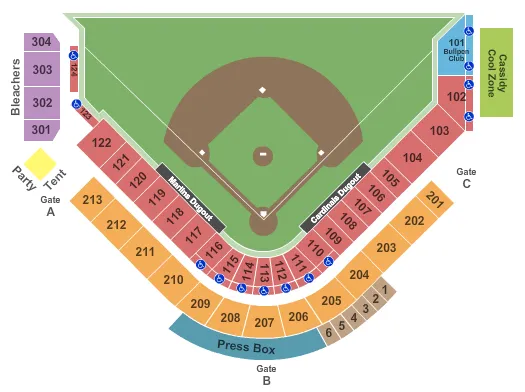 See Roger Dean Stadium - Baseball 2 events that use this seating chart configuration
Learn more about Roger Dean Stadium
Roger Dean Stadium is a state-of-the-art baseball facility in Jupiter, Florida that has been home to spring training and minor league teams since 1998. With a seating capacity of 6,871 people, it provides a great atmosphere for all games held there. Along with the two fields, there are four batting cages, maintenance and grounds crews needed to keep it looking its best year-round. Through the years, the Florida East Coast League team Jupiter Hammerheads and St. Louis Cardinals have both called Roger Dean Stadium home and hosted marquee events such as High School Baseball Championships, NCAA Regional & Super Regional Championships. Located in Southeast Florida on the Atlantic Coast, Jupiter has much to offer - from a morning walk along Jupiter Beach to an afternoon at Rapids Water Park. Loxahatchee River Tour offers canoe rides and tubing through a nature preserve, and golfers can enjoy world-class courses at nearby PGA National Resort & Spa or Trump National Golf Club. Shopping opportunities are plentiful, from Harbourside Place to Juniper Marketplace. Finish off the day with fresh seafood at one of the many waterfront restaurants. When you're looking for entertainment, Roger Dean Stadium is the place to go. With its luxury sky-boxes, concessions and more, it's the perfect spot to watch spring training games or host a qualifying round for the World Baseball Classic. Come and experience the South Florida culture at its best!
FAQs about Roger Dean Stadium
What time do doors open at Roger Dean Stadium?
Doors typically open anywhere between 90 minutes to 2 hours prior to showtime at Roger Dean Stadium. Be sure to check the listing on your ticket as showtimes will vary.
Who plays at Roger Dean Stadium?
The St. Louis Cardinals and Miami Marlins have Spring Training Events here.
Event Dates and Pricing Information
| Performer | Date | Price | Tickets Available |
| --- | --- | --- | --- |
| St. Louis Cardinals | Feb 24, 2024 | From $42 | 772 |
| Miami Marlins | Feb 25, 2024 | From $20 | 522 |
| Miami Marlins | Feb 26, 2024 | From $31 | 548 |
| St. Louis Cardinals | Feb 27, 2024 | From $46 | 829 |
| Miami Marlins | Feb 28, 2024 | From $15 | 576 |
| St. Louis Cardinals | Feb 29, 2024 | From $18 | 693 |
| St. Louis Cardinals | Mar 1, 2024 | From $40 | 751 |
| Miami Marlins | Mar 2, 2024 | From $27 | 507 |
| St. Louis Cardinals | Mar 3, 2024 | From $26 | 783 |
| Miami Marlins | Mar 4, 2024 | From $51 | 731 |