Red Hat Amphitheater Tickets and Seating Charts - Raleigh, NC
Red Hat Amphitheater Seating Charts
Red Hat Amphitheater - End Stage GA Pit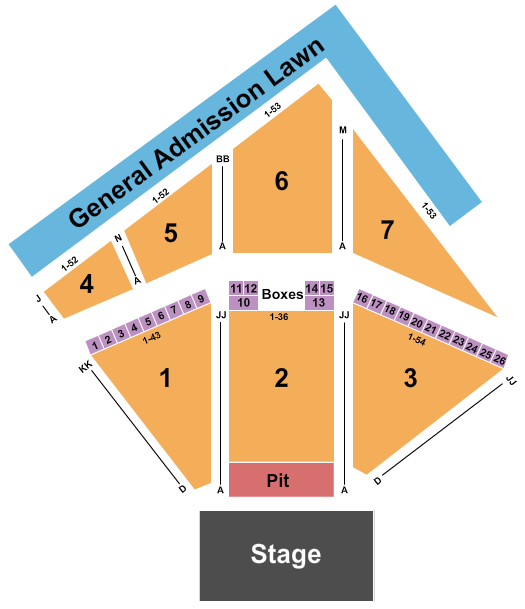 See Red Hat Amphitheater - End Stage GA Pit events that use this seating chart configuration
Red Hat Amphitheater - Primus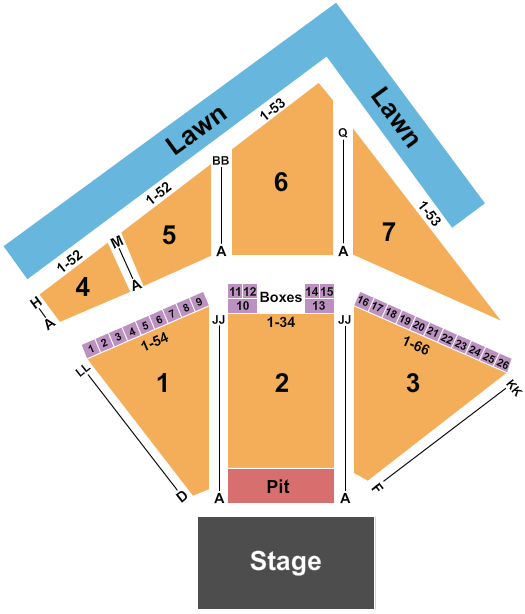 See Red Hat Amphitheater - Primus events that use this seating chart configuration
Learn more about Red Hat Amphitheater
The Red Hat Amphitheater is an outdoor, live entertainment venue in Raleigh, North Carolina. Since it's opening in 2010, the amphitheater has secured a position in heart of locals as the go-to venue for live entertainment. It has hosted several performances from well-known artists such as Maroon 5, Stone Temple Pilots, Chelsea Handler, Heart and many others.

With its 5,500-person capacity and prime downtown location, the amphitheater is easily accessible, making it a sought-out destination for several large scale public events, including but not limited to concerts, festivals, musicals and more.

Its season currently runs from April through October. This venue also offers an in-house food and beverage service.

Professional cameras, video, and audio recording devices are not permitted. Use of non-professional cameras varies from show to show depending on the entertainment's preference. Lawn chairs, umbrellas, baby strollers and outside food or beverage are not permitted inside the venue.

Located in the heart of downtown, the Red Hat Amphitheater is just steps away from all the fun and excitement Raleigh has to offer, including countless restaurants, bars, clubs and galleries.
Red Hat Amphitheater Concert Ticket and Venue Information:
Capacity:
5,990
Past Names/Nicknames:
Raleigh Amphitheater
Date/Year Built/Opened:
2010
FAQs about Red Hat Amphitheater
Q: What time do gates open at Red Hat Amphitheater?
A: Gates typically open anywhere between 90 minutes to 2 hours prior to showtime at Red Hat Amphitheater. Be sure to check the listing on your ticket as showtimes will vary.
Q: Looking for local Raleigh Amphitheater concerts?
A: Our event listing has a list of all Raleigh amphitheater concerts happening at Red Hat Amphitheater. You can also check out events in neighboring cities by checking out our list of venues by state.