Peterborough Memorial Centre Seating Charts
Peterborough Memorial Centre - Brit Floyd Seating Map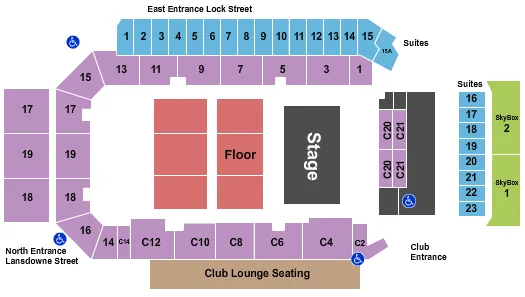 See Peterborough Memorial Centre - Brit Floyd events that use this seating chart configuration
Peterborough Memorial Centre - Endstage GA Floor Seating Map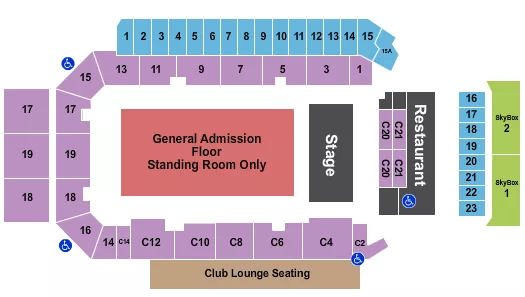 See Peterborough Memorial Centre - Endstage GA Floor events that use this seating chart configuration
Peterborough Memorial Centre - Half House Seating Map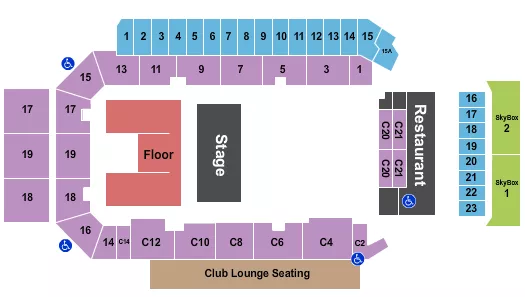 See Peterborough Memorial Centre - Half House events that use this seating chart configuration
Peterborough Memorial Centre - Hockey Seating Map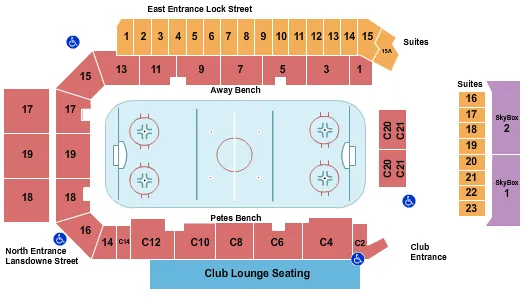 See Peterborough Memorial Centre - Hockey events that use this seating chart configuration
Peterborough Memorial Centre - Stars On Ice Seating Map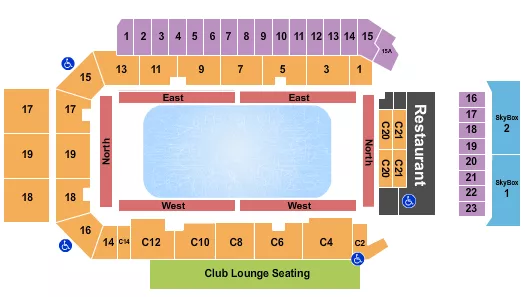 See Peterborough Memorial Centre - Stars On Ice events that use this seating chart configuration
Learn more about Peterborough Memorial Centre
The Peterborough Memorial Center is a state-of-the-art multi-purpose arena in Peterborough, Ontario. With a capacity of 4,329 people, it is equipped to handle both concerts and competitive sports competitions. The venue offers plenty of amenities, including a spacious lobby area, renovated dressing rooms, full-service offices, and audio-video equipment systems.

Founded in 1956, Peterborough is a vibrant and historic town located between Toronto and Kingston. Its downtown core features two rivers, making it a great destination for nature lovers. There are plenty of attractions and activities to choose from, like Lang Pioneer Village, Lift Lock Cruises, Wildlife Safari Park, Petroglyph Provincial Park, shopping, and museums.

The Peterborough Memorial Center is the perfect place for any event. With over 4,000 seats and luxury box suites, it offers a combination of historic charm and modern amenities. Visitors can enjoy theater productions, professional sporting events, and family outings.
Event Dates and Pricing Information
| Performer | Date | Price | Tickets Available |
| --- | --- | --- | --- |
| Stars On Ice | Dec 8, 2023 | From $64 | 2 |
| Boney M | Dec 9, 2023 | From $99 | 28 |
| Peterborough Petes | Dec 10, 2023 | From $28 | 4 |
| Peterborough Petes | Dec 14, 2023 | From $15 | 60 |
| A Christmas Rock Story: Rockin' Holiday Cirque | Dec 15, 2023 | From $76 | 162 |
| The Tenors | Dec 17, 2023 | From $75 | 110 |
| Blue Rodeo | Dec 28, 2023 | From $87 | 70 |
| Peterborough Petes | Dec 31, 2023 | From $19 | 59 |
| Peterborough Petes | Jan 11, 2024 | From $15 | 87 |
| Peterborough Petes | Jan 13, 2024 | From $19 | 35 |