Peace Concert Hall At The Peace Center - SC Seating Charts
Peace Concert Hall At The Peace Center - SC - Endstage 2 Seating Map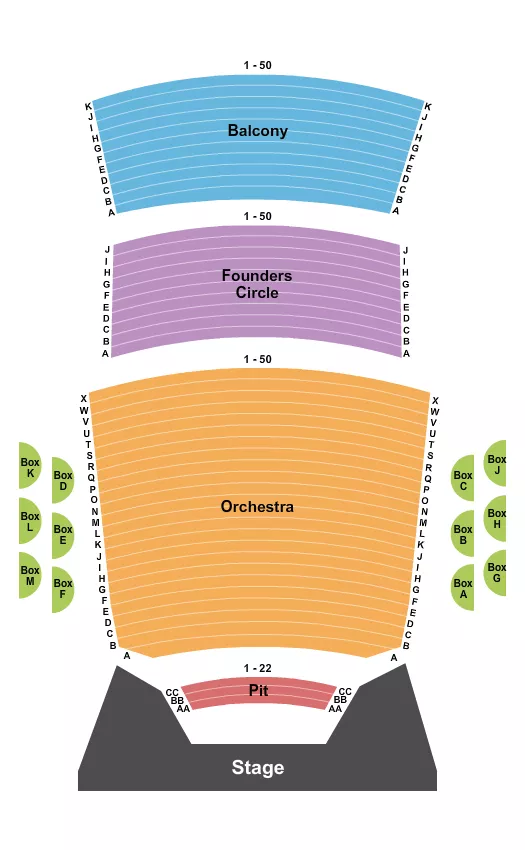 See Peace Concert Hall At The Peace Center - SC - Endstage 2 events that use this seating chart configuration
Learn more about Peace Concert Hall At The Peace Center - SC
The Peace Center is located in Greenville, South Carolina. As an arts center with more than one venue, you can only imagine how popular it has become. For this reason, Peace Center tickets are always in high demand.

The three venues that make up the Peace Center include: Dow Brands Amphitheater, Dorothy Hipp Gunter Theater, and the Peace Concert Hall. Each one of these facilities hosts many events throughout the year. The Peace Concert Hall is most popular due to its large size and 2,100 seat capacity.

All in all, the Peace Center hosts more than 300 events per year. If you are interested in an upcoming show, buy your Peace Center tickets today. You will be glad that you did once you set foot in the venue and take your seat!
Facts about Peace Concert Hall At The Peace Center - SC
Capacity:
2,115
Opened:
November 10, 1990
Event Dates and Pricing Information
| Performer | Date | Price | Tickets Available |
| --- | --- | --- | --- |
| The Nutcracker | Dec 9, 2023 | From $42 | 20 |
| The Nutcracker | Dec 10, 2023 | From $492 | 17 |
| Steve Miller Band | Dec 11, 2023 | From $414 | 2 |
| Greenville Symphony Orchestra | Dec 15, 2023 | From $37 | 110 |
| Greenville Symphony Orchestra | Dec 16, 2023 | From $37 | 104 |
| Greenville Symphony Orchestra | Dec 17, 2023 | From $37 | 48 |
| Celtic Woman | Dec 18, 2023 | From $108 | 88 |
| LeAnn Rimes | Dec 19, 2023 | From $82 | 201 |
| Greenville Symphony Orchestra | Jan 13, 2024 | From $120 | 66 |
| Greenville Symphony Orchestra | Jan 13, 2024 | From $218 | 40 |