Pasadena Playhouse Tickets and Seating Charts - Pasadena, CA
Pasadena Playhouse Seating Charts
Pasadena Playhouse - Endstage 2 Seating Map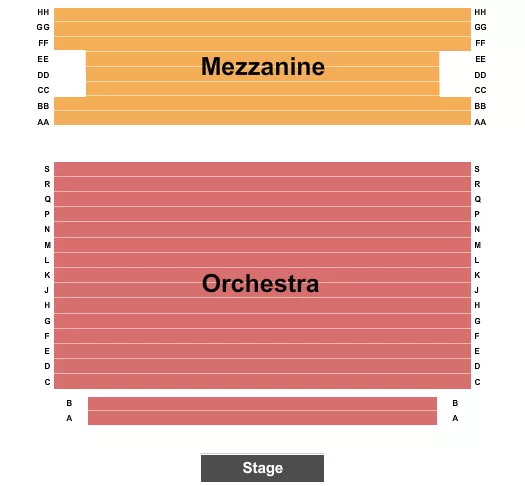 See Pasadena Playhouse - Endstage 2 events that use this seating chart configuration
Learn more about Pasadena Playhouse
Located in Pasadena, California, The Pasadena Playhouse is one of the oldest and most prestigious performing arts venues in the state. With its historic architecture and modern amenities, it is an impressive venue for any kind of event or performance. Established in 1917, it has seen over 10,000 productions featuring some of Hollywood's biggest stars since its inception. The site also includes an outdoor courtyard and a small stage for downtown events and movie screenings. It was even declared a State Historic Landmark back in 1991 - testament to its importance within America's cultural heritage.

Pasadena is a great spot for a wonderful getaway with beautiful scenery, delicious restaurants, and plenty of attractions. The Rose Bowl and the Norton Simon Museum are popular spots, as is Old Town for antiques. Bike rides in the Arroyo Seco parkway and visits to Mission San Gabriel Arcángel by Juana City, La Loma Bridge, and Castle Green with great views of Mt Wilson Observatory are other options.

Pasadena Playhouse is truly one of a kind - from its long and illustrious history, to the architectural beauty of the building and its amazing surrounding grounds, you won't regret experiencing this iconic venue. If it's your first or 10th time taking in a performance there, you are guaranteed a memorable experience!
Event Dates and Pricing Information
| Performer | Date | Price | Tickets Available |
| --- | --- | --- | --- |
| Pasadena Playhouse Holiday Spectacular | Dec 10, 2023 | From $425 | 5 |
| Pasadena Playhouse Holiday Spectacular | Dec 13, 2023 | From $425 | 9 |
| Pasadena Playhouse Holiday Spectacular | Dec 14, 2023 | From $425 | 9 |
| Pasadena Playhouse Holiday Spectacular | Dec 15, 2023 | From $150 | 13 |
| Pasadena Playhouse Holiday Spectacular | Dec 16, 2023 | From $42 | 33 |
| Pasadena Playhouse Holiday Spectacular | Dec 16, 2023 | From $42 | 33 |
| Pasadena Playhouse Holiday Spectacular | Dec 17, 2023 | From $52 | 31 |
| Pasadena Playhouse Holiday Spectacular | Dec 17, 2023 | From $42 | 37 |
| Holiday Spectacular | Dec 19, 2023 | From $42 | 22 |
| Pasadena Playhouse Holiday Spectacular | Dec 20, 2023 | From $42 | 33 |