Packard Music Hall Tickets and Seating Charts - Warren, OH
Packard Music Hall Seating Charts
Packard Music Hall - Alice in Chains- GA Floor Seating Map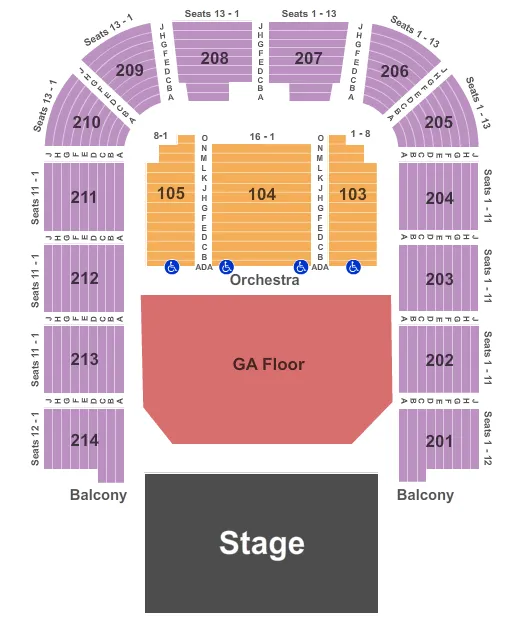 See Packard Music Hall - Alice in Chains- GA Floor events that use this seating chart configuration
Packard Music Hall - Endstage 2 Seating Map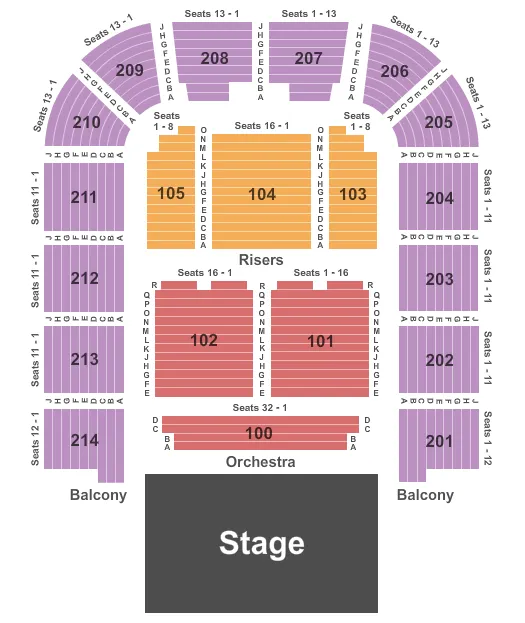 See Packard Music Hall - Endstage 2 events that use this seating chart configuration
Packard Music Hall - General Admission Seating Map See Packard Music Hall - General Admission events that use this seating chart configuration
Learn more about Packard Music Hall
Located in Warren, Ohio, Packard Music Hall has a seating capacity of nearly 2,500 and averages over 100,000 guests each year. Packard Music Hall was envisioned by William Doud Packard, a prominent industrialist, who found a way to mesh pride in his hometown and a love of military marches into a lasting contribution for future generations. Packard Music Hall has been a cornerstone of the state of Ohio's cultural scene since its humble beginnings in 1964. Inside, visitors can experience its old-school charm and nostalgic atmosphere, with beautiful ceilings and warm woodwork. The venue is just as popular now as it was when it first opened over half a century ago - a testament to its timelessness.

Warren, OH is located in north central Ohio and is known for its vibrant history, friendly people, and quality of life. Foodies can enjoy some of the best burgers around, and there are excellent dining options and parks throughout the city. If you want to explore more about Warren's culture, then there are two community theaters nearby, as well as three vibrant art galleries - one owned by a local artist - where visitors can view permanent collections and changing exhibits.

Whether you're looking for a special evening out or just casual entertainment, Packard Music Hall is the place to be! With its world-class sound system and variety of events, Packard Music Hall has something to offer every visitor. Don't miss out on the fun - come and explore this historic Warren venue today!
Event Dates and Pricing Information
| Performer | Date | Price | Tickets Available |
| --- | --- | --- | --- |
| Martina McBride | Dec 9, 2023 | From $44 | 51 |
| The New York Tenors | Dec 14, 2023 | From $70 | 18 |
| Cirque Musica Holiday Wonderland | Dec 17, 2023 | From $76 | 1,254 |
| Ginuwine | Jan 18, 2024 | From $70 | 1,043 |
| Almost Queen - A Tribute To Queen | Mar 1, 2024 | From $61 | 845 |
| Dropkick Murphys | Mar 6, 2024 | From $81 | 383 |
| Gary Allan | Mar 7, 2024 | From $59 | 893 |
| Michael Minor | Mar 27, 2024 | From $65 | 8 |
| The Greatest Piano Men | Apr 16, 2024 | From $70 | 18 |
| Andrew Och | Apr 24, 2024 | From $65 | 14 |