Osage Casino Tickets and Seating Charts - Tulsa, OK
Skyline Event Center at Osage Casino Seating Charts
Skyline Event Center at Osage Casino - Endstage 2 Seating Map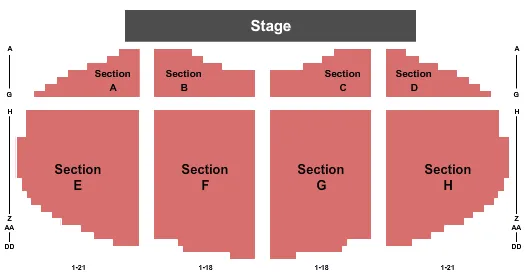 See Skyline Event Center at Osage Casino - Endstage 2 events that use this seating chart configuration
Skyline Event Center at Osage Casino - General Admission Seating Map See Skyline Event Center at Osage Casino - General Admission events that use this seating chart configuration
Learn more about Skyline Event Center at Osage Casino
Located in Tulsa, Oklahoma, Osage Casino is one of the seven casinos owned and operated by the Osage Nation. With a wide variety of entertainment and gaming options, this vibrant casino is a great place to visit for an exciting night out. From live music shows to poker tournaments, there's something for everyone. It offers traditional casino games such as slots and card games and special occasion events like live entertainment performances from nationally known acts.

Think again! In Tulsa, Oklahoma, there's a lot more to do than just visit the casino. During the warmer months, take advantage of our beautiful landscape and explore the many trails and parks in town. Wander through downtown Tulsa's thriving arts scene at the Guthrie Green center and enjoy amazing live bands while sipping on craft beer in Tulsa's bar scene. Don't miss the vibrant murals that brighten up local buildings. Attend events such as the Downtown Magic Hour Lighting & Music Festival to make glorious memories.

Osage Casino Tulsa is the perfect spot for anyone looking to experience all the sights, sounds, and flavors of Oklahoma's gaming culture. Enjoy high-stakes table games and electronic gaming, as well as mouth-watering meals created by experienced chefs. Experience all that a world-class casino has to offer for a great time!
Event Dates and Pricing Information