Olympia Theatre - Montreal Seating Charts
Olympia Theatre - Montreal - End Stage Seating Map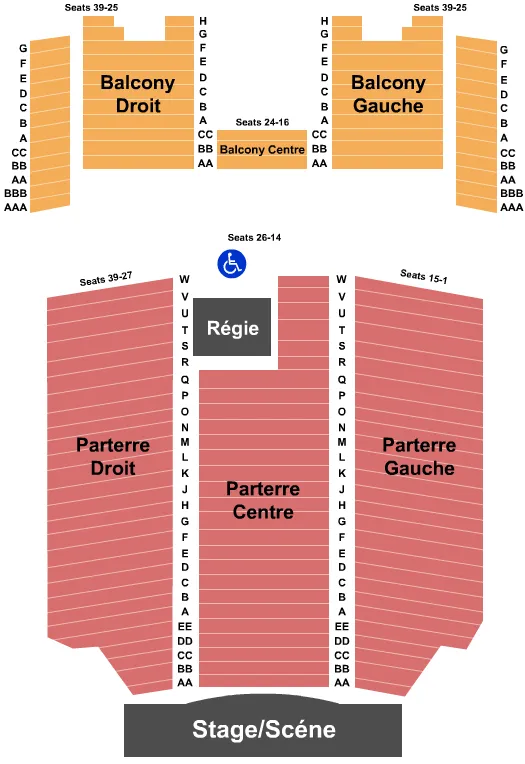 See Olympia Theatre - Montreal - End Stage events that use this seating chart configuration
Olympia Theatre - Montreal - End Stage GA Floor Seating Map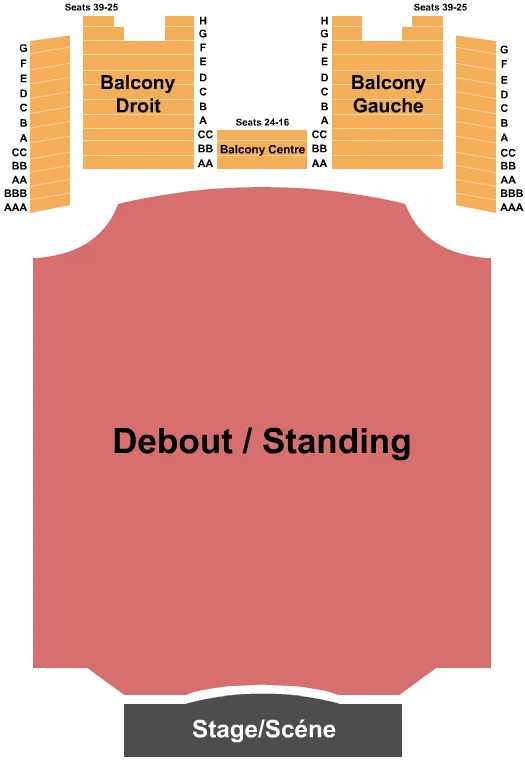 See Olympia Theatre - Montreal - End Stage GA Floor events that use this seating chart configuration
Olympia Theatre - Montreal - Endstage 2 Seating Map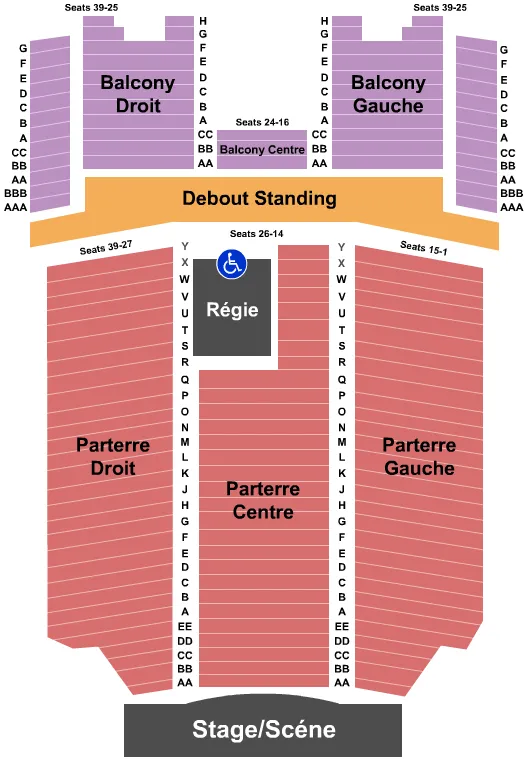 See Olympia Theatre - Montreal - Endstage 2 events that use this seating chart configuration
Olympia Theatre - Montreal - Endstage Tables 2 Seating Map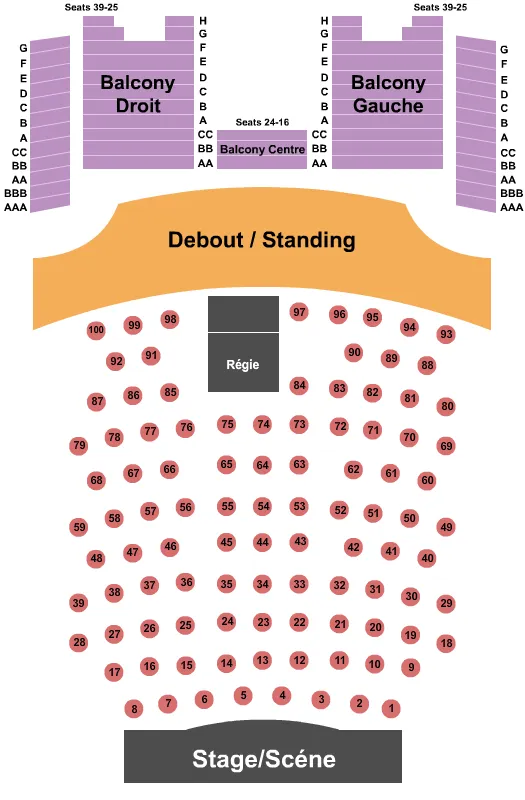 See Olympia Theatre - Montreal - Endstage Tables 2 events that use this seating chart configuration
Olympia Theatre - Montreal - General Admission Seating Map See Olympia Theatre - Montreal - General Admission events that use this seating chart configuration
Learn more about Olympia Theatre - Montreal
The Olympia Theater in Montreal has been a well-known event venue for almost a century. Opened in 1926, the theater still draws crowds from all over the city for its many entertainment options, from big concerts to classic movies. If you're looking for an incredible night out in Montreal, be sure to check out what's happening at the theater.

Founded in 1642 and considered one of the oldest cities in Canada, Montreal has a lot to offer. From unique French-Canadian cultures to breathtaking natural surroundings, there is truly something here for everyone. Whether you're looking for a romantic getaway or an electrifying nightlife experience, Montreal delivers an experience that can please all tastes. If it's upscale shopping or delicious food you seek, then the array of shopping centers and restaurants will provide plenty to choose from. Experience multi-cultural dining at St.-Viateur Bagel & Coffee Shop or perhaps take a stroll at Park La Fontaine; either way, it can be more than enough to pack your day with carefree sightseeing pleasure. And if one needs a breather - how about some relaxing lake view picnicking at Mount Royal? Montreal's neighborhoods such as Mile End within Section Petite Patrie are filled with diversity which promises many cultural delight experiences!

The Olympia Theater has been part of Montreal's cultural scene since its grand opening in 1925. Located on the corner of Boulevard de Maisonneuve, the iconic venue has been delighting patrons ever since with performances from a variety of musical, theater, and comedy acts. It also serves as a home to up-and-coming talent as well as more established musicians. Over the last century, it has graced Montreal's entertainment landscape and continues to be one of the most sought-after destinations for local, national, and international performers.

With its rich history, world-class acoustics, and stunning architecture, the Olympia Theater is a must-see destination for any theater fan. Experience the grandeur of the Moorish style design and enjoy the many local theatrical productions that grace the stage - all located within its walls on Broadway at 44th Street!
Event Dates and Pricing Information
| Performer | Date | Price | Tickets Available |
| --- | --- | --- | --- |
| Diego El Cigala | Oct 6, 2023 | From $189 | 256 |
| Nous pour Vous: Spectacle d'humour pour le Maroc | Oct 9, 2023 | From $64 | 175 |
| James Blake - Musician | Oct 10, 2023 | From $49 | 119 |
| Cheb Khaled | Oct 13, 2023 | From $428 | 4 |
| Cheb Khaled | Oct 14, 2023 | From $144 | 197 |
| Kim Petras | Oct 15, 2023 | From $43 | 20 |
| Djamel Laroussi | Oct 20, 2023 | From $106 | 5 |
| Danny Bhoy | Oct 21, 2023 | From $59 | 114 |
| Maes | Oct 22, 2023 | From $86 | 18 |
| Matthieu Pepper | Oct 24, 2023 | From $47 | 213 |