Ohio Stadium Tickets and Seating Charts - Columbus, OH
Ohio Stadium is located in Columbus, Ohio, and serves as the home field for the Ohio State University Buckeyes football team. Many refer to this venue as "The Horseshoe" or "The Shoe." But no matter what you call Ohio Stadium, one thing is for sure. It is one of the nicest venues in the Big Ten Conference, and this is not going to change anytime in the near future.

Ohio Stadium opened for business in October of 1922. As you can imagine, this makes it one the oldest stadiums in the conference. But despite its old age, Ohio Stadium is still going strong. Many updates over the years have ensured that it would never get passed up by the rest of the stadiums in the Big Ten.

The seating capacity at Ohio Stadium is 101,568. This makes it one of the largest stadiums in all of college football. For this reason, you can only imagine how loud it can get when the Buckeyes take the field.

In addition to college football, Ohio Stadium is also one of the largest concert venues in the Columbus area. As you can see, this versatile stadium has a lot to offer.
Ohio Stadium - Football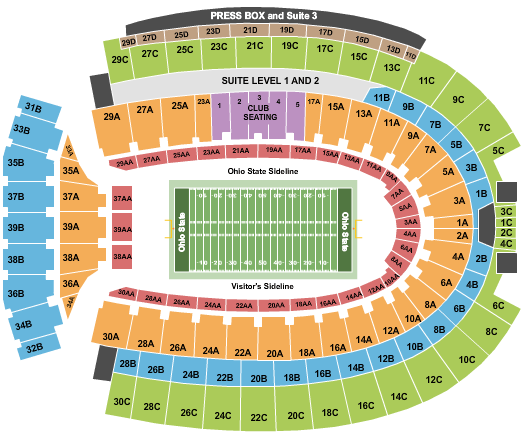 See Ohio Stadium - Football events that use this seating chart configuration