New Jersey Performing Arts Center - Prudential Hall Seating Charts
New Jersey Performing Arts Center - Prudential Hall - End Stage Seating Map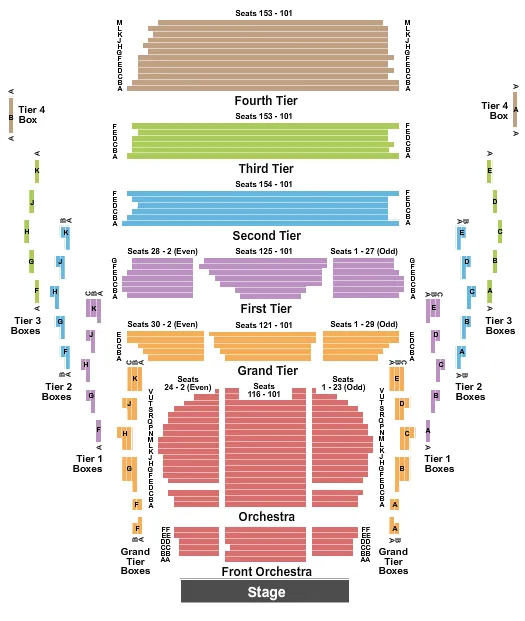 See New Jersey Performing Arts Center - Prudential Hall - End Stage events that use this seating chart configuration
Learn more about New Jersey Performing Arts Center - Prudential Hall
Building an arts center near one of the entertainment epicenters of the world is a tall order, but former New Jersey governor Thomas H. Kean believed that his state needed its own. He selected the city of
Newark
, located just outside of
New York City
, as the home for the new venue. Since opening in 1997, New Jersey Performing Arts Center has become a world-class arts destination. The venue also served a role in the revitalization of Newark.
The diversity of New Jersey is captured in the performances that take place at the Center. It opened with a celebration featuring performances from the
New Jersey Symphony
, Wynton Marsalis and Lincoln Center Jazz Orchestra, Chita Rivera, Savion Glover and
American Ballet Theatre
. From variety shows to theater productions to concerts by popular recording artists, it continues to produce a broad range of events each year. The venue also provides extensive arts education programs for parents, students, teachers and community members.
New Jersey Performing Arts Center is easily accessible from the Garden State Parkway, New Jersey Turnpike and Interstate 280. There are three parking lots nearby that offer spaces for a fee. Visitors are encouraged to prepay, and those who purchase parking a day or more prior to an event will receive a discount. Public transportation is an easy alternative for visitors, and there are train stations within walking distance of the center. Hotel accommodations are readily available, and while there are many restaurants in Newark, only a few are within walking distance.
Facts about New Jersey Performing Arts Center - Prudential Hall
Capacity:
3,352
Opened:
October 18, 1997
Event Dates and Pricing Information
| Performer | Date | Price | Tickets Available |
| --- | --- | --- | --- |
| Chevy Chase | Dec 15, 2023 | From $74 | 145 |
| State Ballet Theatre of Ukraine | Dec 17, 2023 | From $63 | 154 |
| The Hip Hop Nutcracker | Dec 23, 2023 | From $83 | 313 |
| The Hip Hop Nutcracker | Dec 23, 2023 | From $83 | 663 |
| Cirque Dreams: Holidaze | Dec 26, 2023 | From $47 | 380 |
| Kem | Dec 27, 2023 | From $104 | 118 |
| Paw Patrol Live | Dec 29, 2023 | From $85 | 450 |
| Paw Patrol Live | Dec 29, 2023 | From $77 | 521 |
| Paw Patrol Live | Dec 29, 2023 | From $57 | 668 |
| Paw Patrol Live | Dec 30, 2023 | From $80 | 417 |