NASCAR Kansas Speedway
Kansas Speedway Seating Charts
NASCAR - Kansas Speedway Seating Map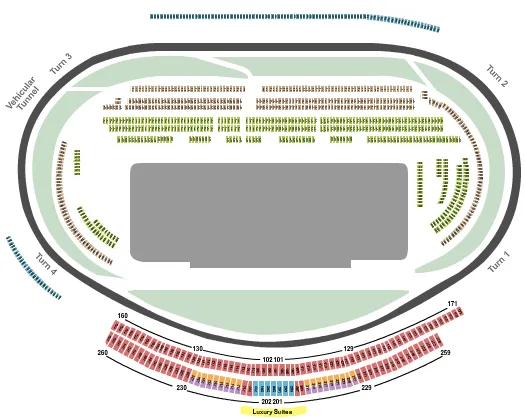 See NASCAR - Kansas Speedway events that use this seating chart configuration
As you walk through the gates of the NASCAR Kansas Speedway, you can feel the electric atmosphere that comes with being a fan at one of the most exhilarating racing venues in America. Opened in 2001, this 1.5-mile tri-oval track has a rich history of hosting some of the most memorable races in NASCAR. Located in Kansas City, Kansas, the speedway's grandstands can accommodate up to 48,000 enthusiastic fans like you.
One of the major events you won't want to miss at Kansas Speedway is the Hollywood Casino 400, a prestigious race in the NASCAR Cup Series Playoffs. The track also hosts the Buschy McBusch Race 400 in May, which is another NASCAR Cup Series event. The speedway has witnessed a number of unforgettable moments, such as Jeff Gordon's win in the inaugural Protection One 400 in 2001, and Denny Hamlin's thrilling victory in the 2012 Hollywood Casino 400, where he held off the charging pack to secure a spot in the playoffs.
As you take your seat, you can't help but feel the anticipation in the air. The roar of the engines, the blur of the cars speeding past, and the cheers from the crowd make the experience truly unforgettable. Kansas Speedway also offers a variety of amenities for fans, including food and beverage options, merchandise booths, and even a FanWalk area that allows you to get up close and personal with the drivers and their cars.
No visit to the Kansas Speedway would be complete without mentioning the impressive Speedway Children's Charities organization, which has raised over $1 million since its inception, providing grants to local children's organizations. As a fan, your support of the Kansas Speedway not only fuels your passion for racing, but also helps make a positive impact on the lives of children in need.
Event Dates and Pricing Information
| Venue | Date | Price | Tickets Available |
| --- | --- | --- | --- |
| Daytona International Speedway | Feb 14, 2024 | From $33 | 10 |
| Daytona International Speedway | Feb 15, 2024 | From $1,059 | 41 |
| Daytona International Speedway | Feb 15, 2024 | From $43 | 1,728 |
| Daytona International Speedway | Feb 16, 2024 | From $55 | 52 |
| Daytona International Speedway | Feb 18, 2024 | From $119 | 4,664 |
| Atlanta Motor Speedway | Feb 24, 2024 | From $41 | 2,246 |
| Atlanta Motor Speedway | Feb 24, 2024 | From $88 | 20 |
| Atlanta Motor Speedway | Feb 25, 2024 | From $79 | 566 |
| Las Vegas Motor Speedway | Mar 1, 2024 | From $17 | 544 |
| Las Vegas Motor Speedway | Mar 2, 2024 | From $28 | 2,781 |