Mortensen Hall at Bushnell Theatre Seating Charts
Mortensen Hall at Bushnell Theatre - End Stage Int Zone Seating Map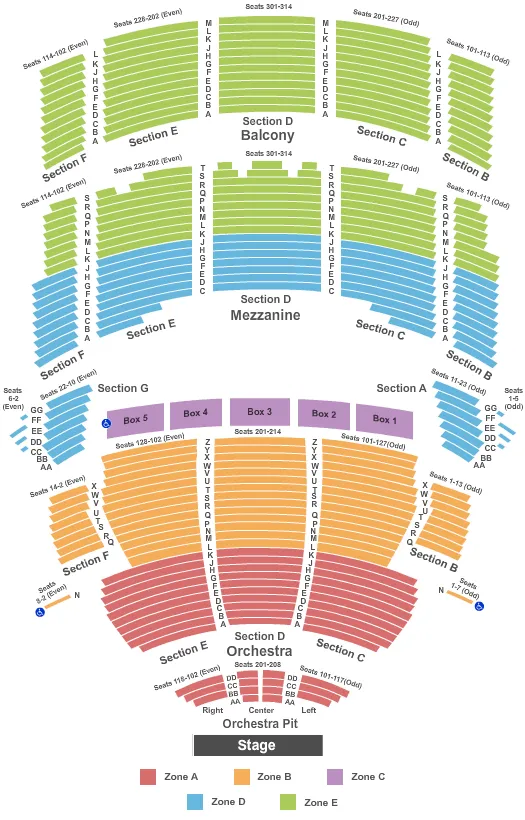 See Mortensen Hall at Bushnell Theatre - End Stage Int Zone events that use this seating chart configuration
Learn more about Mortensen Hall at Bushnell Theatre
The Bushnell Theatre is located in Hartford, Connecticut at 166 Capitol Avenue. Although this venue is not in a large city, it has plenty to offer. For this reason, both locals and tourists from all over the world visit the Bushnell Theatre on a regular basis.

The Bushnell Theatre is used for a number of different events on a regular basis. Some of the most popular include Broadway theatre, opera, music events, dance shows, travel films, special events, and much more.

Both inside and out, the Bushnell Theatre has a lot to offer. Sure, the shows are great, but the overall atmosphere is also top of the line. This is what makes for a good time at a show, and the Bushnell Theatre never lags far behind the competition.

For a great time in Hartford, Connecticut, take the time to visit the Bushnell Theatre. There is a good chance that you will find an event at this venue that suits your tastes!
FAQs about Mortensen Hall at Bushnell Theatre
What time do doors open at Mortensen Hall?
Doors typically open anywhere between 90 minutes to 2 hours prior to showtime at Mortensen Hall. Be sure to check the listing on your ticket as showtimes will vary.
Are VIP Packages or Accessible Seating offered at Mortensen Hall?
Mortensen Hall VIP seating packages and accessible seating section locations may vary per event. Please click the seating chart below or contact our customer service department to discuss options for accessible seating or VIP package purchases.
Facts about Mortensen Hall at Bushnell Theatre
Capacity:
2,799
Date Opened:
1975
Event Dates and Pricing Information
| Performer | Date | Price | Tickets Available |
| --- | --- | --- | --- |
| Moulin Rouge - The Musical | Dec 3, 2023 | From $88 | 203 |
| Moulin Rouge - The Musical | Dec 3, 2023 | From $82 | 227 |
| Hartford Symphony Orchestra | Dec 16, 2023 | From $60 | 71 |
| Elf In Concert | Dec 22, 2023 | From $102 | 95 |
| Elf In Concert | Dec 23, 2023 | From $183 | 14 |
| Joe Gatto - Comedian | Dec 30, 2023 | From $69 | 286 |
| Frozen - The Musical | Feb 8, 2024 | From $82 | 34 |
| Frozen - The Musical | Feb 9, 2024 | From $82 | 22 |
| Frozen - The Musical | Feb 10, 2024 | From $273 | 6 |
| Frozen - The Musical | Feb 10, 2024 | From $82 | 26 |