Mohegan Sun Arena - CT Seating Charts
Mohegan Sun Arena - CT - Basketball Seating Map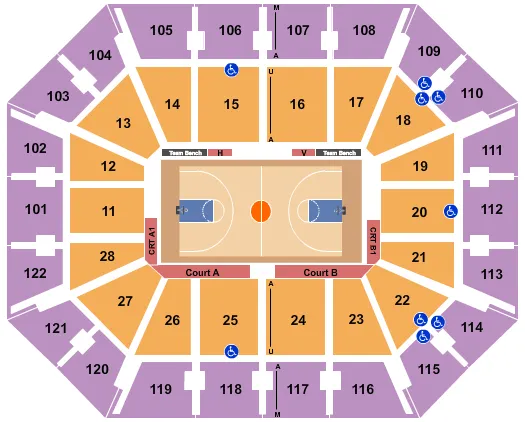 See Mohegan Sun Arena - CT - Basketball events that use this seating chart configuration
Mohegan Sun Arena - CT - Boxing 2 Seating Map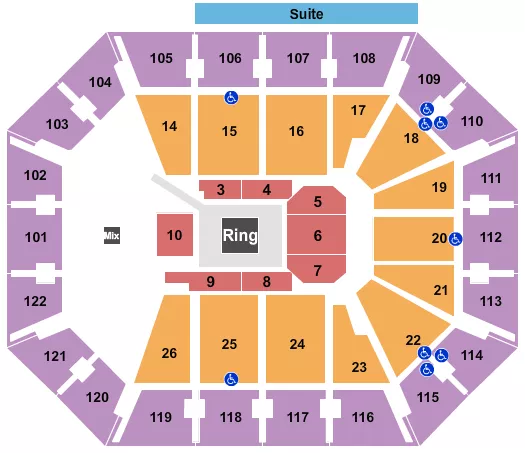 See Mohegan Sun Arena - CT - Boxing 2 events that use this seating chart configuration
Mohegan Sun Arena - CT - Center Stage Seating Map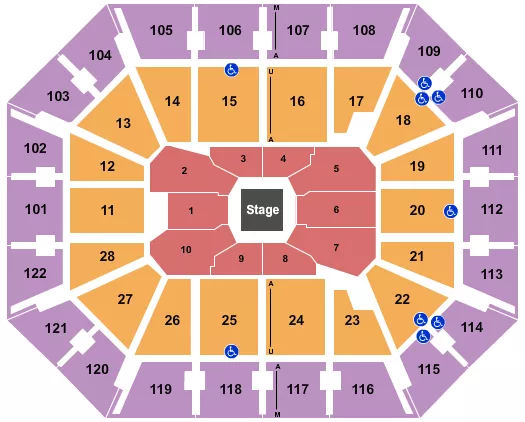 See Mohegan Sun Arena - CT - Center Stage events that use this seating chart configuration
Mohegan Sun Arena - CT - Cirque Dreams Seating Map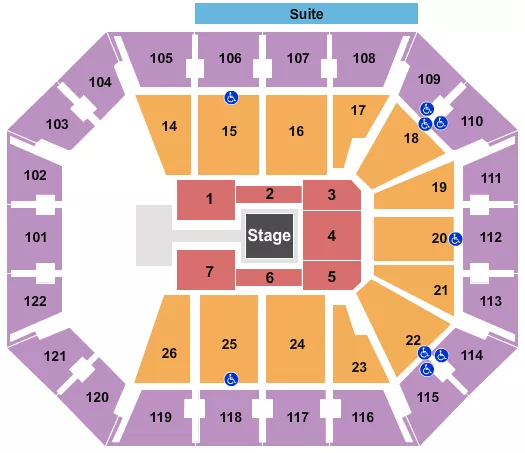 See Mohegan Sun Arena - CT - Cirque Dreams events that use this seating chart configuration
Mohegan Sun Arena - CT - Dan & Shay Seating Map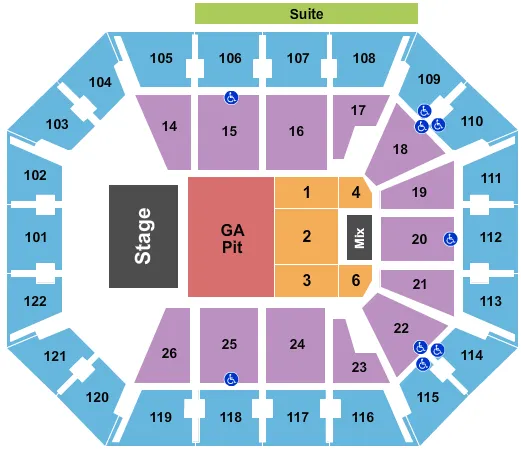 See Mohegan Sun Arena - CT - Dan & Shay events that use this seating chart configuration
Mohegan Sun Arena - CT - End Stage 3 Seating Map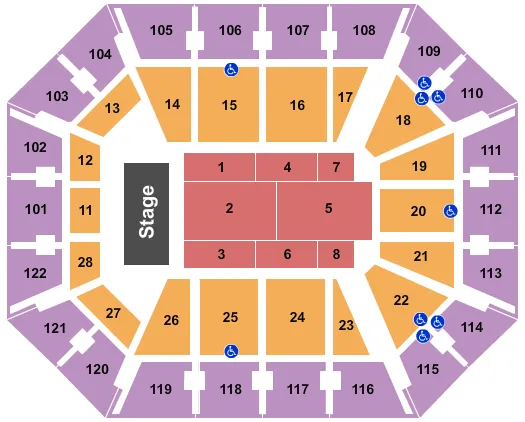 See Mohegan Sun Arena - CT - End Stage 3 events that use this seating chart configuration
Mohegan Sun Arena - CT - Endstage 4 Seating Map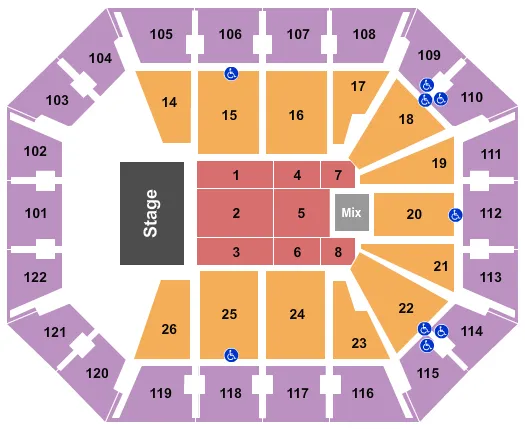 See Mohegan Sun Arena - CT - Endstage 4 events that use this seating chart configuration
Mohegan Sun Arena - CT - Endstage 5 Seating Map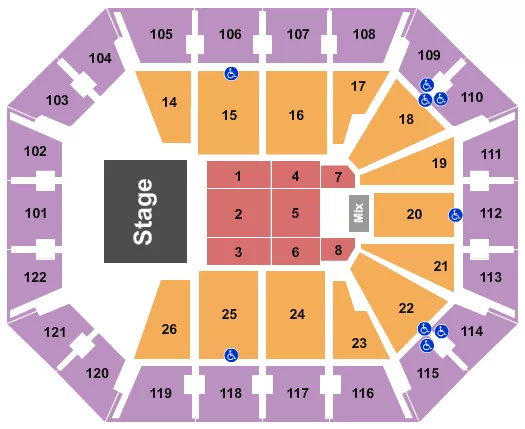 See Mohegan Sun Arena - CT - Endstage 5 events that use this seating chart configuration
Mohegan Sun Arena - CT - Endstage GA Floor 2 Seating Map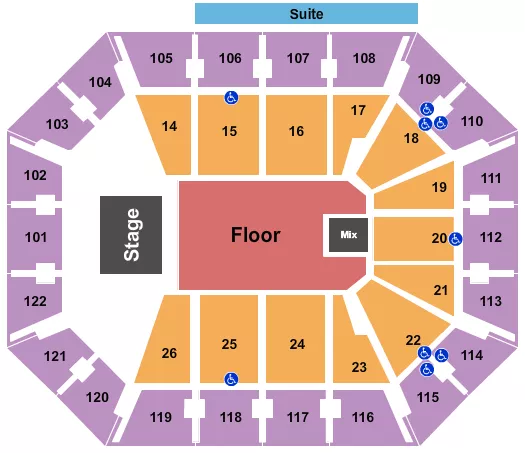 See Mohegan Sun Arena - CT - Endstage GA Floor 2 events that use this seating chart configuration
Mohegan Sun Arena - CT - Half House 4 Seating Map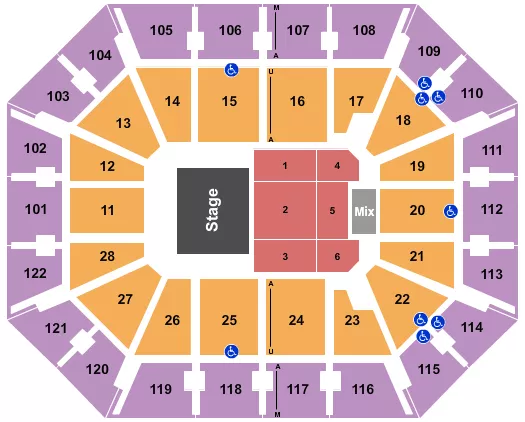 See Mohegan Sun Arena - CT - Half House 4 events that use this seating chart configuration
Mohegan Sun Arena - CT - Lionel Richie Seating Map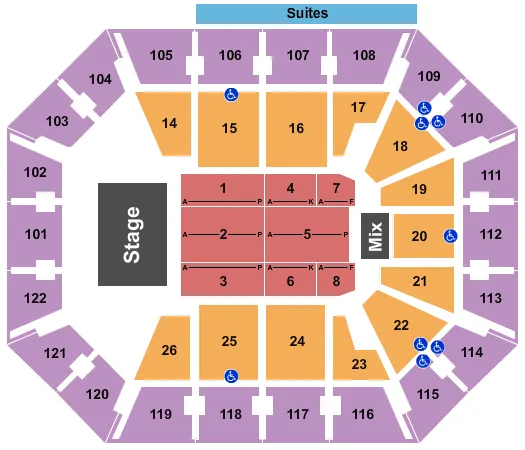 See Mohegan Sun Arena - CT - Lionel Richie events that use this seating chart configuration
Mohegan Sun Arena - CT - WWE Seating Map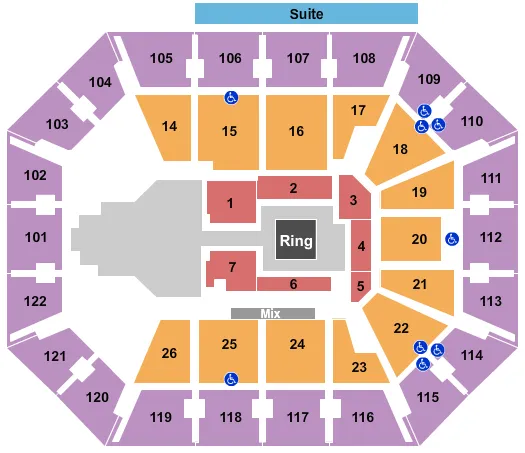 See Mohegan Sun Arena - CT - WWE events that use this seating chart configuration
Learn more about Mohegan Sun Arena - CT
Mohegan Sun Arena is an iconic entertainment venue located in Uncasville, Connecticut. Opened in 2001, it is the premier location for sports and live music fans throughout New England. It has been host to some of the most popular performers on tour, including Taylor Swift and Ed Sheeran, as well as UConn Huskies Basketball and Hartford Wolf Pack. It is the home of the NBA G-League affiliate of the Boston Celtics, the Maine Red Claws and the New England Black Wolves lacrosse team. With its state-of-the-art facilities and active scoreboards, the arena provides something for everyone - from high-intensity sports action to enthralling concert experiences.

Located in Uncasville, this small town has a charm all its own. From the old-fashioned Main Street to outdoor activities like fishing and biking, there is plenty to explore. There are 14 independent stores in downtown Norwich, offering unique local wares; breathtaking views of the countryside and festivals throughout the year, including carnivals, fairs and expos featuring food trucks and craft breweries. Activities like kayaking on Clearwater Lake or moseying through Hamilton Farm's Maize Adventure Corn Maze in Montville can also be enjoyed. Plus, easy access to surrounding towns such as Cromwell and East Lyme means there are even more attractions to explore.

Mohegan Sun is a full-on resort, so visitors will find everything they need onsite, including a range of dining options, hotel accommodations and shopping for all budgets. From casual and fine dining to bars and nightclubs, it's all there. For those who want to soak in some flavor of the area outside of the complex, the Connecticut Wine Trail is about 45 minutes away and the Mystic Aquarium less than half an hour away.

Visit the Mohegan Sun Arena for a unique night out or to catch some incredible entertainment. With a capacity of 10,000 people and a variety of events taking place throughout the year, you're guaranteed to have a great time!
FAQs about Mohegan Sun Arena - CT
What time do doors open at Mohegan Sun Arena?
Doors typically open anywhere between 90 minutes to 2 hours prior to showtime at Mohegan Sun Arena. Be sure to check the listing on your ticket as showtimes will vary.
Are VIP Packages or Accessible Seating offered at Mohegan Sun Arena?
Mohegan Sun Arena VIP seating packages and accessible seating section locations may vary per event. Please click the seating chart below or contact our customer service department to discuss options for accessible seating or VIP package purchases.
Facts about Mohegan Sun Arena - CT
Capacity:
10,000
Date/Year Built/Opened:
1996
Event Dates and Pricing Information
| Performer | Date | Price | Tickets Available |
| --- | --- | --- | --- |
| Pentatonix | Dec 7, 2023 | From $86 | 431 |
| Straight No Chaser | Dec 8, 2023 | From $54 | 186 |
| Basketball Hall of Fame Women's Showcase | Dec 10, 2023 | From $20 | 1,154 |
| Bret Michaels | Dec 16, 2023 | From $69 | 602 |
| Michael Bolton | Dec 17, 2023 | From $59 | 565 |
| Cirque Dreams: Celebrations | Dec 28, 2023 | From $62 | 608 |
| Cirque Dreams: Celebrations | Dec 29, 2023 | From $59 | 772 |
| Cirque Dreams: Celebrations | Dec 30, 2023 | From $53 | 726 |
| Reality Fighting | Jan 6, 2024 | From $95 | 319 |
| Dancing With The Stars | Jan 13, 2024 | From $91 | 575 |