Mississippi Coast Coliseum Tickets and Seating Charts - Biloxi, MS
Mississippi Coast Coliseum Seating Charts
Mississippi Coast Coliseum - Basketball 2 Seating Map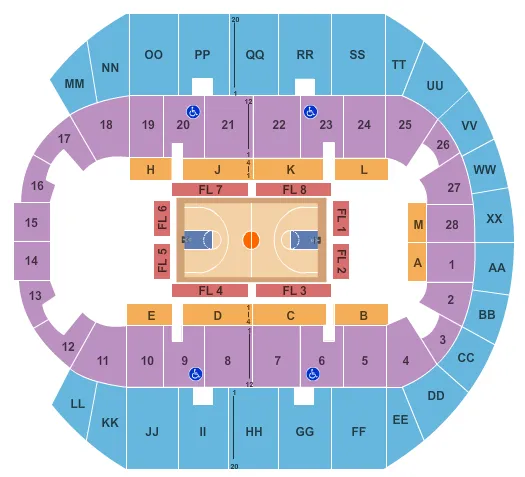 See Mississippi Coast Coliseum - Basketball 2 events that use this seating chart configuration
Mississippi Coast Coliseum - End Stage 3 Seating Map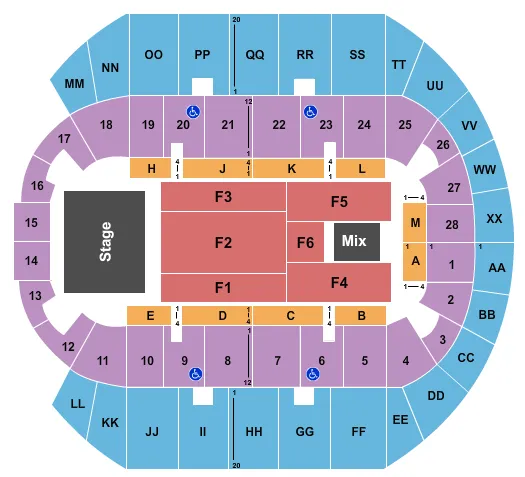 See Mississippi Coast Coliseum - End Stage 3 events that use this seating chart configuration
Mississippi Coast Coliseum - End Stage 5 Seating Map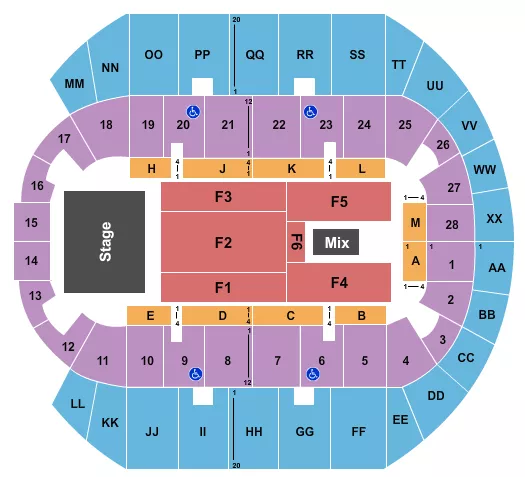 See Mississippi Coast Coliseum - End Stage 5 events that use this seating chart configuration
Mississippi Coast Coliseum - Endstage 2 Seating Map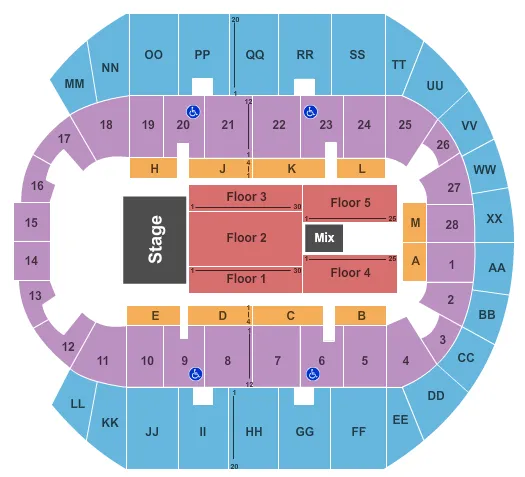 See Mississippi Coast Coliseum - Endstage 2 events that use this seating chart configuration
Mississippi Coast Coliseum - Endstage 4 Seating Map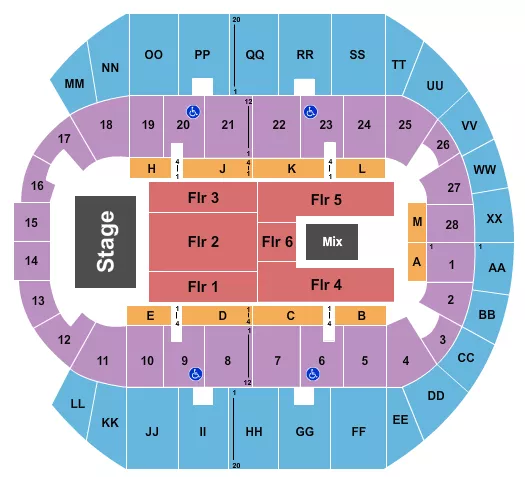 See Mississippi Coast Coliseum - Endstage 4 events that use this seating chart configuration
Mississippi Coast Coliseum - Hockey-2 Seating Map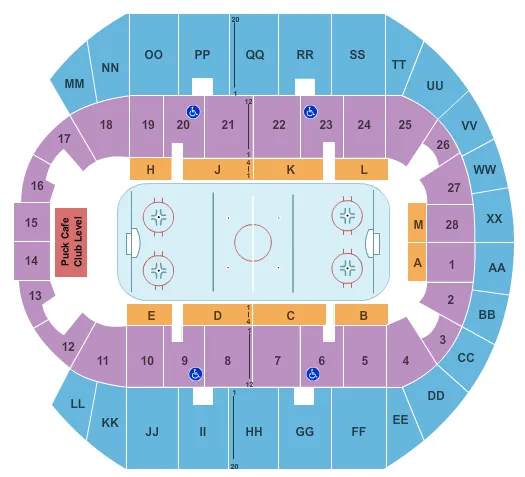 See Mississippi Coast Coliseum - Hockey-2 events that use this seating chart configuration
Mississippi Coast Coliseum - Miranda Lambert1 Seating Map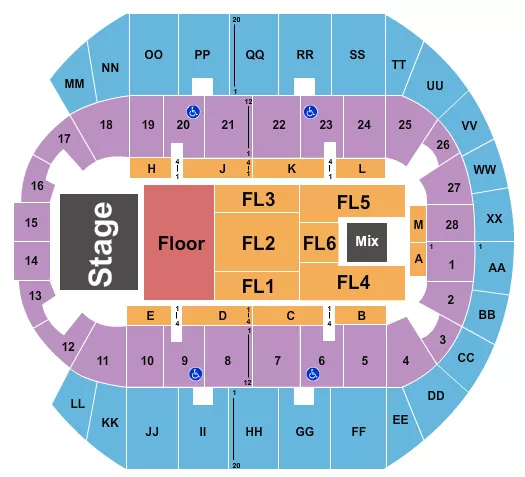 See Mississippi Coast Coliseum - Miranda Lambert1 events that use this seating chart configuration
Mississippi Coast Coliseum - Open Floor Seating Map
See Mississippi Coast Coliseum - Open Floor events that use this seating chart configuration
Mississippi Coast Coliseum - Riley Green Seating Map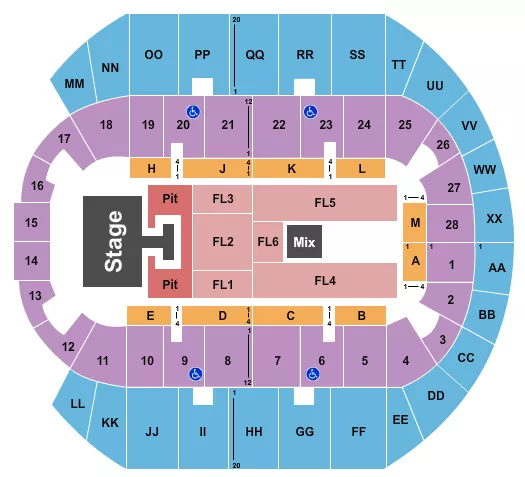 See Mississippi Coast Coliseum - Riley Green events that use this seating chart configuration
Mississippi Coast Coliseum - Rodeo 2 Seating Map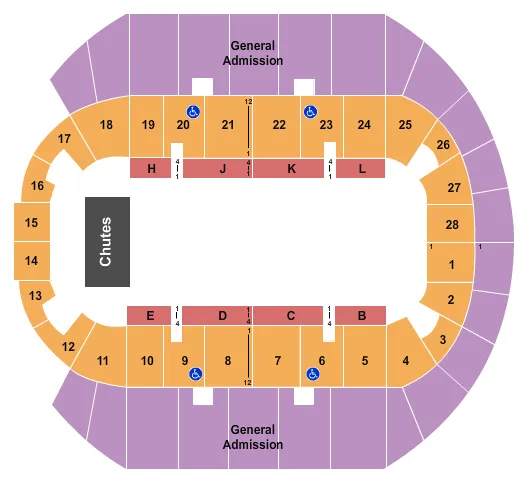 See Mississippi Coast Coliseum - Rodeo 2 events that use this seating chart configuration
Mississippi Coast Coliseum - Theater 2 Seating Map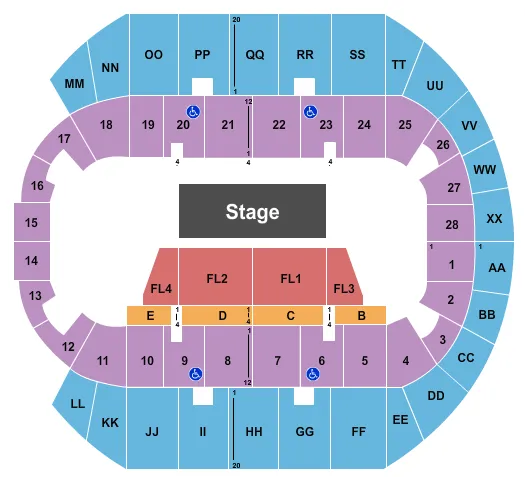 See Mississippi Coast Coliseum - Theater 2 events that use this seating chart configuration
Mississippi Coast Coliseum - Tim McGraw 2023 Seating Map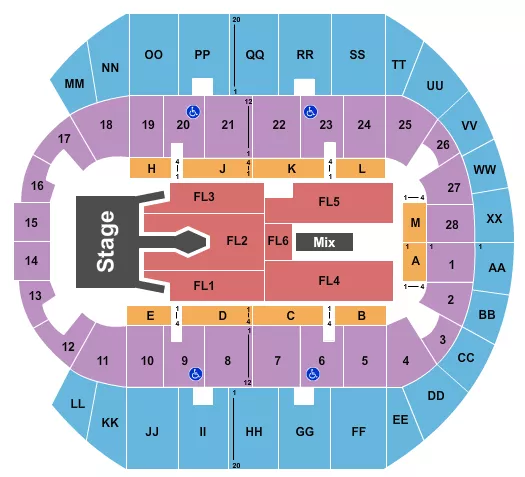 See Mississippi Coast Coliseum - Tim McGraw 2023 events that use this seating chart configuration
Learn more about Mississippi Coast Coliseum
The Mississippi Coast Coliseum is a premier event venue located in Biloxi, Mississippi. Established in 1977, this impressive complex has hosted a variety of national events such as concerts, sporting events, conventions, and much more. With over 12 thousand seats in the main arena and 4 levels of concourses encircling it, the Coliseum offers a unique experience by combining sights and sounds all in one space. It's also home to multiple awards ceremonies and large-scale visiting shows throughout the year.

Biloxi is a dream achieved for those seeking serenity paired with a plethora of activities. Whether you're after the fast-paced action of some casino gaming or simply want to stroll along its charming streets, Biloxi has something to offer every guest. Set up a beach chair on any one of its numerous shorelines and relax by the day before experiencing the bustling nightlife that extends from Point Cadet to North Bay Shore Beach. Visit Casino Row for 24-hour entertainment or take a guided tour around Biloxi whether it's on foot or aboard an amphibious vessel. Relax atop historic ships at Dockmaster's Museum and take in all 40 acres Dedeaux Park has to offer, from tennis courts to soccer fields and playgrounds.

The Mississippi Coast Coliseum is a great place to come for amazing entertainment experiences with friends and family for memories that will last forever! With its convenient location just an hour away from New Orleans, the Coliseum is the perfect place to catch an event. From hockey games to concerts and more, the Mississippi Coast Coliseum offers something for everyone. Whether you're a local or just visiting, be sure to check out all that this venue has to offer - you won't be disappointed!
FAQs about Mississippi Coast Coliseum
What time do doors open at Mississippi Coast Coliseum?
Doors typically open anywhere between 90 minutes to 2 hours prior to showtime at Mississippi Coast Coliseum. Be sure to check the listing on your ticket as showtimes will vary.
Are VIP Packages or Accessible Seating offered at Mississippi Coast Coliseum?
Mississippi Coast Coliseum VIP seating packages and accessible seating section locations may vary per event. Please click the seating chart below or contact our customer service department to discuss options for accessible seating or VIP package purchases.
Facts about Mississippi Coast Coliseum
Capacity:
11,500
Year Opened:
1977
Additional Venues At Mississippi Coast Coliseum:
Event Dates and Pricing Information
| Performer | Date | Price | Tickets Available |
| --- | --- | --- | --- |
| Mississippi Sea Wolves | Dec 15, 2023 | From $31 | 2,679 |
| Mississippi Sea Wolves | Dec 16, 2023 | From $31 | 3,456 |
| Southern Miss Golden Eagles Basketball | Dec 23, 2023 | From $49 | 2,656 |
| Mississippi Sea Wolves | Dec 26, 2023 | From $31 | 2,885 |
| Mississippi Sea Wolves | Dec 29, 2023 | From $31 | 2,866 |
| Mississippi Sea Wolves | Dec 30, 2023 | From $31 | 3,127 |
| Mississippi Sea Wolves | Jan 2, 2024 | From $31 | 2,665 |
| Mississippi Sea Wolves | Jan 3, 2024 | From $31 | 2,800 |
| Mississippi Sea Wolves | Jan 5, 2024 | From $31 | 3,303 |
| Mississippi Sea Wolves | Jan 6, 2024 | From $31 | 3,367 |