MidFlorida Credit Union Amphitheatre Tickets and Seating Charts - Tampa, FL
MidFlorida Credit Union Amphitheatre At The Florida State Fairgrounds Seating Charts
MidFlorida Credit Union Amphitheatre At The Florida State Fairgrounds - Alice In Chains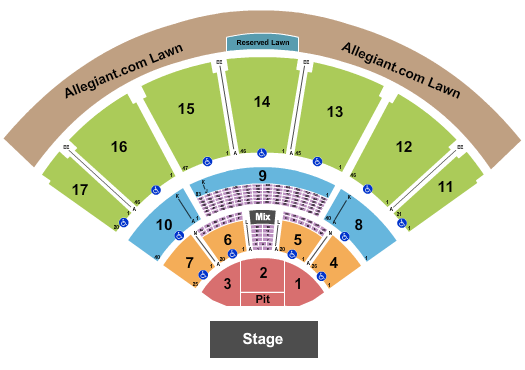 See MidFlorida Credit Union Amphitheatre At The Florida State Fairgrounds - Alice In Chains events that use this seating chart configuration
MidFlorida Credit Union Amphitheatre At The Florida State Fairgrounds - End Stage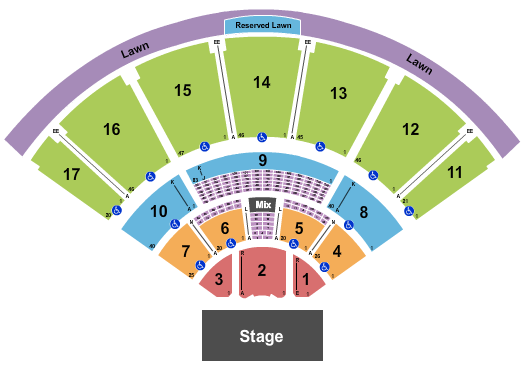 See MidFlorida Credit Union Amphitheatre At The Florida State Fairgrounds - End Stage events that use this seating chart configuration
MidFlorida Credit Union Amphitheatre At The Florida State Fairgrounds - End Stage GA Pit 2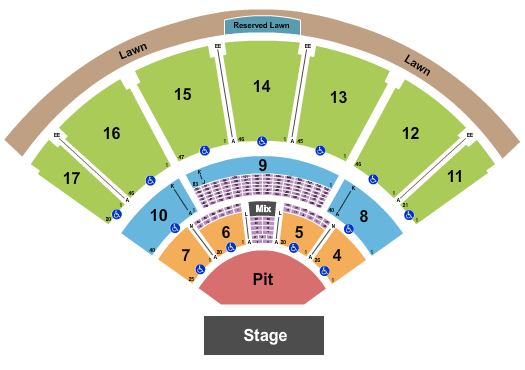 See MidFlorida Credit Union Amphitheatre At The Florida State Fairgrounds - End Stage GA Pit 2 events that use this seating chart configuration
MidFlorida Credit Union Amphitheatre At The Florida State Fairgrounds - Endstage 2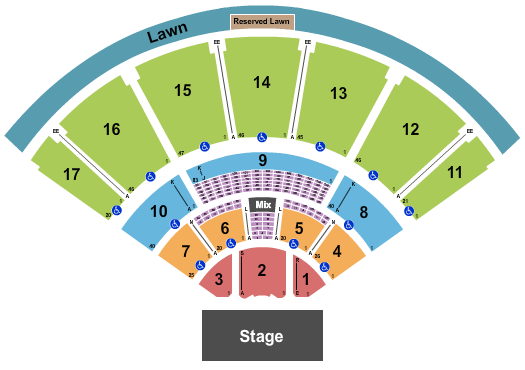 See MidFlorida Credit Union Amphitheatre At The Florida State Fairgrounds - Endstage 2 events that use this seating chart configuration
Learn more about MidFlorida Credit Union Amphitheatre At The Florida State Fairgrounds
The MidFlorida Credit Union Amphitheatre at the Florida State Fairgrounds is the largest outdoor amphitheater in the Tampa Bay area. The venue offers a combination of covered, non-covered and lawn seating arrangements. Acts that have performed at the amphitheater include Coldplay, Blink 182, Bob Dylan, Backstreet Boys, Aerosmith, and many others. It's also home to 97X's annual Next Big Thing rock festival.

The amphitheater was originally named Ford Amphitheatre, and it has undergone several name changes since it adopted its current name in 2013. The seats are located at the rear of the venue. VIP seating is available, and there is also a dedicated handicap-accessible seating area. It has a capacity of 9,000 reserved seats and more than 10,000 can be accommodated on the lawn area. Low-back lawn chairs are allowed, and lawn chair rentals are available onsite.

Parking lots are located adjacent to the venue, and parking fees are typically included in the ticket price. VIP parking is available on a per-show basis, but prices may vary. The venue is also accessible by taxi or bus.

All bags are subject to inspection upon entry. Hard coolers are not allowed, and only one-gallon soft-sided collapsible coolers are accepted. Food is only allowed if placed in one-gallon clear plastic bags. One sealed bottle of water is allowed per patron. Alcoholic beverages and soft drinks are not allowed.

The venue allows small umbrellas in case of rain. Personal cameras and phone cameras are allowed but flash photography, cameras with removable lenses, and recording equipment are prohibited.

Different attractions nearby include Busch Gardens Tampa, Rock Spa, Ybor City Historic Walking Tours, and Yuengling Brewery.
Capacity:
20,000
Past Names/Nicknames:
Tampa Bay Amphitheater

Ford Amphitheater

1-800-ASK-GARY Amphitheater

Live Nation Amphitheater
Date/Year Built/Opened:
July 25, 2004
FAQs about MidFlorida Credit Union Amphitheatre At The Florida State Fairgrounds
Q: What time do gates open at MidFlorida Credit Union Amphitheater?
A: Gates typically open anywhere between 90 minutes to 2 hours prior to showtime at MidFlorida Credit Union Amphitheater. Be sure to check the listing on your ticket as showtimes will vary.
Q: Looking for local Tampa Amphitheater concerts?
A: Our event listing has a list of all Tampa amphitheater concerts happening at MidFlorida Credit Union Amphitheater. You can also check out events in neighboring cities by checking out our list of venues by state.