Mattie Kelly Arts Center Seating Charts
Mattie Kelly Arts Center - End Stage Seating Map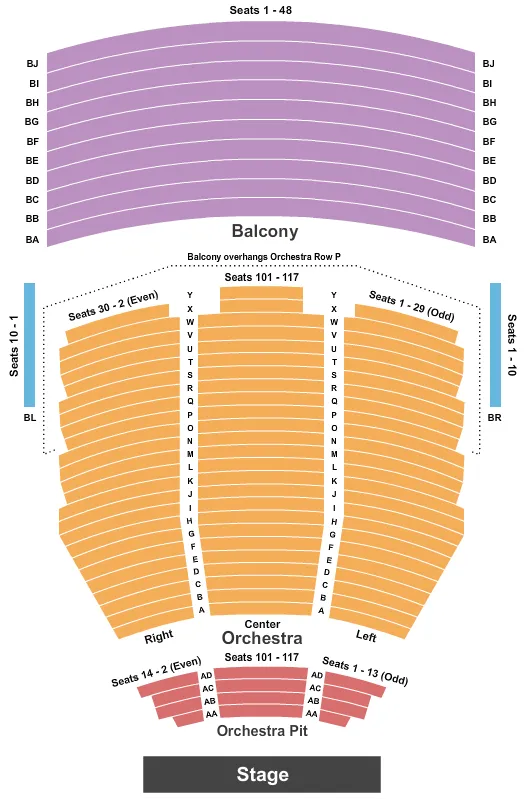 See Mattie Kelly Arts Center - End Stage events that use this seating chart configuration
Learn more about Mattie Kelly Arts Center
Located along the beautiful Emerald Coast in Northwest Florida is the Mattie Kelly Arts Center. This incredible venue offers a wide variety of entertainment, from plays and musicals to concerts and comedy shows. With classic acoustics and upholstered chairs for seating, this stunning center hosts events ranging from theatrical performances to internationally known symphonies. From visual arts exhibitions to dance workshops and tributes to national recording artists, this venue provides an unforgettable experience for audiences of all ages.

The MKAC has been an iconic entertainment venue since its opening in 1969, featuring a 750-seat theater, a 200-seat black box studio, two art galleries, and classrooms for the teaching of the arts. With such a rich history and significance in Niceville's cultural life, the Mattie Kelly Arts Center is truly a must-see destination.

Why not make it a getaway and stay a while? Niceville is known for its gentle pace of life and friendly atmosphere with locals who are always willing to share stories and offer hospitality. Visitors can enjoy abundant opportunities for fishing, boating, swimming, golfing, and hiking, and the nearby beaches provide perfect spots for soaking up the sun or exploring the coastline by kayak or paddleboard. The bustling downtown area just off scenic Boggy Bayou offers unique shopping opportunities and delicious food at local restaurants.

At Mattie Kelly Arts Center, there's something for everyone. With a robust variety of productions from Broadway shows to performances from the Northwest Florida State College Department of Humanities, Fine & Performing Arts, visitors can attend a live performance or take one of their two-year programs. So head on down to Niceville and experience what this amazing venue has to offer!
Event Dates and Pricing Information
| Performer | Date | Price | Tickets Available |
| --- | --- | --- | --- |
| Northwest Florida Symphony Orchestra | Dec 8, 2023 | From $73 | 210 |
| Wheel of Fortune | Dec 13, 2023 | From $61 | 441 |
| Hyprov: Improv Under Hypnosis | Jan 19, 2024 | From $75 | 551 |
| Northwest Florida Symphony Orchestra | Feb 10, 2024 | From $64 | 603 |
| The Cher Show | Feb 22, 2024 | From $88 | 425 |
| Northwest Florida Ballet | Mar 9, 2024 | From $101 | 502 |
| Northwest Florida Ballet | Mar 10, 2024 | From $101 | 502 |
| Dinosaur World Live | Apr 5, 2024 | From $47 | 116 |
| Syncopated Ladies | Apr 11, 2024 | From $75 | 118 |
| Chicago - The Musical | Apr 23, 2024 | From $104 | 103 |