L.P. Frans Stadium Seating Charts
L.P. Frans Stadium - Baseball Seating Map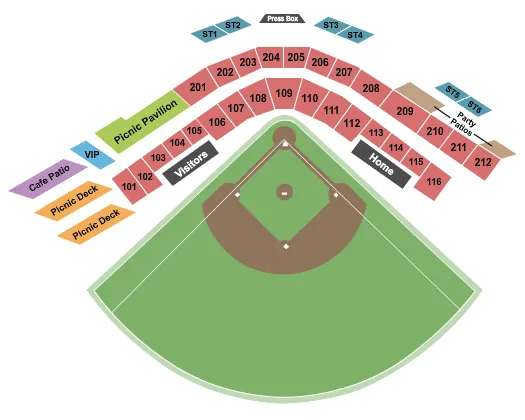 See L.P. Frans Stadium - Baseball events that use this seating chart configuration
Learn more about L.P. Frans Stadium
L.P. Frans Stadium is an incredible event venue that offers a unique and exciting entertainment experience in Hickory, North Carolina. It has been a part of the community since 1940 and has hosted semi-professional baseball teams and recreational events for the public. It is also equipped with professional lighting used to host night games and other nocturnal events. With its expansive field and ample seating, it is the perfect place to catch a minor league game or other special events. The city of Hickory and its surrounding areas offer plenty of activities to enjoy. From the beauty of the Catawba Valley to shopping districts, nearby Lake Hickory, nature parks, zoos, museums, and theaters, there is something for everyone! Enjoy unparalleled beauty, full of rolling hills and wooded parks around every corner. Go for a stroll along the banks of the lake or take in some outdoor recreation at one of the many nature parks. There is no shortage of
FAQs about L.P. Frans Stadium
L.P. Frans Stadium Reviews, Interactive Seating Charts and Seat Views
Finding L.P. Frans Stadium seating charts with seat views or 3D views from your seat has proven to be a difficult task - until now. Event Tickets Center provides fans with unbiased L.P. Frans Stadium reviews on our venue guides, including information on L.P. Frans Stadium seat numbers, row numbers, and tips on how to find great seats!
Are VIP Packages or Accessible Seating offered at L.P. Frans Stadium?
L.P. Frans Stadium VIP seating packages and accessible seating section locations may vary per event. Please click the seating chart below or contact our customer service department to discuss options for accessible seating or VIP package purchases.
Event Dates and Pricing Information
| Performer | Date | Price | Tickets Available |
| --- | --- | --- | --- |
| Hickory Crawdads | Apr 9, 2024 | From $40 | 52 |
| Hickory Crawdads | Apr 10, 2024 | From $40 | 72 |
| Hickory Crawdads | Apr 11, 2024 | From $40 | 72 |
| Hickory Crawdads | Apr 12, 2024 | From $40 | 72 |
| Hickory Crawdads | Apr 13, 2024 | From $40 | 72 |
| Hickory Crawdads | Apr 14, 2024 | From $40 | 72 |
| Hickory Crawdads | Apr 23, 2024 | From $40 | 72 |
| Hickory Crawdads | Apr 24, 2024 | From $40 | 72 |
| Hickory Crawdads | Apr 25, 2024 | From $40 | 72 |
| Hickory Crawdads | Apr 26, 2024 | From $40 | 72 |