Liberty Hall Tickets and Seating Charts - Lawrence, KS
Liberty Hall - KS Seating Charts
Liberty Hall - KS - End Stage GA Floor Seating Map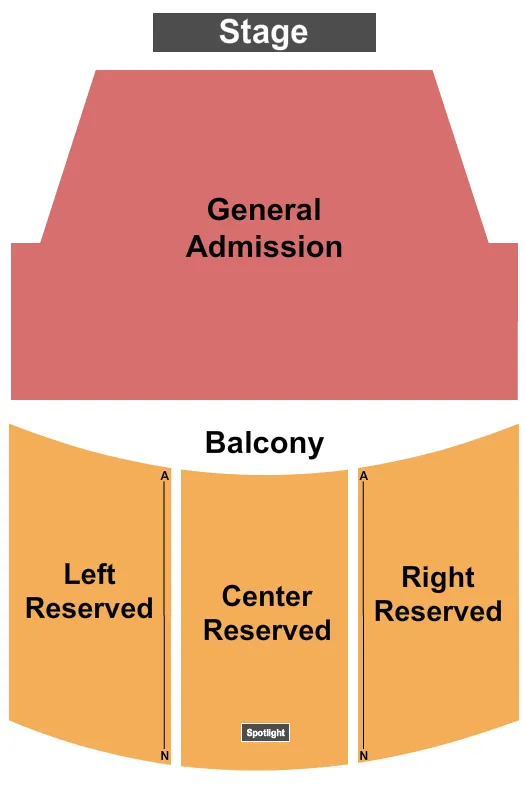 See Liberty Hall - KS - End Stage GA Floor events that use this seating chart configuration
Liberty Hall - KS - Endstage - GA FLR / Upper Balc Seating Map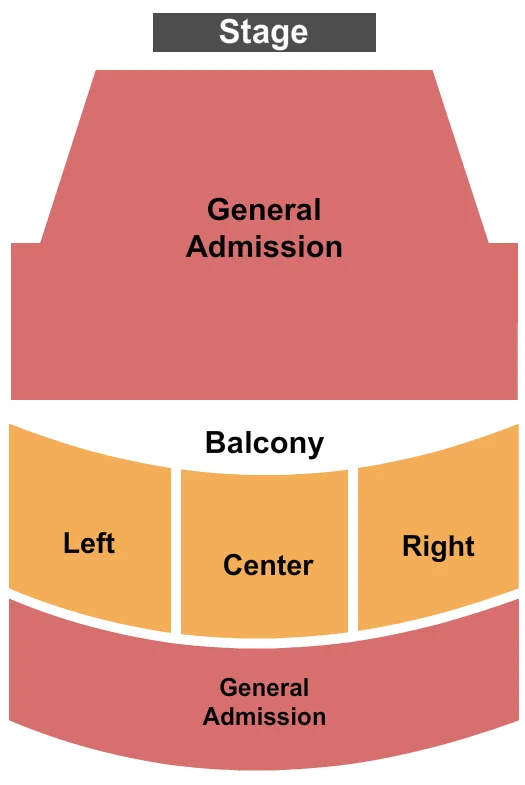 See Liberty Hall - KS - Endstage - GA FLR / Upper Balc events that use this seating chart configuration
Liberty Hall - KS - General Admission Seating Map See Liberty Hall - KS - General Admission events that use this seating chart configuration
Learn more about Liberty Hall - KS
Liberty Hall in Lawrence, Kansas is a historic event venue with a rich history since its inception in 1840. Located just footsteps from downtown Lawrence, the hall has been the center of life and culture of the city since it opened. It's hosted many events such as concerts by big name artists, theatrical performances by local students and community events like benefits for those in need. The building has undergone renovations over time to keep up with modern day expectations for a large-scale event venue yet still remains true to its original essence. In addition to stretching across four different buildings that have all been linked together, Liberty Hall offers three unique theater areas and two bars. Today, it continues to be one of Lawrence's treasured places where people can come together to commemorate memories from the past or create new ones for years to come.

Look no further! Lawrence, Kansas is home to a bustling and unique downtown scene with plenty of attractions to captivate visitors. From boutiques to art galleries, there are almost endless options for shopping, dining, and entertainment. Savor a delicious local treat at the popular Free State Brewing Company or take in the scenic beauty at Clinton Lake Park & Reservoir's sandy beach. Explore historic buildings along Massachusetts Street and visit one-of-a-kind museums to learn more about Lawrence's rich heritage while admiring its revitalized charm. Camping in the pristine outdoors or fishing and boating on Kansas River? Absolutely! Ready for some fun-filled evenings? Board up your finest ride, stop by places like The Bottleneck for live music and visit eclectic bars close by for great drinks - your night will be unforgettable.

With so much history and character, Liberty Hall is the perfect place to escape reality and immerse yourself in an evening of entertainment. Whether it's a movie or live music, the beauty and charm of Liberty Hall will bring magic to your evening in Lawrence. By visiting Liberty Hall, visitors can step back in time and experience the local history that has been preserved over the past 150 years. There is something for everyone at this unique venue - from live music to classic films, the coffee house to the independent cinema - so be sure to come to see what it's all about!
Event Dates and Pricing Information
| Performer | Date | Price | Tickets Available |
| --- | --- | --- | --- |
| The Menzingers | Dec 14, 2023 | From $60 | 141 |
| Jason Isbell | Jan 18, 2024 | From $334 | 39 |
| Lettuce | Feb 10, 2024 | From $66 | 142 |
| Scott Bradlee's Postmodern Jukebox | Feb 21, 2024 | From $85 | 175 |
| Bombay Bicycle Club | Mar 11, 2024 | From $65 | 177 |
| Neko Case | Apr 5, 2024 | From $77 | 28 |
| Kai Wachi | Apr 9, 2024 | From $54 | 134 |
| Starset | Apr 19, 2024 | From $60 | 17 |
| Kansas Music Hall of Fame Induction Ceremony | Apr 20, 2024 | From $63 | 14 |
| SiM | May 3, 2024 | From $53 | 137 |