Knoxville Civic Auditorium Seating Charts
Knoxville Civic Auditorium - End Stage Seating Map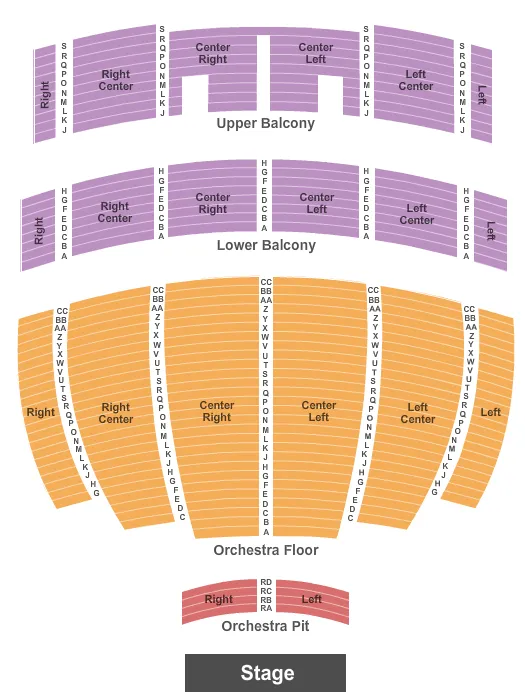 See Knoxville Civic Auditorium - End Stage events that use this seating chart configuration
Learn more about Knoxville Civic Auditorium
Experience the best of entertainment in Knoxville, Tennessee at the General James White Memorial Civic Auditorium and Coliseum. This multi-purpose facility is one of the hottest event venues in town and provides an amazing experience for all visitors – from large-scale conferences to musical concerts. The Civic Auditorium has been a cornerstone of the Knoxville community since 1960. This impressive 9,000 seat venue offers both seating and general admission options for concerts, plays, graduations, and other events. Notable names such as Elvis Presley have performed here throughout its history, cementing the space as a treasured part of East Tennessee culture. The auditorium serves not only as an entertainment venue but also as a gathering space for friends and neighbors alike. Knoxville has a lot to offer no matter what type of interest you have. Home to numerous iconic attractions, such as The Tennessee Theatre and World's Fair Park, there is always something different to enjoy. From outdoor activities such as hiking through the Smoky Mountains to the downtown Farmer's Market, there is no shortage of things to do or experience while living in this amazing city. Furthermore, Knoxville boasts an excellent public transportation system and an ever-growing bike path network. The Knoxville Civic Auditorium is a must-visit destination. From festivals and concerts to plays and conferences, it has something for everyone! So if you're looking for extraordinary experiences, look no further than the Knoxville Civic Auditorium.
FAQs about Knoxville Civic Auditorium
What time do doors open at Knoxville Civic Auditorium?
Doors typically open anywhere between 90 minutes to 2 hours prior to showtime at the Knoxville Civic Auditorium. Be sure to check the listing on your ticket as showtimes will vary.
Are VIP Packages or Accessible Seating offered at Knoxville Civic Auditorium?
Knoxville Civic Auditorium VIP seating packages and accessible seating section locations may vary per event. Please click the seating chart below or contact our customer service department to discuss options for accessible seating or VIP package purchases.
Who plays at the Knoxville Civic Auditorium?
The Knoxville Ice Bears are the home team at the Knoxville Civic Auditorium.
Facts about Knoxville Civic Auditorium
Capacity:
6,500
Opened:
1961
Event Dates and Pricing Information
| Performer | Date | Price | Tickets Available |
| --- | --- | --- | --- |
| Clayton Holiday Concert | Dec 15, 2023 | From $43 | 788 |
| Clayton Holiday Concert | Dec 16, 2023 | From $47 | 551 |
| Clayton Holiday Concert | Dec 16, 2023 | From $42 | 863 |
| Clayton Holiday Concert | Dec 17, 2023 | From $44 | 331 |
| A Charlie Brown Christmas | Dec 23, 2023 | From $33 | 633 |
| The Illusionists | Dec 26, 2023 | From $66 | 824 |
| Star Wars' A New Hope - Film With Live Orchestra | Jan 13, 2024 | From $71 | 260 |
| Black Jacket Symphony | Feb 2, 2024 | From $65 | 590 |
| John Crist | Feb 3, 2024 | From $53 | 508 |
| Knoxville Symphony Orchestra | Feb 10, 2024 | From $71 | 870 |