Kitchener Memorial Auditorium Seating Charts
Kitchener Memorial Auditorium - Basketball Seating Map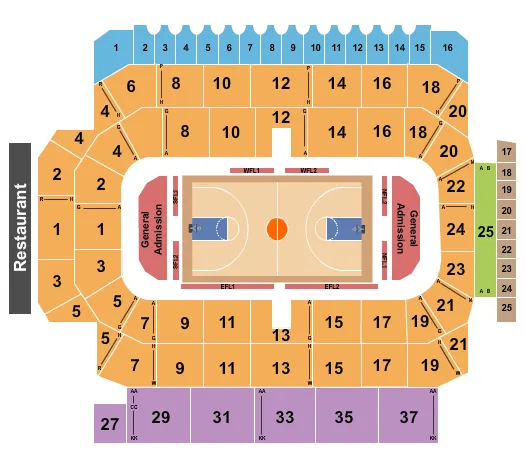 See Kitchener Memorial Auditorium - Basketball events that use this seating chart configuration
Kitchener Memorial Auditorium - Endstage GA Floor Seating Map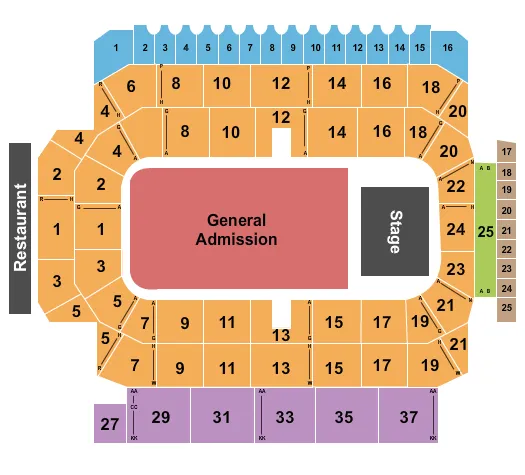 See Kitchener Memorial Auditorium - Endstage GA Floor events that use this seating chart configuration
Kitchener Memorial Auditorium - Hockey 1 Seating Map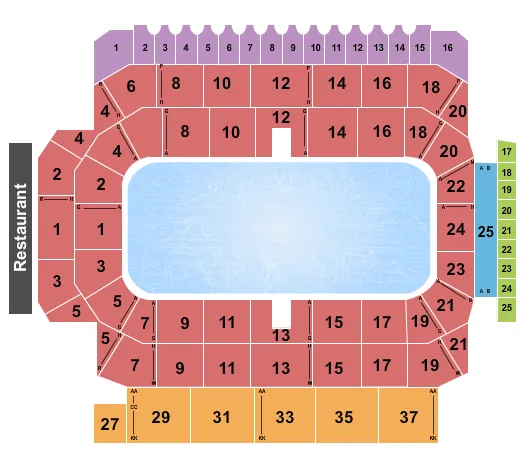 See Kitchener Memorial Auditorium - Hockey 1 events that use this seating chart configuration
Learn more about Kitchener Memorial Auditorium
The Kitchener Memorial Auditorium Complex is a multi-use, municipally owned facility located in the vibrant city of Kitchener, Ontario. It offers something for everyone, whether you're looking for an entertaining night out or a venue to host your next event. With concerts, theater productions, conferences, and corporate events, this impressive venue offers plenty of space and amenities to make your next event one to remember. The Aud has been providing memories of live entertainment for over 70 years, having been built in 1948. It is known to many in the Kitchener community and beyond as one of the few small-town arenas with a unique old-world charm. Its modest but inviting capacity allows for an intimate concert experience. It continues to be an indispensable source of vibrant cultural life for locals and visitors alike.

Kitchener, ON, is a must-see for any traveler. Located in the heart of the Grand River Valley, it provides a scenic backdrop and access to an array of outdoor activities, from birding to learning about local history. There are also indoor activities, such as visiting the museum or center in the square. Downtown also offers plenty of shopping and dining options, just steps away from Doon Creek and scenic Victoria Park.

The Kitchener Memorial Auditorium Complex provides something for everyone: concerts, hockey games, baseball games, and more. With interactive seating charts and family-friendly amenities, as well as its great central location, it's easy to see why so many people flock here for an enjoyable night out in Kitchener.
Event Dates and Pricing Information
| Performer | Date | Price | Tickets Available |
| --- | --- | --- | --- |
| Kitchener Rangers | Dec 15, 2023 | From $18 | 226 |
| The Glorious Sons | Dec 16, 2023 | From $66 | 584 |
| Kitchener Rangers | Dec 29, 2023 | From $24 | 566 |
| Kitchener Rangers | Jan 4, 2024 | From $20 | 806 |
| Kitchener Rangers | Jan 12, 2024 | From $18 | 842 |
| Kitchener Rangers | Jan 14, 2024 | From $24 | 360 |
| Kitchener Rangers | Jan 19, 2024 | From $20 | 546 |
| Kitchener Rangers | Jan 30, 2024 | From $15 | 723 |
| Kitchener Rangers | Feb 2, 2024 | From $18 | 845 |
| Kitchener Rangers | Feb 13, 2024 | From $18 | 688 |