Kingston Downs Tickets and Seating Charts - Rome, GA
Kingston Downs Seating Charts
Kingston Downs - Rock The Country Seating Map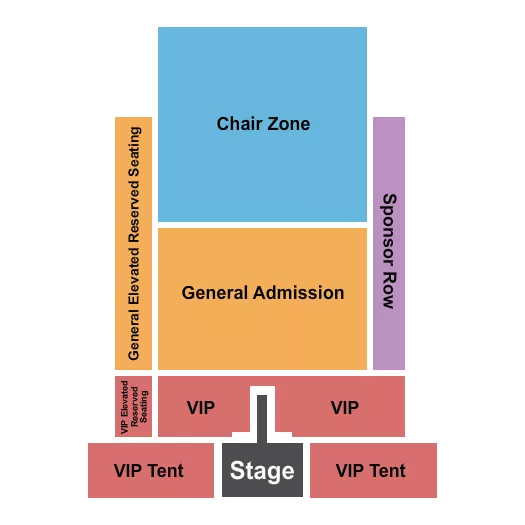 See Kingston Downs - Rock The Country events that use this seating chart configuration
Learn more about Kingston Downs
If you're looking for a unique venue to host an event, look no further than Kingston Downs. Located in the foothills of the beautiful Appalachian Mountains, this stunning venue is perfect for any type of occasion. With a capacity of over 20 thousand people, Kingston Downs is one of the largest race tracks in the southeast region. During its heyday, it was renowned for attracting top-of-the-line thoroughbred horses and staff to put on legendary events such as the "Georgia Triple Crown", a feat that has not been seen since 1975 when its last winner crossed the finish line.

Rome, GA is an incredible city situated on seven hills at the junction of three rivers – the Oostanaula, Etowah, and Coosa. This charming city is rich in Civil War history, boasts several museums and art galleries, and has plenty of outdoor attractions. With its moderate climate year-round and plenty of hotels to choose from throughout the city limits, Rome is an ideal place for a family vacation. Spend your day fishing or paddling down a river in one of the many canoe rentals available. Stroll through the historic downtown with its variety of local shops where you can purchase native plants, crafts, and artisanal goods from local makers. Visit one of several wineries to find some delicious vintage wines or take a tour around Townsquare Park's beautiful sculptures to learn more about Rome's unique culture and heritage.

Although most famous for hosting numerous events at Kingston Downs each year, including concerts, there is still so much more that makes this vibrant community worth visiting. With plenty of activities and amenities nearby, Kingston Downs promises to be an unforgettable experience no matter what kind of event you decide to have here. Be sure to check it out - you won't regret it!
Event Dates and Pricing Information