Kiewit Hall At Holland Performing Arts Center Seating Charts
Kiewit Hall At Holland Performing Arts Center - End Stage Seating Map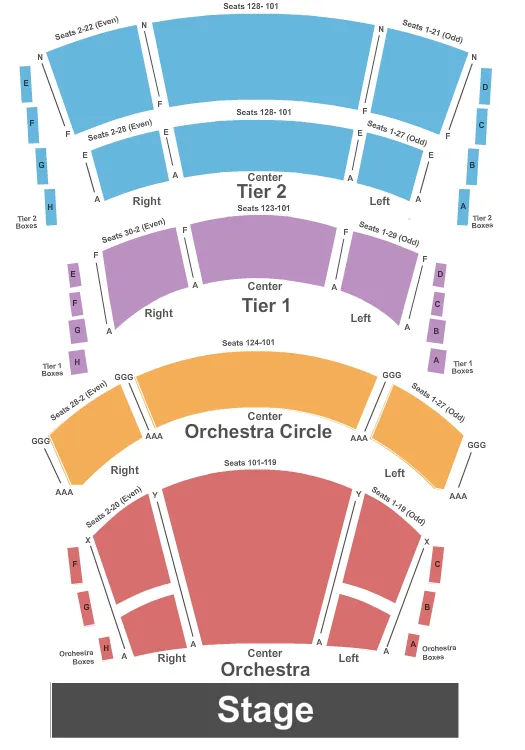 See Kiewit Hall At Holland Performing Arts Center - End Stage events that use this seating chart configuration
Learn more about Kiewit Hall At Holland Performing Arts Center
The Holland Performing Arts Center in Omaha, Nebraska offers sleek urban modernism both inside and out. Home to Kiewit Hall, this event venue offers high-end venues for entertainment, speaking engagements and more.

Constructed in 2005, Kiewit Hall has been hosting concerts and other performing arts events, often featuring world-renowned acts. With multiple tiers of seating and impressive acoustics, visitors can enjoy a premium performance experience. Omaha residents have known for over 15 years that Kiewit Hall is the best place for live music.

Explore Omaha's diverse cultural offerings. Visit local neighborhood farmers markets, thrilling games of baseball at TD Ameritrade Park, art galleries, world-class restaurants, state of the art music venues, and historical landmarks. Wander around downtown and the Old Market district with its unique retail stores, boutique hotels, and craft breweries. Feed your inner art enthusiast at one of the many museums throughout Omaha.

Take an outdoor adventure through Platte River State Park and watch birds migrating across its vast marshlands or take advantage of fishing opportunities along two major rivers - Missouri and Platte.

Kiewit Hall at Holland Performing Arts Center offers an unbeatable selection of events and shows. Make sure to pick up tickets for your favorite event today!
Event Dates and Pricing Information
| Performer | Date | Price | Tickets Available |
| --- | --- | --- | --- |
| Liz Phair | Dec 5, 2023 | From $83 | 69 |
| Home Free Vocal Band | Dec 6, 2023 | From $82 | 20 |
| Jim Brickman | Dec 7, 2023 | From $54 | 78 |
| Mark Normand | Dec 8, 2023 | From $80 | 96 |
| Mutual Christmas Celebration | Dec 14, 2023 | From $86 | 130 |
| Mutual Christmas Celebration | Dec 15, 2023 | From $86 | 126 |
| Mutual Christmas Celebration | Dec 16, 2023 | From $116 | 122 |
| Mutual Christmas Celebration | Dec 16, 2023 | From $116 | 128 |
| Mutual Christmas Celebration | Dec 17, 2023 | From $116 | 118 |
| Mutual Christmas Celebration | Dec 17, 2023 | From $86 | 126 |