Kidd Brewer Stadium Tickets and Seating Charts - Boone, NC
Kidd Brewer Stadium Seating Charts
Kidd Brewer Stadium - Football-2 Seating Map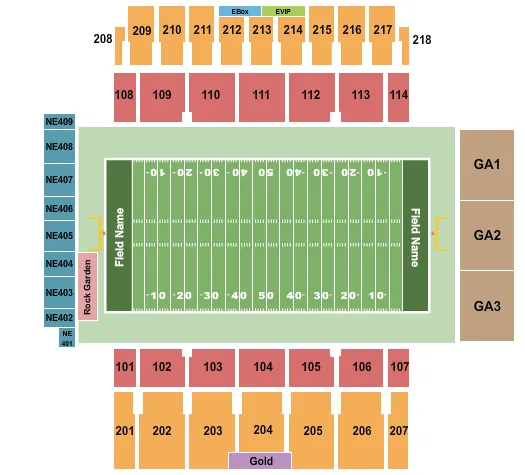 See Kidd Brewer Stadium - Football-2 events that use this seating chart configuration
Learn more about Kidd Brewer Stadium
Kidd Brewer Stadium is located in Boone, North Carolina, and is a multi-purpose venue with a seating capacity of 30,000. It offers an array of events ranging from football games to concerts and has been around for over 80 years. Constructed in 1941 and initially known as Conrad Stadium, the stadium has undergone renovations to modernize and upgrade the facility. It features an artificial turf made from railroad ties meant to mimic natural grass at a time when real grass was not frequently used as field surfaces.

The city of Boone is home to Appalachian State University, making it a great college town filled with students eager to share its unique culture. There are plenty of great restaurants and dining opportunities offering traditional southern cuisine, and the area is surrounded by trails where you can enjoy nature, boulder fields, waterfalls, meadows, and mountainside views. Or, take in an Appalachian League Baseball game arranged by Blockbuster under The Flick stadium lights.

If you're looking for an unforgettable football experience, look no further than Kidd Brewer Stadium! With breathtaking views, a vibrant atmosphere, and 30,000 other die-hard fans by your side – it's sure to be a crowd-pleaser. Be sure to check out this iconic Boone venue next time you find yourself in the area!
Event Dates and Pricing Information
| Performer | Date | Price | Tickets Available |
| --- | --- | --- | --- |
| Appalachian State Mountaineers Football | Aug 30, 2024 | From $748 | 4 |
| Appalachian State Mountaineers Football | Aug 31, 2024 | From $129 | 8 |
| Appalachian State Mountaineers Football | Sep 28, 2024 | From $205 | 8 |