Kennedy Center Terrace Theater Seating Charts
Kennedy Center Terrace Theater - Endstage Seating Map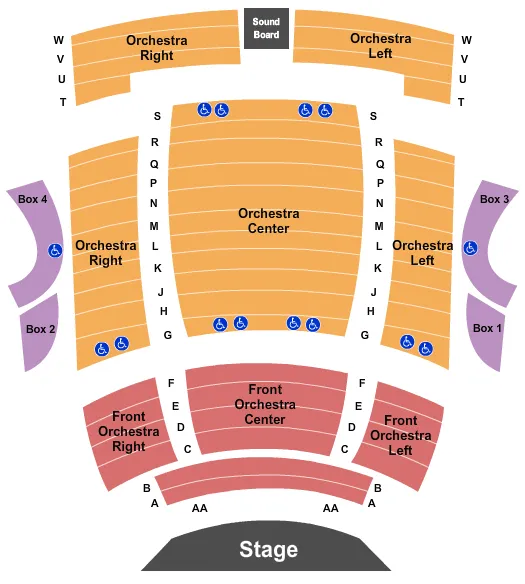 See Kennedy Center Terrace Theater - Endstage events that use this seating chart configuration
Kennedy Center Terrace Theater - Endstage 2 Seating Map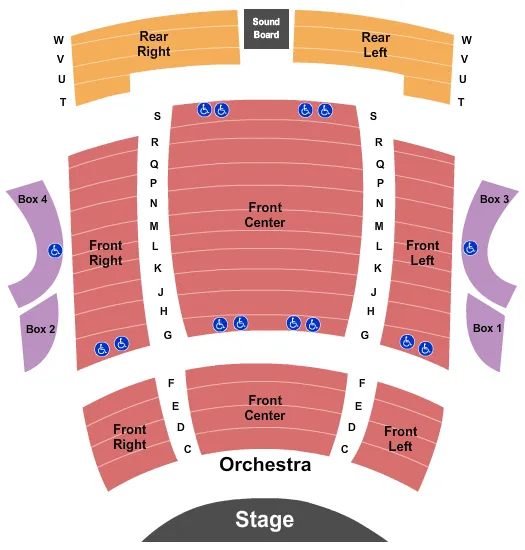 See Kennedy Center Terrace Theater - Endstage 2 events that use this seating chart configuration
Learn more about Kennedy Center Terrace Theater
The Kennedy Center is one of the premier performing arts centers in Washington, DC. The Terrace Theater, the busiest theater of them all, has consistently delivered incredible shows and events featuring world-class performers and ensembles, making it an indispensable part of DC's live entertainment district. From Broadway musicals to symphony orchestra performances, the theater offers something for everyone.

The Terrace Theater was opened in 1987 and seats up to 800 people with stunning views from a high vantage point. The acoustics of the theater are carefully tuned for optimal sound quality – for both the performers and audience members alike. Over 30 years later, the theater still retains its quality as a highly respected performance space that hosts national and international artists on their treasured stage.

Washington, DC is a vibrant city that offers something for everyone. Explore the world-famous monuments such as the Lincoln Memorial and Jefferson Memorial, take a guided tour through one of the Smithsonian Museums, or even try to spot some politicians around Capitol Hill—the heart of government. Meander along scenic cobblestone streets in historic Georgetown or hop on a double-decker bus tour at Union Station. Enjoy live jazz near Dupont Circle or sample fine dining in Penn Quarter. Try something new with food trucks around Chinatown-International District willing to share eclectic dishes from all sorts of cultures around town.

The Kennedy Center performing arts features plays and music from all parts of the globe. From chamber music to dance performances, lectures to movies, the Terrace Theater offers something for every visitor and resident of Washington D.C. No matter what you're looking for in entertainment, this unique venue is sure to provide an unforgettable experience - so be sure to check out all that the Kennedy Center has to offer!
Event Dates and Pricing Information
| Performer | Date | Price | Tickets Available |
| --- | --- | --- | --- |
| A Jazz Piano Christmas | Dec 2, 2023 | From $130 | 6 |
| A Jazz Piano Christmas | Dec 2, 2023 | From $130 | 2 |
| The Lion, The Unicorn & Me | Dec 8, 2023 | From $72 | 29 |
| The Lion, The Unicorn & Me | Dec 9, 2023 | From $96 | 33 |
| The Lion, The Unicorn & Me | Dec 9, 2023 | From $96 | 21 |
| The Lion, The Unicorn & Me | Dec 10, 2023 | From $102 | 34 |
| Marian Anderson Vocal Award Recital | Dec 12, 2023 | From $70 | 38 |
| Jonah Hoskins | Dec 13, 2023 | From $91 | 25 |
| I Still Love H.E.R. | Dec 16, 2023 | From $109 | 22 |
| A Jazz New Years Eve | Dec 31, 2023 | From $140 | 94 |