Cable Dahmer Arena Seating Charts
Cable Dahmer Arena - Hockey Seating Map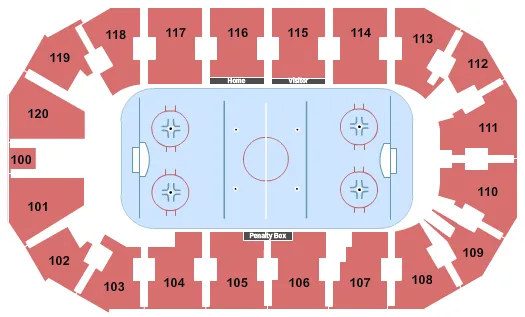 See Cable Dahmer Arena - Hockey events that use this seating chart configuration
Buy Kansas City Mavericks Tickets
The Kansas City Mavericks are a minor league ice hockey team based in Independence, Missouri. The team was founded in 2009 and plays in the ECHL. The Mavericks are affiliated with the NHL's Seattle Kraken and the AHL's Coachella Valley Firebirds.
The Mavericks have developed some intense rivalries within the ECHL, with their biggest rival being the Tulsa Oilers. Other notable rivals include the Wichita Thunder and the Allen Americans. These matchups always bring out the best in both teams and make for exciting games for fans of both sides.
The Mavericks play their home games at Cable Dahmer Arena, which is located in Independence. The arena can seat over 5,000 fans and provides a great view of the ice from every seat in the house. The team has a dedicated fan base, known as the Mavericks Maniacs, who provide an energetic and enthusiastic atmosphere at every home game.
The Mavericks have achieved some notable accomplishments in the ECHL. They made it to the playoffs in their first season and have continued to be a strong presence in the league ever since. With a talented roster and passionate fan base, the Mavericks are poised to continue making waves in the ECHL for years to come.
If you're a fan of hockey or just looking for a fun night out in Kansas City, consider purchasing tickets to a Mavericks game. You won't be disappointed by the thrilling action on the ice and the exciting atmosphere in the arena. So what are you waiting for? Buy your Kansas City Mavericks tickets today and join the Mavericks Maniacs in cheering on this exciting and competitive team!
FAQs about Kansas City Mavericks 2023 Game Schedule And Tickets
How and where to buy Kansas City Mavericks tickets?
While it may be difficult to find Kansas City Mavericks tickets, Event Tickets Center has plenty of Kansas City Mavericks tickets available starting from $17. Select your tickets using our interactive seating chart, and follow the steps in checkout. You'll be going to a Kansas City Mavericks event in no time!
How much are Kansas City Mavericks tickets?
On Event Tickets Center, Kansas City Mavericks ticket prices range from $17 up to $1,177 over a number of different Kansas City Mavericks events.
When do Kansas City Mavericks tickets go on sale?
Typically, Kansas City Mavericks will announce the schedule 3-6 months before the first game, and tickets go on sale within a few weeks of the schedule announcement.
Are Kansas City Mavericks tickets sold out?
No. While tickets to see Kansas City Mavericks may be sold out on other ticketing websites, Event Tickets Center has plenty of tickets available for you to see Kansas City Mavericks live.
Are Kansas City Mavericks tickets on sale?
Yes, Kansas City Mavericks tickets are on sale, and you can buy them right here at Event Tickets Center.
When is the next Kansas City Mavericks event?
The next Kansas City Mavericks event is on December 1, 2023 at Cross Insurance Arena in Portland, ME. Event Tickets Center has 644 tickets available for this event.
Event Dates and Pricing Information
| Venue | Date | Price | Tickets Available |
| --- | --- | --- | --- |
| Cross Insurance Arena | Dec 1, 2023 | From $18 | 644 |
| Cross Insurance Arena | Dec 2, 2023 | From $17 | 718 |
| Cable Dahmer Arena | Dec 6, 2023 | From $39 | 1,708 |
| Cable Dahmer Arena | Dec 8, 2023 | From $39 | 693 |
| Cable Dahmer Arena | Dec 9, 2023 | From $40 | 1,219 |
| Cable Dahmer Arena | Dec 13, 2023 | From $30 | 1,494 |
| Cable Dahmer Arena | Dec 15, 2023 | From $35 | 1,733 |
| Cable Dahmer Arena | Dec 16, 2023 | From $36 | 1,630 |
| Cable Dahmer Arena | Dec 20, 2023 | From $39 | 1,515 |
| BOK Center | Dec 22, 2023 | From $30 | 1,022 |