Jiffy Lube Live Seating Charts
Jiffy Lube Live - End Stage 2 Seating Map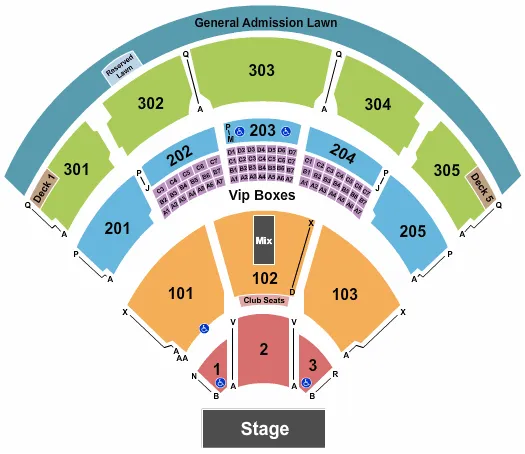 See Jiffy Lube Live - End Stage 2 events that use this seating chart configuration
Jiffy Lube Live - End Stage Pit Seating Map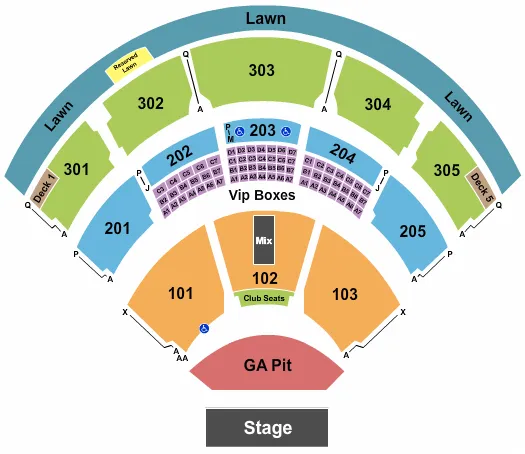 See Jiffy Lube Live - End Stage Pit events that use this seating chart configuration
Jiffy Lube Live - Endstage Pit 2 Seating Map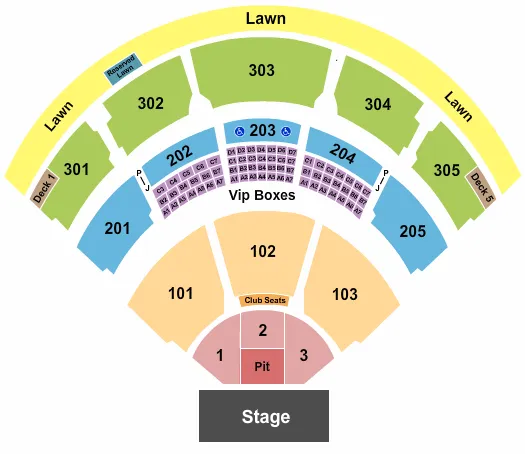 See Jiffy Lube Live - Endstage Pit 2 events that use this seating chart configuration
Jiffy Lube Live - Fuerza Regida Seating Map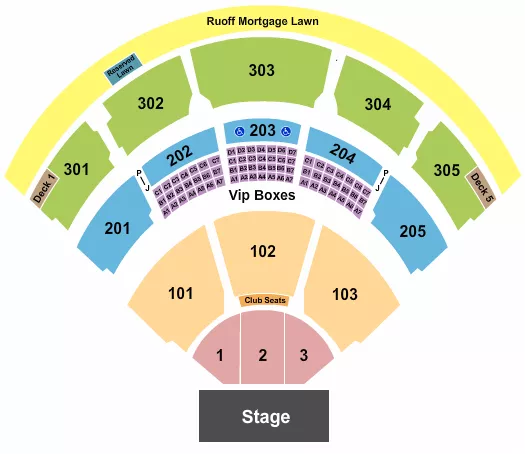 See Jiffy Lube Live - Fuerza Regida events that use this seating chart configuration
Learn more about Jiffy Lube Live
Jiffy Lube Live is an outdoor performance venue in
Bristow, Virginia
currently owned and operated by Live Nation. It's about 30 miles away from
Washington D.C.
and is best known for hosting performances from notable acts including Kiss and Jimmy Buffett as well as events like the Mayhem Festival. Barack Obama's rally for his 2008 presidential campaign was also held here.
The venue opened as Nissan Pavilion in June 1995 with a performance by the Village People. It rebranded to its current name on January 8, 2010 after a business agreement between Live Nation and Jiffy Lube Washington Area Co-op Inc.
Public transportation is not available to the venue but it is accessible by taxi or private car. Parking fees are typically included in the ticket price. Premier parking and handicap accessible parking are available. Tailgating is allowed two hours before door opening times and will be closed 20 minutes before the start of the show. Tailgating is not allowed after the concert. Public drinking is banned in accordance with Virginia law.
Low-back lawn chairs are allowed. Guests may also bring a small umbrella in case of rain. Coolers are not allowed. Food may be brought in as long as it is contained in a one-gallon plastic bag. One factory-sealed bottle of water is allowed per patron.
Camera policies also apply. Personal cameras are allowed. Flash photography, cameras with removable lenses, and video cameras are prohibited unless given permission by venue authorities.
FAQs about Jiffy Lube Live
What time do gates open at Jiffy Lube Live?
Gates typically open anywhere between 90 minutes to 2 hours prior to showtime at Jiffy Lube Live. Be sure to check the listing on your ticket as showtimes will vary.
Looking for local Washington Amphitheater concerts?
Our event listing has a list of all Washington amphitheater concerts happening at Jiffy Lube Live. You can also check out events in neighboring cities by checking out our list of venues by state.
What is parking like at Jiffy Lube Live?
Parking at Jiffy Lube Live is free and is included in the ticket price. Premier parking can be purchased in advance to make sure you have an easy in and easy out.
Can you use cash at Jiffy Lube Live?
Jiffy Lube Live has cashless payments only. Debit cards, credit cards and mobile payments are the only form of payment at all points of sale,
Can I use Mobile Ticketing at Jiffy Lube Live?
Yes actually Jiffy Lube Live is Mobile Ticketing only so have your tickets downloaded to your phone before getting to the venue.
Is there a rideshare location at Jiffy Lube Live?
Rideshare at Jiffy Lube Live is located in C Lot.
Is there camping at Jiffy Lube Live?
No overnight parking is permitted at Jiffy Lube Live.
Facts about Jiffy Lube Live
Capacity:
25,262
Opened:
June 1995
Past Names:
Nissan Pavilion at Stone Ridge, Nissan Pavilion
Event Dates and Pricing Information
| Performer | Date | Price | Tickets Available |
| --- | --- | --- | --- |
| Hank Williams Jr. | May 18, 2024 | From $71 | 2,246 |
| Chris Stapleton | Jun 7, 2024 | From $103 | 1,244 |
| Niall Horan | Jun 8, 2024 | From $44 | 2,630 |
| Sammy Hagar | Jul 20, 2024 | From $51 | 2,273 |
| Foreigner | Jul 24, 2024 | From $49 | 2,130 |
| Creed | Jul 26, 2024 | From $96 | 1,860 |
| Limp Bizkit | Jul 28, 2024 | From $50 | 1,789 |
| Earth, Wind and Fire | Aug 2, 2024 | From $44 | 2,510 |
| Hootie & The Blowfish | Aug 17, 2024 | From $49 | 2,827 |
| Jason Aldean | Aug 30, 2024 | From $63 | 2,469 |