Jabbawockeez Theater At The MGM Grand Tickets and Seating Charts - Las Vegas, NV
Jabbawockeez Theater At The MGM Grand Seating Charts
Jabbawockeez Theater At The MGM Grand - End Stage Seating Map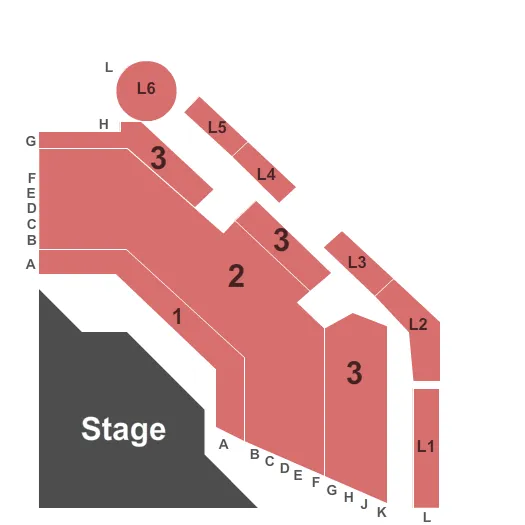 See Jabbawockeez Theater At The MGM Grand - End Stage events that use this seating chart configuration
Learn more about Jabbawockeez Theater At The MGM Grand
The Jabbawockeez Theater at the MGM Grand Hotel is a must-visit destination for both fans of live entertainment and anyone looking for an unforgettable experience. From world-famous dance performances by the legendary Jabbawockeez troupe to exciting shows from some of the best performers on the planet, you're sure to find something amazing. Since its opening in 1993, the theater has welcomed an array of top-tier artists. The award-winning crew has earned multiple Emmy awards for their weekly show and continues to draw enthusiastic audiences to its state-of-the-art stage.

Las Vegas is known for its many casinos and entertainment venues. With games of chance, music and more, there's something for everyone in this desert gem. Take the time to explore the area and shop at outdoor malls, check out popular night clubs, or explore Red Rock Canyon. Don't forget to spend some time seeing one of Sin City's renowned Cirque du Soleil shows! Whatever your pleasure, Las Vegas has something in store and you'll never be bored!

If you are ever in Las Vegas and looking for an amazing theatrical experience, look no further than the Jabbawockeez Theater at the MGM Grand. Whether you prefer closer proximity to the stage or just a great view, this theater offers it all with superior sound and visuals. There's something truly special about watching world-class performance art live on stage, and it's even better when that performance takes place right inside a casino! Don't miss out - make sure to check out the Jabbawockeez Theater when visiting Las Vegas!
Event Dates and Pricing Information
| Performer | Date | Price | Tickets Available |
| --- | --- | --- | --- |
| Jabbawockeez | Oct 4, 2023 | From $174 | 2 |
| Jabbawockeez | Oct 4, 2023 | From $174 | 2 |
| Jabbawockeez | Oct 5, 2023 | From $174 | 2 |
| Jabbawockeez | Oct 5, 2023 | From $163 | 4 |
| Jabbawockeez | Oct 6, 2023 | From $150 | 45 |
| Jabbawockeez | Oct 6, 2023 | From $106 | 116 |
| Jabbawockeez | Oct 7, 2023 | From $106 | 104 |
| Jabbawockeez | Oct 7, 2023 | From $113 | 108 |
| Jabbawockeez | Oct 8, 2023 | From $166 | 70 |
| Jabbawockeez | Oct 8, 2023 | From $152 | 104 |