iTHINK Financial Amphitheatre Seating Charts
iTHINK Financial Amphitheatre - End Stage with Decks Seating Map
See iTHINK Financial Amphitheatre - End Stage with Decks events that use this seating chart configuration
iTHINK Financial Amphitheatre - Endstage GA Pit E-F Seating Map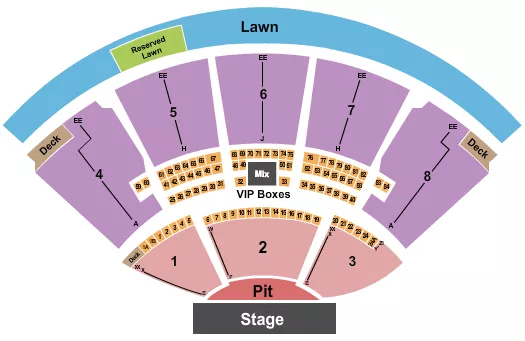 See iTHINK Financial Amphitheatre - Endstage GA Pit E-F events that use this seating chart configuration
iTHINK Financial Amphitheatre - Endstage GA Pit Reserved Lawn Seating Map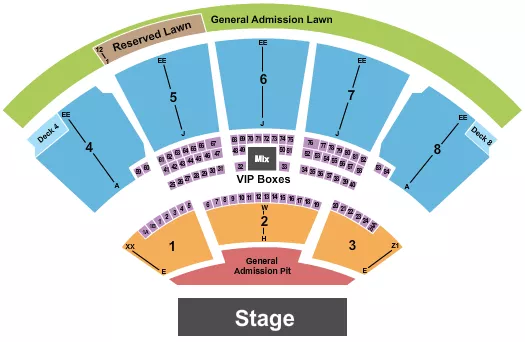 See iTHINK Financial Amphitheatre - Endstage GA Pit Reserved Lawn events that use this seating chart configuration
Learn more about iTHINK Financial Amphitheatre
The iTHINK Financial Amphitheatre is located in
West Palm Beach, Florida
. Even though there are many outdoor concert and event venues in the state of
Florida
, the iTHINK Financial Amphitheatre does not have any problems keeping pace. In fact, many people feel that this venue may be one of the best in the state thanks to its prime location, great fan atmosphere, and large list of top performers.
If you have never heard of this venue it is probably because you know it as another name. The iTHINK Financial Amphitheatre was formerly known as Coral Sky Amphitheatre, Sound Advice Amphitheater, the Cruzan Amphitheater, and the Mars Music Amphitheater. But throughout all of these name changes, a couple of things have remained the same. First off, the location of the iTHINK Financial Amphitheatre has never changed. This is one of the biggest draws of this venue, and as long as it is located in West Palm Beach fans will shows up on a regular basis.
And of course, iTHINK Financial Amphitheatre is also the perfect place to see a concert. Not only are the sightlines of the stage perfect, but concessions and parking also make it easy to have a great time at this venue. When you add in a modern look and feel you can see why the iTHINK Financial Amphitheatre is regarded as a top concert venue in the state.
Anybody who has the chance to see a concert at the iTHINK Financial Amphitheatre this summer should take advantage. But remember, tickets at this 19,000 seat venue go quick. Buy yours today so that you are not left out when the concert season starts back up!
iTHINK Financial Amphitheatre Seating Information
iTHINK Financial Amphitheatre has various seating options for your preferences. Discover the unique features of each section:
Pit Section
Immerse yourself in the heart of the action with the Pit Section directly in front of the stage. Enjoy an up-close and personal experience with performers in this unassigned seating area, allowing you to get as close to the stage as you desire.
100 Level
For those seeking a blend of proximity and comfort, the 100 Level, just behind the Pit Section, offers reserved seating with an excellent view of the stage. Get close to the excitement while enjoying a more relaxed seating arrangement.
200 Level
Ascend to the 200 Level, positioned above the 100 Level, to witness the concert from a bird's-eye perspective. Enjoy a clear view of the performers and the stage, perfect for those who appreciate a higher vantage point.
300 Level
Experience the panoramic views from the highest point in the amphitheater – the 300 Level. Situated at the top, this section provides a comprehensive view of the entire venue, allowing you to savor the music from a comfortable distance.
Lawn Section
For a laid-back and casual ambiance, head to the Lawn Section at the back of the amphitheater. With no assigned seating, bring a blanket, relax, and enjoy the concert under the stars. Ideal for those who prefer a more easygoing concert experience.
We trust this information assists you in selecting the perfect seat for your upcoming concert at the iTHINK Financial Amphitheatre. Enjoy the show!
Top Two Hotels Near iTHINK Financial Amphitheatre
If you plan to attend a concert or event at iTHINK Financial Amphitheatre, you'll want to find a comfortable and convenient place to stay nearby. Here are our top two picks for hotels in the area.
Hampton Inn & Suites Wellington
Located just a 13-minute drive from iTHINK Financial Amphitheatre, the Hampton Inn & Suites Wellington offers comfortable accommodations and a variety of amenities to enhance your stay. Guests can enjoy a complimentary hot breakfast each morning, free Wi-Fi, and access to a fitness center. The hotel also features an outdoor pool and hot tub, providing a relaxing retreat after a day at the theater.
Hilton West Palm Beach
For those seeking a more upscale experience, the Hilton West Palm Beach is a great choice. This luxurious hotel is located just a few miles from iTHINK Financial Amphitheatre and offers a range of amenities, including a rooftop pool, fitness center, and an on-site restaurant. Guests can also take advantage of the hotel's complimentary shuttle service to nearby attractions, ensuring a convenient and enjoyable stay.
Both hotels provide a comfortable and convenient stay near iTHINK Financial Amphitheatre, with amenities to make your visit even more enjoyable.
FAQs about iTHINK Financial Amphitheatre
What time do gates open at iTHINK Financial Amphitheater?
Gates typically open anywhere between 90 minutes to 2 hours prior to showtime at iTHINK Financial Amphitheater. Be sure to check the listing on your ticket as showtimes will vary.
Looking for local West Palm Beach Amphitheater concerts?
Our event listing has a list of all West Palm Beach amphitheater concerts happening at iTHINK Financial Amphitheater. You can also check out events in neighboring cities by checking out our list of venues by state.
Where is iTHINK Financial Amphitheatre?
Located in West Palm Beach FL the iTHINK Financial Amphitheatre is the premier outdoor concert venue in south Florida. Opening in 1996 as Coral Sky Amphitheatre the 20,000-capacity venue host some of the biggest touring acts in the country.
How is parking at iTHINK Financial Amphitheatre?
There is plenty of parking at the South Florida Fairgrounds. Your best options for easy in and out is premier parking or VIP. Both can be purchased for an additional cost.
What happens if it rains at iTHINK Financial Amphitheatre?
All shows at iTHINK Financial Amphitheatre are rain or shine. As with most days in south Florida expect rain in the afternoon and come prepared with a rain jacket or poncho. If weather gets severe check the venue's social media for updates.
Is there camping allowed at iTHINK Financial Amphitheatre?
Yes, you can camp at iTHINK Financial Amphitheatre. Check-in for camping is at 3:00 PM on show day.
Can I bring water into iTHINK Financial Amphitheatre?
Yes, water is allowed in a factory sealed bottle up to 1 gallon. Food in 1-gallon ziplock bag is also permitted.
Facts about iTHINK Financial Amphitheatre
Capacity:
19,000
Past Names/Nicknames:
Perfect Vodka Amphitheater Mars Music Amphitheater Sound Advice Amphitheater Cruzan Amphitheater Coral Sky Amphitheater
Date/Year Built/Opened:
1996
Event Dates and Pricing Information
| Performer | Date | Price | Tickets Available |
| --- | --- | --- | --- |
| Lainey Wilson | Mar 2, 2024 | From $55 | 1,210 |
| Chris Stapleton | May 9, 2024 | From $141 | 961 |
| Hozier | May 10, 2024 | From $76 | 1,521 |
| Red Hot Chili Peppers | Jun 18, 2024 | From $107 | 2,390 |
| Alanis Morissette | Jun 20, 2024 | From $39 | 1,439 |
| Sammy Hagar | Jul 13, 2024 | From $55 | 1,628 |
| Foreigner | Jul 19, 2024 | From $51 | 1,801 |
| New Kids on the Block | Jul 20, 2024 | From $47 | 1,472 |
| Limp Bizkit | Aug 6, 2024 | From $51 | 1,576 |
| Earth, Wind and Fire | Aug 17, 2024 | From $49 | 1,636 |