Iroquois Amphitheater Tickets and Seating Charts - Louisville, KY
Iroquois Amphitheater Seating Charts
Iroquois Amphitheater - End Stage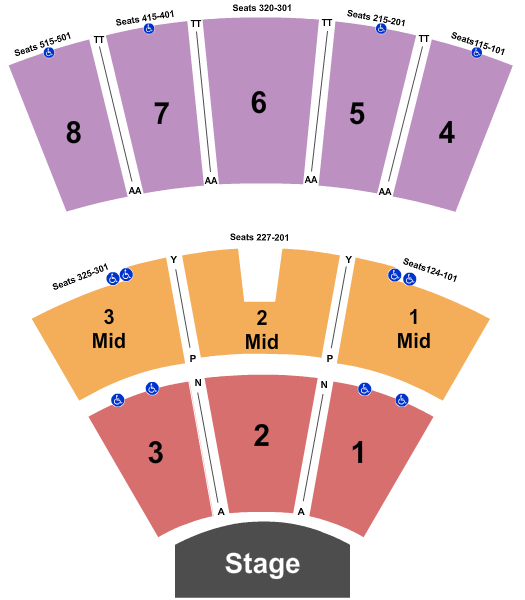 See Iroquois Amphitheater - End Stage events that use this seating chart configuration
Learn more about Iroquois Amphitheater
The Iroquois Amphitheater is located in Louisville, Kentucky, and is one of the top venues of its kind in the entire area. This outdoor theatre has a lot to offer the area as well as those who are traveling from other parts of the country.

The biggest benefit of the Iroquois Amphitheater is its natural wood setting. As you can imagine, this makes for a peaceful and serene venue. But at the same time, when there is a performance on stage, you will be able to enjoy the action.

Year in and year out a large number of performers take the stage at the Iroquois Amphitheater. Even though it is an outdoor venue, it still finds plenty of months that are warm enough to suit the needs of the audience.

All in all, the Iroquois Amphitheater offers a unique location, as well as plenty of modern features.
FAQs about Iroquois Amphitheater
Q: What time do gates open at Iroquois Amphitheater?
A: Gates typically open anywhere between 90 minutes to 2 hours prior to showtime at Iroquois Amphitheater. Be sure to check the listing on your ticket as showtimes will vary.
Q: Looking for local Louisville Amphitheater concerts?
A: Our event listing has a list of all Louisville amphitheater concerts happening at Iroquois Amphitheater. You can also check out events in neighboring cities by checking out our list of venues by state.
Facts about Iroquois Amphitheater
Capacity:
2,350
Year Opened:
1938