Xtream Arena Seating Charts
Xtream Arena - Hockey Seating Map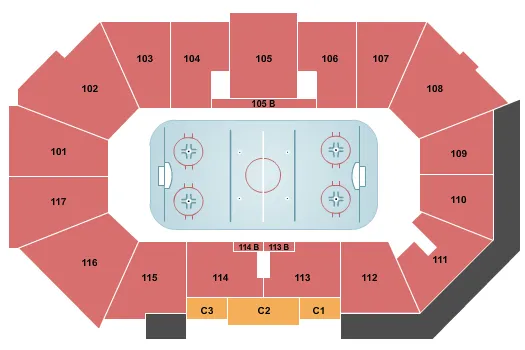 See Xtream Arena - Hockey events that use this seating chart configuration
Buy Iowa Heartlanders Tickets
The Iowa Heartlanders are a minor league ice hockey team based in Coralville, Iowa. The team was founded in 2021 and plays in the ECHL. The Heartlanders are affiliated with the NHL's Minnesota Wild and the AHL's Iowa Wild.
Although the team is relatively new, they have already established some rivalries within the ECHL. Their biggest rival is the Kansas City Mavericks, with whom they compete for the title of the best team in the Midwest. Other notable rivals include the Tulsa Oilers and the Wichita Thunder.
The Heartlanders play their home games at the Xtream Arena. The arena can seat over 5,000 fans. The team has been very successful in filling the arena with enthusiastic fans, creating a lively and supportive atmosphere for the players.
If you're a fan of hockey or just looking for a fun night out in Coralville, consider purchasing tickets to an Iowa Heartlanders game. You won't be disappointed by the thrilling action on the ice and the exciting atmosphere in the arena. So what are you waiting for? Buy your Iowa Heartlanders tickets today and join the thousands of fans cheering on this exciting young team!
FAQs about Iowa Heartlanders 2023 Game Schedule And Tickets
How and where to buy Iowa Heartlanders tickets?
While it may be difficult to find Iowa Heartlanders tickets, Event Tickets Center has plenty of Iowa Heartlanders tickets available starting from $13. Select your tickets using our interactive seating chart, and follow the steps in checkout. You'll be going to a Iowa Heartlanders event in no time!
How much are Iowa Heartlanders tickets?
On Event Tickets Center, Iowa Heartlanders ticket prices range from $13 up to $1,177 over a number of different Iowa Heartlanders events.
When do Iowa Heartlanders tickets go on sale?
Typically, Iowa Heartlanders will announce the schedule 3-6 months before the first game, and tickets go on sale within a few weeks of the schedule announcement.
Are Iowa Heartlanders tickets sold out?
No. While tickets to see Iowa Heartlanders may be sold out on other ticketing websites, Event Tickets Center has plenty of tickets available for you to see Iowa Heartlanders live.
Are Iowa Heartlanders tickets on sale?
Yes, Iowa Heartlanders tickets are on sale, and you can buy them right here at Event Tickets Center.
When is the next Iowa Heartlanders event?
The next Iowa Heartlanders event is on December 1, 2023 at Heritage Bank Center in Cincinnati, OH. Event Tickets Center has 1,037 tickets available for this event.
Event Dates and Pricing Information
| Venue | Date | Price | Tickets Available |
| --- | --- | --- | --- |
| Heritage Bank Center | Dec 1, 2023 | From $42 | 1,037 |
| Huntington Center | Dec 2, 2023 | From $44 | 149 |
| Huntington Center | Dec 3, 2023 | From $25 | 118 |
| Wings Event Center | Dec 8, 2023 | From $33 | 382 |
| Wings Event Center | Dec 9, 2023 | From $33 | 327 |
| Allen County War Memorial Coliseum | Dec 10, 2023 | From $13 | 2,175 |
| Xtream Arena | Dec 15, 2023 | From $33 | 822 |
| Xtream Arena | Dec 16, 2023 | From $33 | 777 |
| Xtream Arena | Dec 17, 2023 | From $33 | 756 |
| Xtream Arena | Dec 21, 2023 | From $33 | 771 |