Indian Ranch Tickets and Seating Charts - Webster, MA
Indian Ranch Seating Charts
Indian Ranch - Endstage 3 Seating Map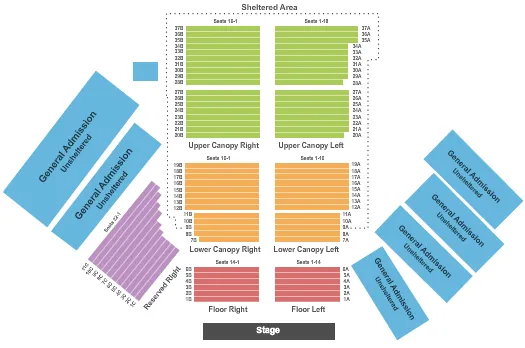 See Indian Ranch - Endstage 3 events that use this seating chart configuration
Learn more about Indian Ranch
The Indian Ranch is a unique entertainment venue in Webster, Massachusetts. Since its inception in 1946, it has become a gem of New England, renowned for presenting some of the biggest names in country music over the years.
Set in a picturesque environment on the shores of Lake Webster, Indian Ranch boasts an intimate amphitheater, capable of accommodating 3,000 attendees, which offers exceptional views and acoustics. This remarkable location has been the backdrop to performances from legendary artists such as Johnny Cash, Willie Nelson, and Brad Paisley.
It's not just about the music, though. Indian Ranch also features a campground and a recreational area, making it a favorite spot for a summer day out for music lovers and families alike. Beyond its live performances, the venue is steeped in history. The term "Indian Ranch" is a nod to the venue's early years, when it served as a Native American-themed amusement park. Today, it continues to infuse culture and entertainment, making it a must-visit destination in Massachusetts.
FAQs about Indian Ranch
What time do gates open at Indian Ranch?
Gates typically open anywhere between 90 minutes to 2 hours prior to showtime at Indian Ranch. Be sure to check the listing on your ticket as showtimes will vary.
Looking for local Worcester Amphitheater concerts?
Our event listing has a list of all Worcester amphitheater concerts happening at Indian Ranch. You can also check out events in neighboring cities by checking out our list of venues by state.
Where is the Indian Ranch amphitheatre?
The Indian Ranch and Resort is in Webster MA on the shore of Lake Chargoggagoggmanchauggagoggchaubunagungamaugg. This 3,046 seat amphitheatre has been hosting people since 1946. Indian Ranch has been know for its Country music concerts at The Cove Amphitheatre.
Where do I park at Indian Ranch?
There is plenty of parking onsite at Indian Ranch for a small fee. Reserved Parking is also available but sell out quickly. Many homeowners along Route 16 also offer parking on their property for a fee.
Can you arrive by water to Indian Ranch?
You cannot dock your boat for a show at Indian Ranch.
Can you tailgate at Indian Ranch?
Yes, tailgating is allowed at Indian Ranch but only before the shows.
What is the bag policy at Indian Ranch?
Clear plastic or vinyl bags no larger than12" X 12" X 6" are permitted as well as small purses. Coolers backpacks and large bags are not allowed.
Facts about Indian Ranch
Capacity:
3,000
Opened:
1946
Event Dates and Pricing Information