Hero Arena At Mountain America Center Seating Charts
Hero Arena At Mountain America Center - Hockey Seating Map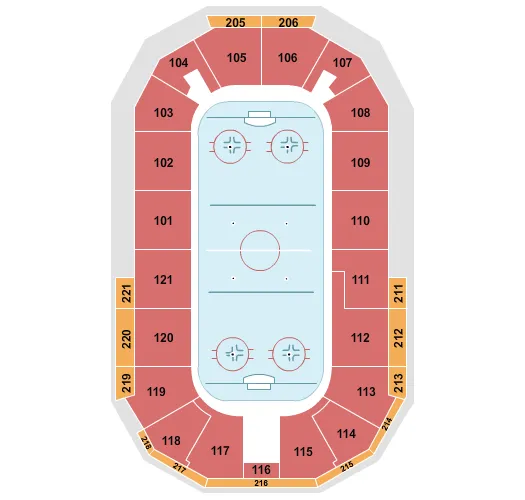 See Hero Arena At Mountain America Center - Hockey events that use this seating chart configuration
Buy Idaho Steelheads Tickets
The Idaho Steelheads are a professional minor league ice hockey team based in Boise, Idaho. The team was founded in 1997 as an expansion team in the West Coast Hockey League (WCHL) and joined the ECHL in 2003. The Steelheads have been a successful team in the ECHL, having won four division titles, two conference championships, and two Kelly Cup championships in 2004 and 2007. The team has a dedicated fan base and plays its home games at the Idaho Central Arena in downtown Boise.
The Steelheads main rival is the Utah Grizzlies due to proximity. Games between the two teams are always intense and competitive.
The Idaho Central Arena is a state-of-the-art facility that opened in 1997 and has a seating capacity of 5,000 for hockey games. The arena offers a great fan experience, with comfortable seating, great sightlines, and modern amenities. Fans can enjoy a variety of food and beverage options and merchandise at the team store.
If you're a hockey fan in Idaho, you won't want to miss the excitement of an Idaho Steelheads game. The team plays fast-paced and entertaining hockey and has a loyal following. Whether you're a die-hard hockey fan or just looking for a fun night out, an Idaho Steelheads game is a great choice. Don't miss out on the action – get your tickets today!
FAQs about Idaho Steelheads 2023 Game Schedule And Tickets
How and where to buy Idaho Steelheads tickets?
While it may be difficult to find Idaho Steelheads tickets, Event Tickets Center has plenty of Idaho Steelheads tickets available starting from $17. Select your tickets using our interactive seating chart, and follow the steps in checkout. You'll be going to a Idaho Steelheads event in no time!
How much are Idaho Steelheads tickets?
On Event Tickets Center, Idaho Steelheads ticket prices range from $17 up to $199 over a number of different Idaho Steelheads events.
When do Idaho Steelheads tickets go on sale?
Typically, Idaho Steelheads will announce the schedule 3-6 months before the first game, and tickets go on sale within a few weeks of the schedule announcement.
Are Idaho Steelheads tickets sold out?
No. While tickets to see Idaho Steelheads may be sold out on other ticketing websites, Event Tickets Center has plenty of tickets available for you to see Idaho Steelheads live.
Are Idaho Steelheads tickets on sale?
Yes, Idaho Steelheads tickets are on sale, and you can buy them right here at Event Tickets Center.
When is the next Idaho Steelheads event?
The next Idaho Steelheads event is on October 13, 2023 at Hero Arena At Mountain America Center in Idaho Falls, ID. Event Tickets Center has 109 tickets available for this event.
Event Dates and Pricing Information
| Venue | Date | Price | Tickets Available |
| --- | --- | --- | --- |
| Hero Arena At Mountain America Center | Oct 13, 2023 | From $48 | 109 |
| Idaho Central Arena | Oct 20, 2023 | From $31 | 185 |
| Idaho Central Arena | Oct 21, 2023 | From $30 | 198 |
| Maverik Center | Oct 27, 2023 | From $18 | 1,953 |
| Maverik Center | Oct 28, 2023 | From $17 | 1,970 |
| Idaho Central Arena | Nov 1, 2023 | From $26 | 275 |
| Idaho Central Arena | Nov 3, 2023 | From $29 | 241 |
| Idaho Central Arena | Nov 4, 2023 | From $30 | 251 |
| Wesbanco Arena | Nov 10, 2023 | From $24 | 872 |
| Wesbanco Arena | Nov 11, 2023 | From $24 | 878 |