History - Toronto Seating Charts
History - Toronto - End Stage GA Floor Seating Map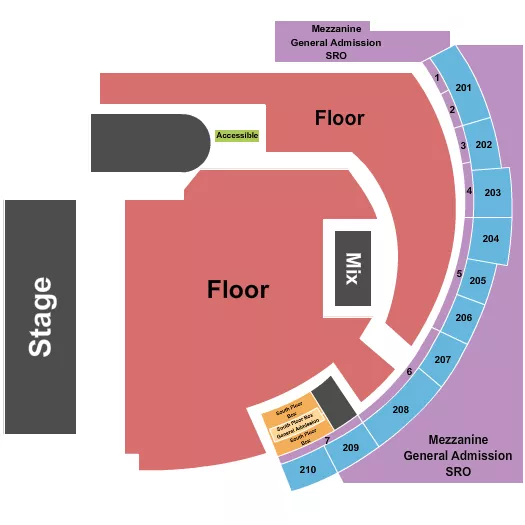 See History - Toronto - End Stage GA Floor events that use this seating chart configuration
Learn more about History - Toronto
History is an American pay television network that has been entertaining audiences for years. Located in Toronto, ON, it takes viewers to the past and brings history to life through its exciting programming. With amazing shows and special events planned all year round, it is a great source of quality programming and a perfect place to find something for everyone.

History in Toronto, Ontario has been pleasing theatre-goers since 1996. It acts as an influential creative hub for indie theater makers and performers. Featuring a lobby bar, theater, flexible seating options, and sophisticated technology, this modern facility is extremely popular. It seeks to entertain and educate its admirers about the importance of theatre-going in general. From traditional hits to innovative new plays, the History always provides something for everyone!

Something special awaits you in the bustling city center of Toronto. Explore iconic neighborhoods like Kensington Market, Queen West, and Leslieville for delightful shops, street art, and tantalizing eateries. With its thriving arts scene, rich cultural attractions, and diverse entertainment venues, you can find something for everyone in this vibrant urban hot spot. Enjoy an afternoon of people-watching at one of the charming parks or take to the air on board a hop-on-hop-off bus tour. During autumn months, don't forget Canada's largest film festival—the Toronto International Film Festival—where A-list stars come out in full force!
Event Dates and Pricing Information
| Performer | Date | Price | Tickets Available |
| --- | --- | --- | --- |
| Men I Trust | Oct 5, 2023 | From $46 | 75 |
| Men I Trust | Oct 6, 2023 | From $51 | 86 |
| Raye | Oct 7, 2023 | From $31 | 75 |
| Little Simz | Oct 8, 2023 | From $70 | 60 |
| The Walkmen | Oct 11, 2023 | From $65 | 195 |
| The Band Camino | Oct 12, 2023 | From $62 | 278 |
| Adriatique | Oct 13, 2023 | From $57 | 119 |
| TV Girl | Oct 14, 2023 | From $115 | 38 |
| Eric Nam | Oct 16, 2023 | From $36 | 333 |
| Slander - DJ | Oct 19, 2023 | From $58 | 186 |