Harris Theater Tickets and Seating Charts - Chicago, IL
Harris Theater Seating Charts
Harris Theater - End Stage Seating Map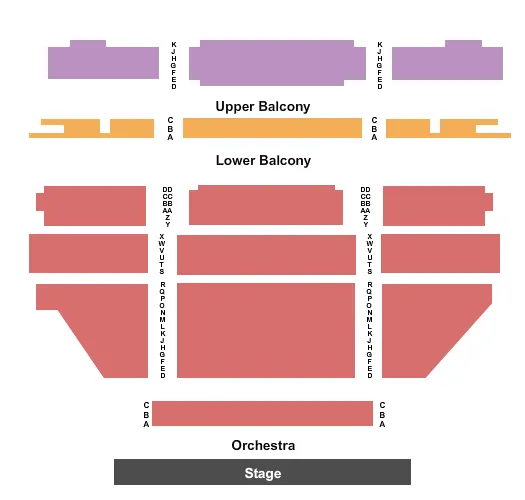 See Harris Theater - End Stage events that use this seating chart configuration
Learn more about Harris Theater
The Harris Theater is a sought-after event venue located in the heart of downtown Chicago. Offering a wide selection of performances, from music concerts to theater productions, the Harris Theater provides guests with a unique entertainment experience that can't be found anywhere else.

The Harris Theater for Music and Dance is one of the premier theaters in Chicago's Loop. Since its opening, it has hosted classic productions, ballet performances, music concerts, and other events for generations. The theater houses three main stages, allowing it the flexibility to host an array of entertaining productions. Since its inception, Harris Theater has seen a remarkable range of performers come through its doors - from internationally renowned acts to local up-and-coming artists. With a dedication to providing quality entertainment and bringing diverse cultures together through the arts, the Harris Theatre stands out as one of Chicago's most established cultural institutions.

Chicago is an amazing city with so much to do and see! There's something for everyone from outdoor activities, museums, historical sites and entertainment venues. Start your visit by exploring landmark buildings along the city's famous Lake Michigan shoreline. If you're looking for a unique shopping experience, there are plenty of diverse neighborhoods with chic boutiques and lively markets to explore. Heading downtown to take in a show or savor cuisine in one of hundreds of restaurants? Get your fill at The Chicago Theatre or Grant Park Music Festival. Experience fireworks displays at The Magnificent Mile or celebrate citywide events such as the Windy City Wedding Showcase and Chicago Summerdance Festival.
Event Dates and Pricing Information
| Performer | Date | Price | Tickets Available |
| --- | --- | --- | --- |
| David Finckel | Jan 25, 2024 | From $81 | 19 |
| Mix at Six | Feb 2, 2024 | From $58 | 8 |
| Jazzmeia Horn | Feb 3, 2024 | From $54 | 20 |
| Music to Accompany a Departure | Feb 9, 2024 | From $81 | 28 |
| Black Grace | Mar 1, 2024 | From $359 | 11 |
| Black Grace | Mar 2, 2024 | From $118 | 15 |
| Balanchine & Robbins | Mar 21, 2024 | From $273 | 26 |
| 21st Century Choreography | Mar 22, 2024 | From $273 | 26 |
| Balanchine & Robbins | Mar 23, 2024 | From $273 | 26 |
| 21st Century Choreography | Mar 23, 2024 | From $273 | 26 |