Harold Shenkman Hall Tickets and Seating Charts - Ottawa, ON
Harold Shenkman Hall Seating Charts
Harold Shenkman Hall - End Stage Seating Map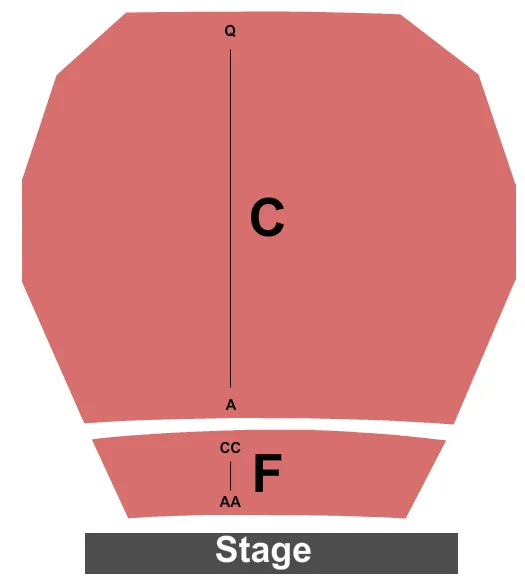 See Harold Shenkman Hall - End Stage events that use this seating chart configuration
Learn more about Harold Shenkman Hall
Harold Alfond Sports Arena is a beloved venue located in Orono, Maine. Originally opened in 2008 by the University of Maine, this arena quickly became renowned as one of the top college sports venues on the East Coast. The arena seats up to 6,000 fans and hosts events ranging from sporting events, to renowned musical acts, and special ceremonies for local athletes. Built to honor Maine's former director of athletics Harold Alfond, the arena honors his legacy with its name proudly displayed atop its entrance and continues to be an integral part of Orono's community.

If you're in the Orono area, be sure to grab a ticket to a Black Bears hockey game at the arena! With its unique architecture and top-of-the-line amenities, the arena provides a much more enjoyable experience for spectators and student-athletes alike. Whether you're cheering on the team or just enjoying the atmosphere of this elite venue, there's no better spot in town than the Harold Alfond Sports Arena!

Don't miss out on all that Orono has to offer! Located along the banks of the Stillwater River, this small Maine town offers everything from outdoor recreation to historic sites. Birders and wildlife enthusiasts can find a wealth of opportunities in the area, with nearby Beaver Knowledge Wildlife Management Area and Attean Pond Public Reservations offering glimpses into Maine's unique ecology. Noyes Island Preserve allows visitors to explore tidal marshes and shoreline views of the river. Those who prefer slower-paced activities can take a stroll on one of Orono's many trails or spend an afternoon bird-watching at Miller Woods Nature Preserve. Of course, no visit to Orono would be complete without stopping by some of downtown's best local shops where you can find unique items crafted by local artisans or choose something special from the unique wares at Angus King's Storehouse Emporium. With cultural attractions ranging from Wild Plates Café Sunday Jazz Jam, there's something for everyone in Orono!
Event Dates and Pricing Information
| Performer | Date | Price | Tickets Available |
| --- | --- | --- | --- |
| Sam Breton | Dec 13, 2023 | From $71 | 2 |
| Guylaine Tremblay | Dec 17, 2023 | From $76 | 65 |
| Jersey Nights | Dec 21, 2023 | From $121 | 2 |
| Philippe-Audrey Larrue St. Jacques | Feb 9, 2024 | From $64 | 43 |
| Abbamania | Feb 17, 2024 | From $112 | 1 |
| Katherine Levac | Feb 23, 2024 | From $76 | 17 |
| Katherine Levac | Feb 24, 2024 | From $93 | 10 |
| Les Fabulateurs - La Legende de Barbe d'Or | Mar 14, 2024 | From $38 | 61 |
| Machine De Cirque | Apr 12, 2024 | From $65 | 63 |
| Matthieu Pepper | Apr 24, 2024 | From $65 | 63 |