Hammons Field Seating Charts
Hammons Field - Baseball Seating Map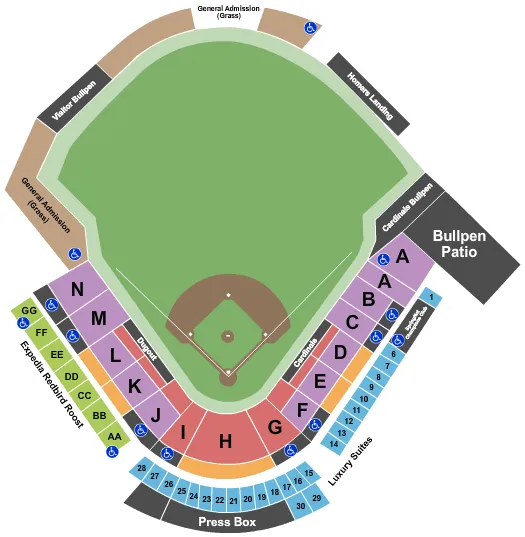 See Hammons Field - Baseball events that use this seating chart configuration
Learn more about Hammons Field
Hammons Field is a premier Minor League Baseball stadium located in Springfield, Missouri. It provides a great variety of events, such as live sports matches, concert performances, comedy shows, and more. It has a capacity of 10,500 and boasts an impressive state-of-the-art video board system. The city of Springfield offers plenty of entertainment and culture, making it the perfect destination for all types of visitors. Outdoor activities like camping and hiking, as well as indoor experiences like visiting museums and theaters, are all available. Dining options range from international cuisine to classic dishes created with locally sourced ingredients. Shopping is also abundant with homegrown boutiques and big-name brands located throughout the city. There's also a vibrant nightlife scene with folk music venues, pubs, and more. If you're looking for fun around Springfield, don't miss out on Hammons Field! The world-class facility, funded entirely by local businessman John Q. Hammons, provides a stunning view from all seats and is the perfect place to experience the excitement of a Springfield Cardinals or Missouri State Bears game.
FAQs about Hammons Field
Hammons Field Reviews, Interactive Seating Charts and Seat Views
Finding Hammons Field seating charts with seat views or 3D views from your seat has proven to be a difficult task - until now. Event Tickets Center provides fans with unbiased Hammons Field reviews on our venue guides, including information on Hammons Field seat numbers, row numbers, and tips on how to find great seats!
Are VIP Packages or Accessible Seating offered at Hammons Field?
Hammons Field VIP seating packages and accessible seating section locations may vary per event. Please click the seating chart below or contact our customer service department to discuss options for accessible seating or VIP package purchases.
Event Dates and Pricing Information
| Performer | Date | Price | Tickets Available |
| --- | --- | --- | --- |
| Springfield Cardinals | Apr 9, 2024 | From $32 | 60 |
| Springfield Cardinals | Apr 10, 2024 | From $32 | 60 |
| Springfield Cardinals | Apr 11, 2024 | From $32 | 60 |
| Springfield Cardinals | Apr 12, 2024 | From $32 | 60 |
| Springfield Cardinals | Apr 13, 2024 | From $32 | 60 |
| Springfield Cardinals | Apr 14, 2024 | From $32 | 60 |
| Springfield Cardinals | Apr 23, 2024 | From $32 | 60 |
| Springfield Cardinals | Apr 24, 2024 | From $32 | 60 |
| Springfield Cardinals | Apr 25, 2024 | From $32 | 60 |
| Springfield Cardinals | Apr 26, 2024 | From $32 | 60 |