Grey Eagle Resort & Casino Seating Charts
Grey Eagle Resort & Casino - End Stage Seating Map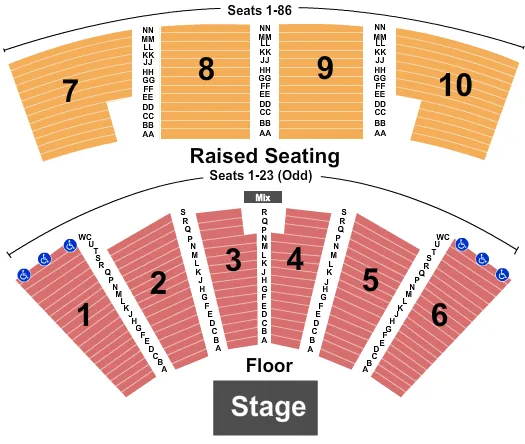 See Grey Eagle Resort & Casino - End Stage events that use this seating chart configuration
Grey Eagle Resort & Casino - General Admission Seating Map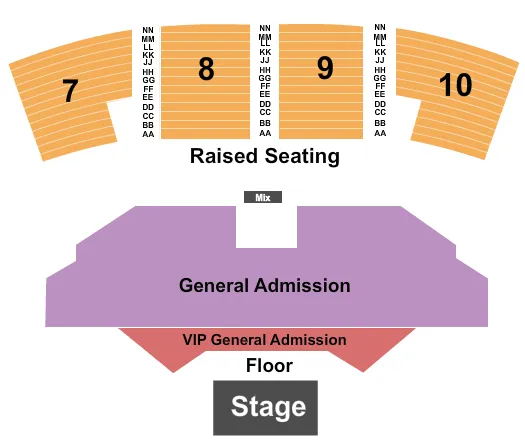 See Grey Eagle Resort & Casino - General Admission events that use this seating chart configuration
Grey Eagle Resort & Casino - General Admission - All Seating Map See Grey Eagle Resort & Casino - General Admission - All events that use this seating chart configuration
Learn more about Grey Eagle Resort & Casino
The Grey Eagle Resort and Casino are located in Calgary, Alberta, and opened its doors in 2007. It quickly became a top destination for many forms of entertainment, boasting over 600 slot machines and 40 table games, six poker tables, three restaurants, two bars, a theatre with music and comedy acts, a lounge area with billiards tables, and live sports broadcasts on big screens, one of the largest ballrooms in Calgary for private events and conferences, plus an outdoor amphitheater featuring some of Canada's leading artist performances during the summer months.

Calgary, AB, is a great place to explore and experience an exciting weekend getaway. It offers a unique blend of Western hospitality and urban sophistication, vibrant entertainment options, and stunning natural beauty in its urban parks, riverside pathways, mountain panoramas, and pieces of architecture. The city is known for its arts scene, rodeo events such as the Calgary Stampede, and various cultural festivals.

The Grey Eagle Resort and Casino is the perfect place for those seeking a memorable and luxurious stay. With a wide range of events to choose from and all the amenities one could want, it's sure to offer an unforgettable experience. Visit today and see what Grey Eagle Resort and Casino has in store!
Event Dates and Pricing Information
| Performer | Date | Price | Tickets Available |
| --- | --- | --- | --- |
| A Christmas RockStory | Dec 8, 2023 | From $61 | 137 |
| Luann de Lesseps | Dec 15, 2023 | From $69 | 653 |
| Trooper | Dec 31, 2023 | From $213 | 18 |
| Machine Head | Jan 26, 2024 | From $54 | 22 |
| Warrant | Feb 22, 2024 | From $76 | 334 |
| Ice Cube | Feb 23, 2024 | From $191 | 20 |
| Canada's Drag Race | Feb 24, 2024 | From $87 | 649 |
| Corb Lund | Mar 7, 2024 | From $81 | 523 |
| Honeymoon Suite | Mar 8, 2024 | From $73 | 462 |
| Skid Row | Mar 9, 2024 | From $65 | 18 |