Gillette Stadium Seating Charts
Gillette Stadium - Billy Joel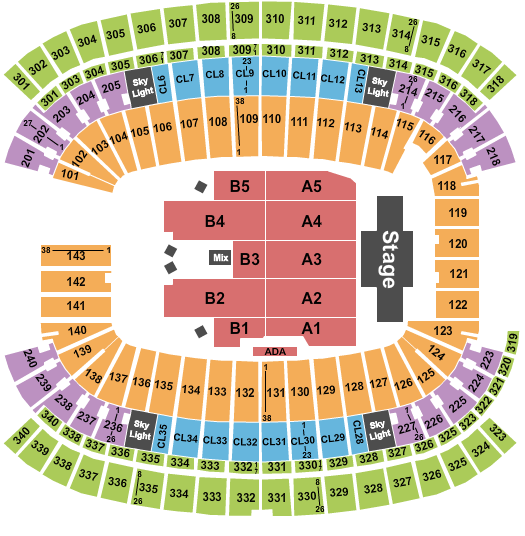 See Gillette Stadium - Billy Joel events that use this seating chart configuration
Gillette Stadium - Ed Sheeran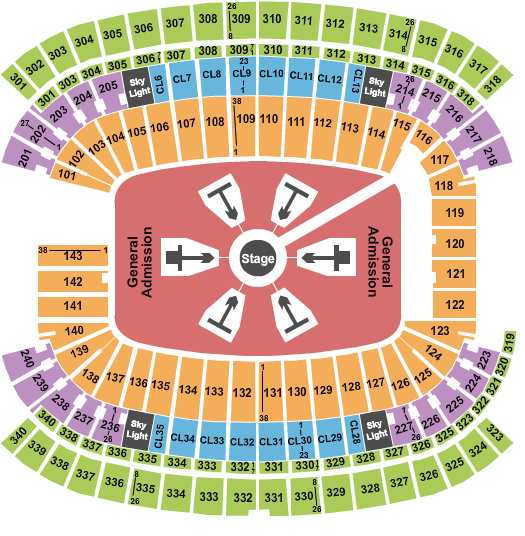 See Gillette Stadium - Ed Sheeran events that use this seating chart configuration
Gillette Stadium - Football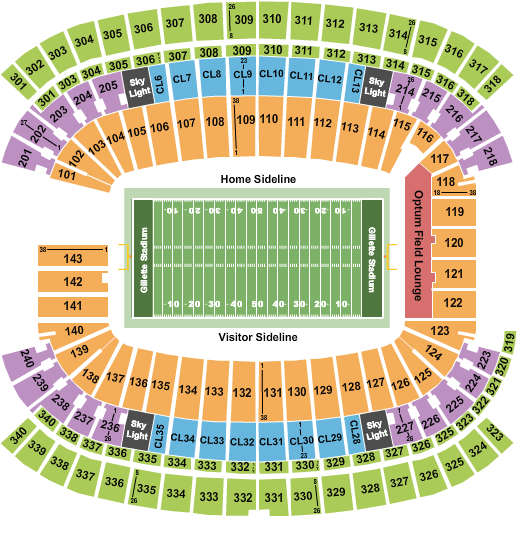 See Gillette Stadium - Football events that use this seating chart configuration
Gillette Stadium - Luke Combs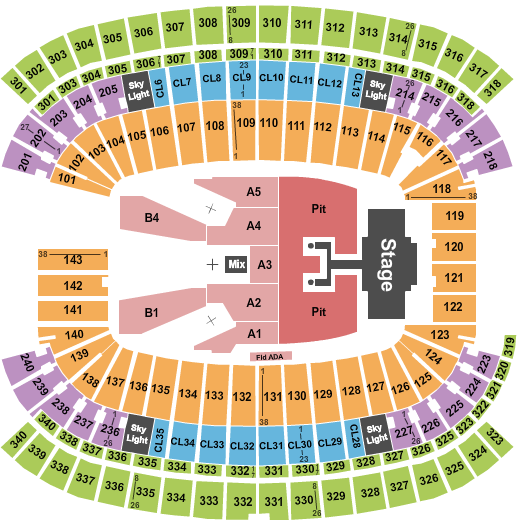 See Gillette Stadium - Luke Combs events that use this seating chart configuration
Gillette Stadium - Metallica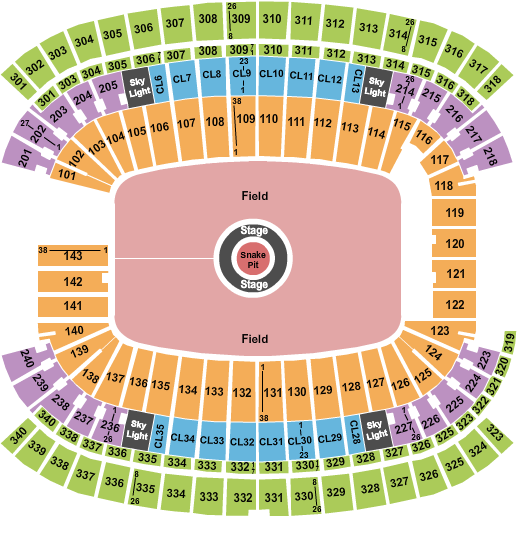 See Gillette Stadium - Metallica events that use this seating chart configuration
Gillette Stadium - Monster Jam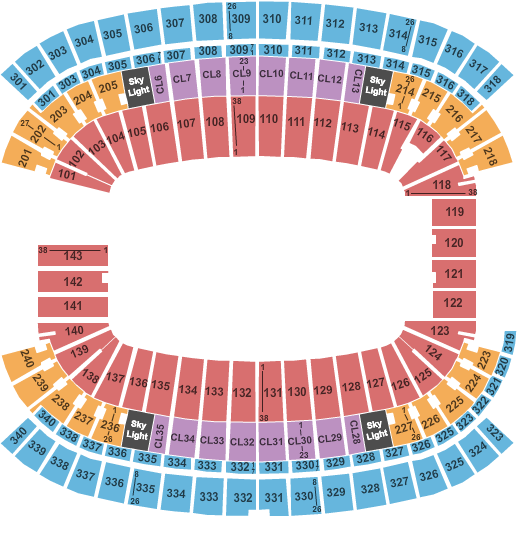 See Gillette Stadium - Monster Jam events that use this seating chart configuration
Gillette Stadium - Soccer 2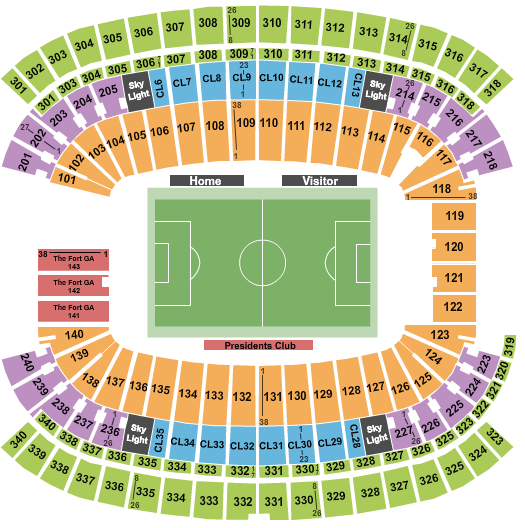 See Gillette Stadium - Soccer 2 events that use this seating chart configuration
Gillette Stadium - Taylor Swift 2022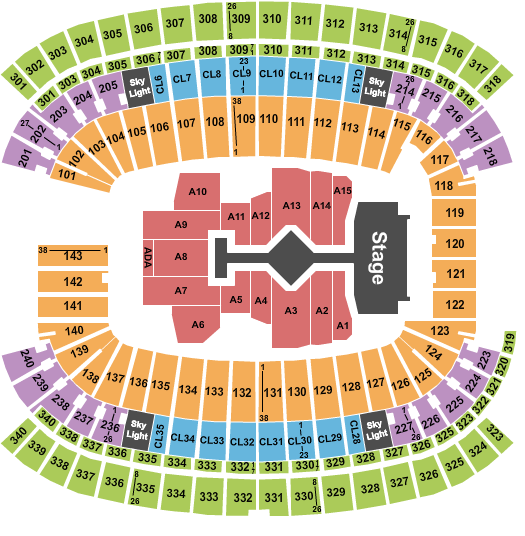 See Gillette Stadium - Taylor Swift 2022 events that use this seating chart configuration
Learn more about Gillette Stadium
Home of the NFL's
New England Patriots
and MLS's
New England Revolution
, Gillette Stadium is a premier sports and entertainment venue in New England. It's ranked as the fifth best stadium in the country by The Comeback sports fan website, and ranked as the eighth best NFL stadium by Athlon Sports. It also boasts one of the best home-field winning percentages in all of football. Gillette Stadium Foxborough opened in 2002. The first official event was a New England Revolution soccer game. Since then, the venue has played host to other events including lacrosse competitions, MIAA High School Championship games, tradeshows, meeting and conferences and live music concerts.
Gillette Stadium's "front door" features a lighthouse that was originally designed to shoot light two miles high, and a bridge modeled on Boston's Longfellow Bridge. These two iconic features are now highlighted on the stadium's logo. The stadium has a seating capacity of 66,829, and all of its theater-like seats are angled toward the 50-yard line, providing everyone an excellent view of the action on the field. The stadium, which is 16 stories tall, boasts the largest HDTV video screen in an outdoor NFL stadium, with 1,500 television monitors, and 2,000 points of distributed sound. It has more than 500 concession stands, and a ProShop offering the widest selection of Patriots merchandise. Although traffic during an event can be challenging, there are more than twice as many parking spaces in the stadium as there are parking meters in all of Boston!!
Thousands of fans trek to Gillette Stadium for games and events, and being aware of its polices beforehand ensures a hassle-free experience. Security measures are strictly enforced in the stadium, and all guests must consent to a search of their person and anything they're carrying. Bags of any kind except gallon-sized clear freezer bags or NFL authorized clear bags, and women's wristlets or handheld wallets are permitted inside. Food, beverages, GoPro cameras, video cameras and noisemakers are prohibited. Guests are advised to leave all prohibited items in their vehicles, as these items will not be accepted at the stadium gates for safekeeping. Use Event Tickets Center to get Gillette Stadium tickets, or check out Gillette Stadium seating charts to find your seats to Gillette Stadium events!
View Gillette Stadium seating charts for live games! If you're planning to visit Gillette Stadium in Foxborough, you'll want to make sure you have great seats. Get acquainted with Gillette Stadium by using our seating chart below. This seating map features a complete layout of Gillette Stadium seats and the locations of different ticket tiers. Simply click on a section to browse tickets and you'll be on your way to an unforgettable event experience!
FAQs about Gillette Stadium
Q: What time do doors open at Gillette Stadium?
A: Doors typically open anywhere between 90 minutes to 2 hours prior to showtime at Gillette Stadium. Be sure to check the listing on your ticket as showtimes will vary.
Q: Who plays at Gillette Stadium?
A: The New England Patriots are the home team at the Gillette Stadium.
Q: Gillette Stadium Seat Numbers, Sections and Seating Chart
A: When looking at seating charts for sports events, seats are arranged so that the lower numbered seats within a section are located closer to the preceding section. For example; if a venue shows three sections (A, B, and C), seat #1 in section B will be located next to section A. As the seat numbers progress within section B, they move closer to section C. Gillette Stadium, a venue designed to host sports games, may be set up in a similar fashion. While concerts and other events held at Gillette Stadium may not follow this layout, most sports events happening at Gillette Stadium will follow this configuration. Concert seating is typically laid out so that the higher the seat number, the further you are from the stage/performance area. If you're seeing a concert at Gillette Stadium, it's likely that the seats closest to the stage will have low seat numbers and low section numbers.
Q: Gillette Stadium Reviews, Interactive Seating Charts and Seat Views
A: Finding Gillette Stadium seating charts with seat views or 3D views from your seat has proven to be a difficult task – until now. Event Tickets Center provides fans with unbiased Gillette Stadium reviews on our venue guides, including information on Gillette Stadium seat numbers, row numbers, and tips on how to find great seats!
Q: Are VIP Packages or Accessible Seating offered at Gillette Stadium?
A: Gillette Stadium VIP seating packages and accessible seating section locations may vary per event. Please click the seating chart below or contact our customer service department to discuss options for accessible seating or VIP package purchases.
Q: Where is the Patriots Sideline at Gillette Stadium?
A: The New England Patriots home bench is located in front of section 108, section 109, section 110 section 111 and the away team bench is in front of section 130, section 131, section 132, section 133.
Q: Where is the New England Revolution Sideline at Gillette Stadium?
A: The New England Revolution home bench is located in front of section 108, section 109, section 110 section 111 and the away team bench is in front of section 130, section 131, section 132, section 133.
Q: What is club seating at Gillette Stadium?
A: The club level for Gillette Field are in the second in grouped sections and are designated by "CL" before the section number, ranging from section CL06 to section CL35.
Q: How many rows are in the 300 section of Gillette Stadium?
A: Section 300 has 26 rows. Fan's have reported that the most desirable 300 level seats are rows 1 through row 7.
Q: How far is Gillette Stadium from Boston?
A: 22 miles. The stadium located in Foxboro is 22 miles south of the city.
Q: Are club seats at Gillette Stadium covered?
A: Club seats at Gillette Stadium are outdoors and open to the elements.
Q: Can you bring blankets into Gillette Stadium?
A: Blankets are typically allowed in the stadium. Their policy states that fans entering the stadium will need to have the blankets folded and loosely draped over their arm for inspection when going through security.
Q: Can I bring my vape into Gillette Stadium?
A: Smoking and Vaping has been banned inside the stadium since 2017 and there are no smoking sections inside the property.
Q: Can you take an Uber to Gillette Stadium?
A: Yes. There is a dedicated uber drop off point. Drivers will typically start arriving towards the beginning of 4th quarter on game days to anticipate the rush of the crowd.
Q: What time do the gates open at Gillette Stadium?
A: Club access opens three hours before kickoff for games. All other gates open two hours before kickoff. Gate opening times will vary per event for concerts.
Facts about Gillette Stadium
Capacity:
65,000
Date Opened:
May 11, 2002