Frost Amphitheater Tickets and Seating Charts - Stanford, CA
Frost Amphitheater Seating Charts
Frost Amphitheater - Endstage Seating Map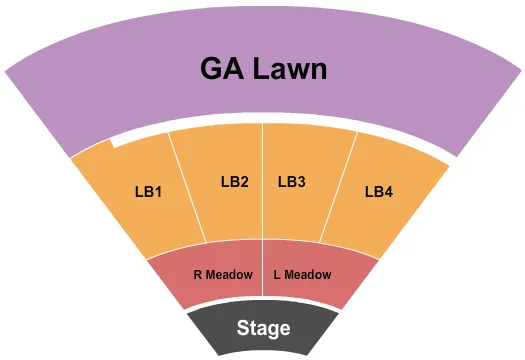 See Frost Amphitheater - Endstage events that use this seating chart configuration
Frost Amphitheater - General Admission Seating Map See Frost Amphitheater - General Admission events that use this seating chart configuration
Learn more about Frost Amphitheater
The Frost Amphitheater at Stanford University is an amazing example of history, architecture, and entertainment all rolled into one. With its unique and colorful history and capacity to host a variety of events from concerts to commencement ceremonies for up to 8,000 people, it's worth the visit - be sure to check out the Frost Music and Arts Festival each May if you're in town! Look no further! Stanford, CA offers something for everyone. From beautiful parks and hiking trails to exciting events and entertainment, there's no shortage of activities to keep you busy in this charming college town. You can explore the scenic campus, marvel at the Iris & B. Gerald Cantor Center for Visual Arts, or just soak up the sun on "The Dish" in Downtown Palo Alto. Make sure to take some time out to savor delicious dishes featuring top local ingredients and global cuisines from all four corners of the world. You'll find endless local gems catering to all budgets; from laid-back eateries to gourmet restaurants - you won't regret a single bite!
FAQs about Frost Amphitheater
Where is the Frost Amphitheater?
Frost Amphitheater is located at Stanford University in Stanford, CA. Frost Amphitheater opened in 1937 and has a capacity of 8,000.
Where is parking for Frost Amphitheater?
Parking is very limited around Frost Amphitheater. Reserved parking is $30 at Lot 10 & the Galvez Lot.
Can I bring in food to Frost Amphitheater?
Frost Amphitheater allows bagged snacks & personal food items and 1 bottle of factory sealed water under 20oz.
Can I bring a lawn chair to Frost Amphitheater?
Lawn chairs are not allowed in Frost Amphitheater but stadium seats with no legs are. You are also allowed to bring a blanket.
Is there ADA seating at Frost Amphitheater?
Frost Amphitheater has Accessible seating areas for all shows.
Event Dates and Pricing Information